Cellular shapes permeate eight layers of lighted glass, evoking the biological structures and energy connecting all life on our planet. It's an artwork that reshapes the language of painting, while mixing in hints of sculpture as well. The powerful work will greet everyone who enters the Keck Center for Science and Engineering, projecting a unique welcome to Chapman's new home of novel exploration.
"This work will interact with viewers in meaningful ways, and that will encourage them to ask questions, just like a scientist or engineer would," says Andrew Lyon, dean of the Schmid College of Science and Technology at Chapman University. "It forces you to not be told what you're looking at. It's a great way to engage our students and introduce the public to the excitement of what we're doing here."
Welcome to the winter issue of Chapman Now, which we at Chapman Magazine have dedicated to the builders and innovators who inspire Chapman's new Fowler School of Engineering and its incubator, the Keck Center for Science and Engineering.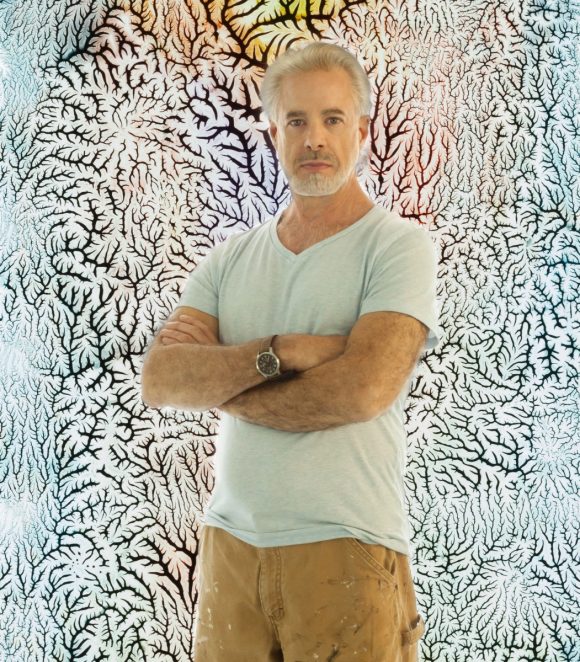 Here you'll learn how the Fowler School of Engineering, set to debut in 2020, will link to efforts aimed at addressing many of the most urgent needs facing our region, our nation and our world. You'll also meet some of the students, faculty and alumni already making a difference as engineers of inspiration.
By displaying on our cover a panel from artist Peter Bynum's multi-layered creation of biomorphic imagery, we seek to invite our own conversation about universal forms, creative influences and enduring connections.
"As an artist, few things are as gratifying as having big conversations with big audiences," says Bynum, who calls his unique artistic medium illuminated painting. "It's exciting for me to imagine science and engineering students – for that matter, anyone who goes into the Keck Center – being face to face with the rhythms of the living universe. My hope is that this work serves as a reminder of the interconnectedness of all living things."
Through design and fabrication of his multi-ton work, Bynum has been forced to stare down more than a few weighty challenges, with more to come during installation.
"This has been a true journey of exploration, complete with failure, midcourse corrections and constant evolution of techniques, both artistic and technological," Bynum notes. "All in all, quite a feat of engineering."
IN THIS ISSUE
The full winter 2018 issue of Chapman Now is now available in print and online .