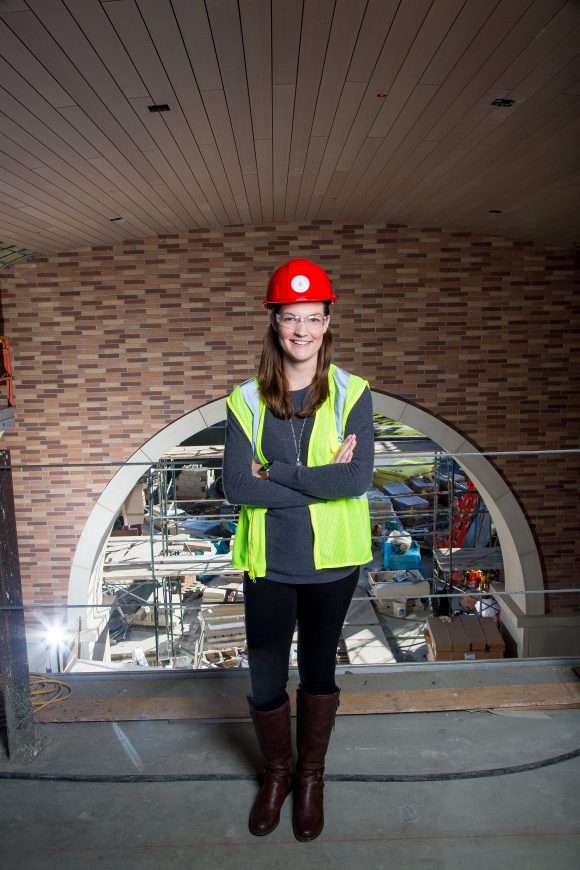 Only a few decades ago, the word engineer summoned images of machines, bridges, electrical grids and chemical production plants. To some, it even meant the man – and it was inevitably a man – who drove a locomotive.
Today it can mean anything imaginable. Engineers design the medical devices that save lives and fuel Orange County's healthcare technology industry. They create the hardware and software that make knowledge leap to screens at the tap of a finger or the sound of a voice. They build the apps that ease commutes or make distant loved ones seem near, and they send the communications satellites into space that make it all possible.
It is into this world that Chapman University will launch the Fowler School of Engineering in 2019.
"When I went to engineering school, it was very traditionally based, with the stereotype of an engineer who had a pocket protector and a slide rule," says Thomas Piechota, Ph.D., PE, a civil and environmental engineer who is the University's vice president for research. "What Chapman wants to do is train engineers in the new way, and to take on the new grand challenges."
Those ambitions align with national efforts to address some of society's most pressing problems.
"That's really what engineers can be at the center of: making a difference," Piechota says.
The future is literally under construction, as workers complete the $130 million Keck Center for Science and Engineering for a fall 2018 opening. Still ahead, the engineering wing must be built out; there are labs to outfit and, very importantly, professors to hire: Chapman's commitment to the Fowler School of Engineering is made clear by the 30 to 35 new faculty members the University will hire in addition to the $30 million in capital expenditures targeted for engineering over the next five years.
The plan is for the first undergraduate class in computer engineering to enter in fall 2019. Then the first class pursuing a master's in computer science will begin in 2021, with the first undergraduate class in electrical engineering to follow in 2022, says Andrew Lyon, Ph.D., dean of the Schmid College of Science and Technology. Other specializations – possibly mechanical engineering, environmental and civil engineering, as well as bioengineering – will emerge later.
"It's built upon the outstanding bones of computer science and data analytics and computational science here," Lyon says, describing how the Fowler School of Engineering is designed as an organic outgrowth of the strengths and existing ethos of Chapman, which already has a thriving program in software engineering. "What are the other things that Chapman does well? We are really good at educating people to be broad critical thinkers. We're really good at – and I think getting a lot better at – the whole global citizen idea, that people have a very broad view of how they fit into the world. We educate students who can communicate well, people who work across boundaries very well."
That broad-based approach "means the engineers we put out know how to talk to people who aren't engineers and scientists," Lyon adds.
Lyon and Erik Linstead '01, Ph.D., director of undergraduate computing programs in the Schmid College of Science and Technology, have ample support. They are guided by President Daniele Struppa, an internationally recognized mathematician; Provost Glenn Pfeiffer, Ph.D., an expert in accounting and financial analysis; Piechota, an engineer; and University officers who include industry leaders such as Guy Abramo, CEO of General Information Services, a leading background-check provider; Joe Kiani, founder, chairman and CEO of the medical technology company Masimo; James V. Mazzo, global president for ophthalmic devices for the German company Carl Zeiss Meditec; and James (Jim) Peterson, chairman and CEO of semiconductor manufacturer Microsemi.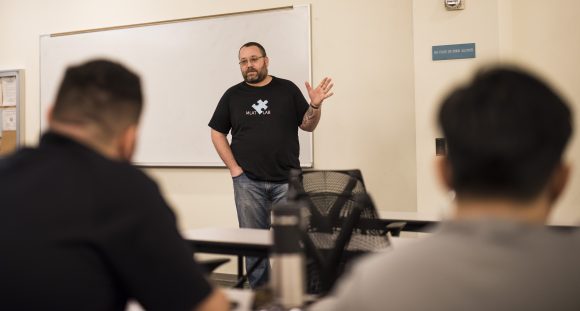 All hire engineers, and demand is so high that they sometimes hire internationally. Demand for engineers in general is increasing: According to the U.S. Bureau of Labor Statistics, the projected job growth for computer hardware engineers by 2026 is 5 percent, with a current median salary of $115,000. For electrical engineers, it's 7 percent at a median of $96,000. Software developers – a category that includes workers with backgrounds in software engineering and computer science, both focuses of the Fowler School – earn a median of $102,000, with a whopping 24 percent projected job growth.
"No. 1, science mixed with ethics and art makes the best results, and given Chapman's history of ethics and art, bringing in a college of engineering will do a lot of good for society," says Masimo's Kiani. "I also think Chapman can have a much higher rate of graduates that get fulfillment and good jobs when we also have engineering as a school."
Though students are eager to major in engineering, competition is keen. Three of the top five engineering schools in the U.S. News & World Report rankings are in California, and nine of the top-40 ranked schools are in the Golden State. But admission rates are daunting: Six of those schools admit fewer than 25 percent of applicants to their undergraduate engineering programs. None admit 50 percent.
Chapman's Fowler School of Engineering can represent opportunity. Some scholarship money already is included in the budget, but the first students might have broad access to scholarships if further fundraising efforts succeed.
"It would be wonderful to be able to offer full scholarships to extremely high-achieving students to make up our first cohort," Lyon says. "One doesn't want to start a school of engineering without really making a serious effort at securing the best and the brightest students for that school."
Opportunity strikes at the core of what engineering offers. Linstead was a first-generation college student whose father riveted airframes for Boeing in Long Beach.
"Right before he retired in 2008, I think my dad was making $31.70 an hour at Boeing, and I started my first job at Boeing for $32.66," says Linstead, who earned an undergraduate degree from Chapman, a master's from Stanford and later a Ph.D. from UC Irvine. "My dad was just really proud. He put a kid through school and it was almost like this sigh of relief: The kid is in good shape."
Many companies that hire engineers have significant outreach efforts toward traditionally underrepresented minorities. A four-year engineering degree can help vault such students into the middle class.
"Engineering has this opportunity to be a really nice funnel for students who come from those experiences," says Lyon, mentioning the Orange County Department of Education's OC Pathways initiative, which includes an engineering emphasis, as well as Santa Ana's Samueli Academy among Chapman's outreach efforts. "Students can come someplace where they see a different kind of engineering program that is much more focused on the individual, just like Chapman is across the board, and provides those students with the support they need to be successful."
Women also are traditionally underrepresented in engineering, making up less than 20 percent of engineering students and holding less than 10 percent of engineering jobs.
"One thing I'm really proud of with the existing computer science program is we're about 30 percent female, so we're well above the national average," Linstead says, noting that about 60 to 70 percent of students who work in his machine-learning and computer science lab are women.
Linstead points with pride to the program's focus on socially impactful projects.
"We're doing this because it has the potential to change lives. That puts a different light on it," he says. "It's not just a boys' club or geeking out to geek out – which, I mean, we still do a fair amount of that. I think it's nice for people to see there are broader goals."
They are goals meant to fit with this University, in this place, at this time.
"It's a great program," Microsemi's Peterson says. "And it's great for Orange County."
Mazzo agrees. "This has been well thought-out, well planned – and if you"ll pardon the pun – well engineered."
Display image at top/Engineers, from left, Erik Linstead '01, Ph.D., Katie Lamkin '16, Lindsey Hughes '10 (M.S. '13) and Rene German '05 tour the Keck Center for Science and Engineering, where progress arcs toward a full culmination ofthe largest building project in Chapman's history.
This story appeared in the winter 2018 issue of Chapman Now.