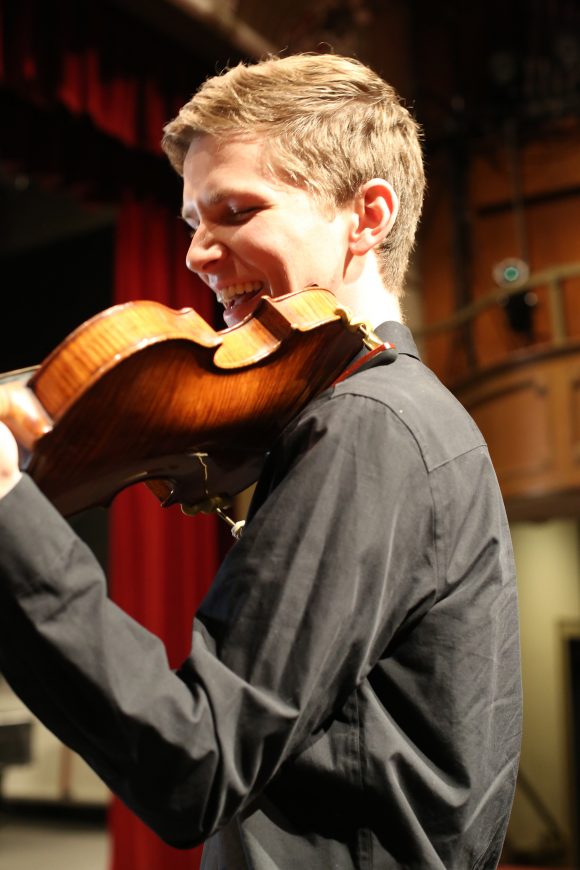 Although for some Chapman University students Friday is light on coursework, the Hall-Musco Conservatory of Music sings with activity. The sounds of voices, woodwinds and strings leak from under the doors of Oliphant Hall.
Temianka Professor of Violin William Fitzpatrick is still getting through his morning coffee as one of his students enters his office rehearsal space. Today, mentor and protégé are joined by a unique, rather pampered guest. Much beloved, well cared for, even treasured.
Taken out for play frequently, with a rich, full schedule, this is the day-to-day life of the Henri Temianka-Albert Saparoff violin, presently in the care of Christopher Nelson '21, a Temianka Violin Scholar at Chapman. Nelson enjoys regular rehearsal sessions with Fitzpatrick, who has taught many of today's leading violinists and chamber musicians.
What does it take to become one of the select Chapman University performers invited to coax evocative sound from this historic instrument?
"You need to play the violin exceptionally well," laughs Fitzpatrick, founder and first violinist of the New York String Quartet. Yes, there is the need for talent, plus strong academic performance.
And what's it like to care for the flagship instrument of the Temianka Violin Scholars?
Wonderful, amazing, Nelson offers. Also slightly unnerving. "I've had nightmares," Nelson says with a chuckle. "It's a fabulous instrument, then there's also the fact that it's worth more than tuition at Chapman. So you probably don't want to accidentally drop it."
A Classical Connection
At Chapman, the Temianka-Saparoff violin connects student performers to the legacy of virtuoso violinist Henri Temianka. Born in 1906 to Polish, Jewish parents, Temianka displayed impressive talents at a young age, and he studied all across Europe before eventually crossing the Atlantic to attend the Curtis Institute of Music in Philadelphia.
After debuting in New York, he traveled the world, performing in high-profile venues and making equally high-profile friends. Those social connections saved his family during World War II, when rescues were organized to extract his parents from Nazi and Fascist imprisonment.
After the war, Temianka founded the famed Paganini Quartet. Over 45 years, he dedicated his life to music, playing and conducting as well as teaching the next generation of musicians and music lovers. His legacy is alive at Chapman thanks to the Temianka Endowed Professorship and Scholarship for String Studies, along with the extensive Temianka Archives, featuring Henri's letters, sheet music and select belongings.
The Temianka-Saparoff violin was acquired by Henri's son, Dr. Daniel Temianka, specifically to make it available to Temianka Scholars at Chapman.
This special instrument is more than 100 years old. Its unknown maker blended Germanic woods and Italian violin-making techniques, creating a voice that is extra bright and responsive, says Boris De Granda, the luthier charged with upkeep of the violin. In performance, it sounds outright happy to be out of the case.
And it has been played a lot. The instrument's relationship with its handlers has changed it over the decades. The wood has, in spots, a warm, worn patina that can only come from human touch.
A connection with people is important for a violin, De Granda explains. Frequent vibration encourages the violin to "waken" and its tone to mature. Microscopic resin deposits in the wood fracture and re-amalgamate when the instrument is played, making minute changes to its voice. Without the human connection, the violin cannot achieve its full potential, De Granda adds.
Aesthetically, the worn places can be viewed as signs of affection. "An older instrument, if it doesn't have (evidence of wear), maybe it isn't played very often," notes De Granda. "Maybe it isn't very good."
Photos/Challenge Roddie
This story appeared in the spring 2018 issue of Chapman Magazine.