Fahima Amini (LLM '16) heard the front door open and knew immediately something was wrong. Why would her husband, a physician, be home from the hospital in the middle of the day? Then she saw his face and realized their worst fears were now real. 
"The Taliban are in Kabul," her husband, Dr. Mohammad Tawab Azimi, confirmed. "President Ghani just left the country and the government is in Taliban hands."
In an instant, Amini's years of work on government and court reforms in Afghanistan slipped like sand through her fingers.  Visions of a post-war future full of new opportunities for Afghan women melted in the August heat. 
Amini had no time to reflect. She scrambled to reach U.S. and U.N. contacts and devise a plan to get herself, her husband and their year-old twin sons out of the country. It wasn't just about the loss of their work, their possessions, their home. Amini's life was in danger. 
She had been working to build Afghan institutions, champion gender development, advocate for women judges, even reform the Afghan Supreme Court. 
"But when the Taliban arrived I couldn't even help myself to have a life," she said.
Dreams of Reform Recede into Darkness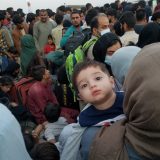 Amini is one of nine Afghan legal scholars who earned graduate degrees at Chapman's Fowler School of Law through a decade-long program called the Public-Private Partnership for Justice Reform in Afghanistan, launched by California State Sen. Tom Umberg. Five of the alumni scholars, including Amini, are now back at Chapman, providing students with insights about their journeys as they also begin new lives in the United States.
Thanks to a generous gift from an anonymous donor, Amini, Munira Akhunzada (LLM '13), Sahar Masoom (LLM '15), Navid Mujaddedi (LLM '17) and Salma Stanakzai (LLM '11) all have formal appointments as visiting scholars at Chapman. 
Each scholar has a story with echoes of Amini's, starting with an abrupt and traumatic end to dreams for a better Afghanistan. 
Their stories are full of chaos but also resilience: marshal resources, leverage contacts, gather family and find a path to a new life in a new country. For three of the scholars, all women, it was even more dire. Fill a backpack, get to the airport, try to get on a flight. To anywhere. As soon as humanly possible. 
Meanwhile, as the bedlam of the U.S. pullout and Afghan regime change turned the scholars into refugees, members of the Chapman community tracked the news from afar with special concern. 
"It Was Good to Let Them Know They Weren't Alone"
Professor Ron Steiner had been instrumental in bringing the nine Afghan legal scholars to Chapman for graduate study during the 2010s, and he had kept in touch as they applied their lessons in burgeoning careers. 
He reached out via text and received updates on their plight. He knew that two were on their way to starting over in Canada, while another was with her family in Texas. A fourth was in England, studying public administration at Oxford. 
Steiner also knew that five were particularly vulnerable to retaliation by the Taliban, given their associations with U.N. or U.S. agencies and their work for reforms such as gender equity. When Steiner asked the five if they needed help getting out and starting over, they all were grateful for the support. 
Steiner and others in the Chapman Family applied their own resources, first by providing counsel and a sympathetic ear in real time. 
 "As I was watching things on TV, I could only imagine what was happening to them on the ground." said Steiner, now Chapman pre-law advisor in the Wilkinson College of Art, Humanities, and Social Sciences. "It was good to get updates and to let them know they weren't alone."
The texts kept flying, sometimes at 3 in the morning, as hours turned into days and options into setbacks. Then, little by little, despair gave way to steps forward. 
"Each one was on a different path, but one by one, there was a stroke of luck or a piece of ingenuity – they knew someone who knew someone – and they all made it out," Steiner recalled. "We weren't able to help much with that part, but we've been able to help in other ways since."
"This is What it Means to Be Part of the Chapman Family"
The depth of Chapman Family support is how this story flips from a tale of lost hope to one of fresh starts. Administrators and alumni, faculty and staff, students, parents and other community leaders – all have rallied with actions that are easing the scholars' transition to new lives and careers. 
For Chapman President Daniele C. Struppa, it was an emphatic "yes" when the idea was presented to create the visiting scholar positions for the Afghan alumni.
"These are our people," he said. "This is what it means to be part of the Chapman Family."
Wilkinson College Dean Jennifer Keene and her staff prepared offices for the scholars and also helped develop classroom and research roles for them. 
"These extraordinary individuals have engaged extensively with our students, faculty and staff, sharing their expertise and experiences to offer a different perspective on American involvement in Afghanistan," Keene said. 
"Their stories remind us that U.S. foreign policy and military intervention sometimes have unintended consequences. We are incredibly grateful to our anonymous donor and Dr. Ron Steiner, who mobilized immediately to create these visiting scholar positions."
What's more, Steiner and others at Chapman secured housing, furniture, clothing, food and other essentials. Fowler Law Professor Michael Bazyler and student Lana Rayan also helped get the scholars settled. 
That's just for starters. Of the dozens of ways Chapman Family members responded, a few examples stand out. 
"It Has All Been Life-Changing for Me"
Cherie Johnston '06 (MBA '16) was a classmate of Amini when both were grad students at Chapman. 
"She's brilliant," Johnston said of Amini. "If ever there was a role model for women of the world, Fahima is it."
The two kept in touch, including via text during the confusion of the Taliban takeover. Johnston reached out to Congress members, senators and military contacts trying to help Amini secure safe passage. After Amini made it to Qatar, then to a refugee camp in Wisconsin, and finally to California, it was Johnston who met her and her family at LAX to drive them to their new home in Orange County. 
"To see her face and give her that first big hug – it has all been life-changing for me," Johnston said.
Johnston's impact continues. As CEO of Military Children's Charity Inc., she knows all about rallying communities to meet needs. Among other things, she and her organization made sure the children in the visiting scholars' extended families received gifts during the holidays. 
"One of the biggest lessons through all of this is that you can lose everything and move to the other side of the world, and the Taliban can take everything from you, but they can't steal your hope," Johnston said. "To see where [the Afghan scholars] started in August and now see them able to smile today is a phenomenal feeling."
"We Look Out for Each Other"
For Faheem Tukhi '05 (JD '15), it's second nature to give back to the Chapman community. 
"The connection is for life," said Tukhi, a former member of the Chapman Alumni Association Board of Directors. "We look out for each other. The Chapman Family is real."
Tukhi's own family was forced to flee Afghanistan in 1983, during the Soviet-Afghan War. 
"Like these scholars, we came here with nothing," said Tukhi, now assistant general counsel for West Coast University and American Career College. "We wish that 40 years ago we had an institution like Chapman to provide support and help get us back on our feet."
So it was an easy decision to help with the visiting scholars' transition. Tukhi's mother, Zainab, even opened her home in Buena Park to Masoom and her young family while Chapman readied an apartment. Zainab had done the same when Masoom first arrived at Chapman as a student. In fact, it was Zainab who accompanied Masoom to the hospital when she delivered her daughter during her Chapman grad school experience. When mother and baby came home, Zainab provided the bassinette. 
"I think of [the scholars] like they're my children, and their children call me Grandma," Zainab said. "I like that."
"Now I have a Chance to Make the Best Out of Things"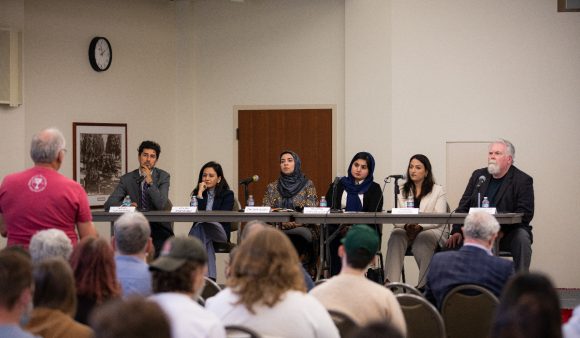 For the alumni legal scholars, support from the Chapman Family and beyond has been nothing short of transformational. Each scholar finally has some footing to start a new journey, including the pursuit of career goals such as resuming legal careers and landing faculty teaching positions. 
During the spring semester, several Afghan scholars sat in on a bar prep course taught by Chapman adjunct professor of law Melodie Arian. Meanwhile, Amini and Akhunzada shared insights as observers in a course on religion and international conflict taught by Andrea Molle, associate researcher in sociology and political science at Chapman. Masoom and Stanakzai were similar contributors to a peace studies course on global conflict taught by Prexy Nesbitt, Presidential Fellow in Peace Studies.
"Sharing my classroom and teaching  with two experienced and insightful leaders like Salma and Sahar has meant the introduction of  substantive and inspiring experience into the learning process," Nesbitt said. "So often I watch the eyes of the students fill with awe and respect as they listen to Sahar or Salma comment on a subject. And my own eyes glisten, as well."
For all the scholars, many daily uncertainties remain. How to secure a green card? Where to find reliable day care? How does the Metrolink work? There's so much new ground to navigate while still dealing with the trauma of loss and the concern for family and friends left behind in the rubble. 
But each day more of the darkness gives way to light. 
"Teaching, research, a conference – all of these things are helping me navigate my way and understand my emotions," Stanakzai said. "This is such an amazing opportunity for all of us. I didn't have an income, I didn't have a work permit, I didn't have anything. Now I have a chance to make the best out of things, which I think is how we convey how grateful we are. If you're doing your best, you're not letting Chapman down. That's how we repay the contributions toward our advancement."