Beyond the costumes and sets, the staging and theatrics, Verdi's opera "Nabucco" pulses with the power of its transcendent music. Nowhere was that transcendence more evident than at Chapman University's Musco Center for the Arts as Plácido Domingo and his LA Opera colleagues lifted Verdi's classic work to new heights.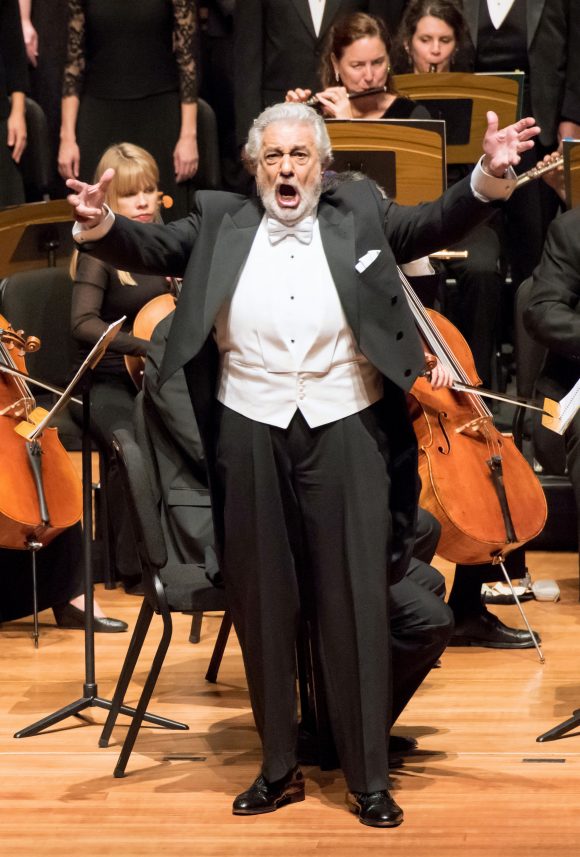 "On that night, Chapman and Musco Center were at the very pinnacle of what opera can offer," said Chapman President Daniele Struppa, who developed a love of opera during his childhood in Italy. "In that particular moment, Chapman was the best place in the world to listen to music."
It was just such moments that inspired Chapman and visionary benefactors Marybelle and S. Paul Musco to develop Musco Center as a premier performance venue.
"It was opera at its finest, thanks to the magnificent music hall at Chapman," Paul Musco said of the "Nabucco" concert. "The wonderful opera-loving audience indicated the need to bring back opera to Orange County."
The wider music world is also taking note of Musco Center.
"It's hard for me to overstate the incredible opportunity for us to sing in a hall with such exquisite acoustics," said LA Opera President and CEO Christopher Koelsch. "I'm in awe of the massive scale of Verdi's composition; the things we ask of opera singers are nothing short of superhuman. To hear these world-class voices on a stage like that, it's kind of overwhelming."
At the center of those voices was Domingo, the internationally renowned star and general director of LA Opera. During the Nov. 14 Musco Center concert performance of "Nabucco," Domingo took on the lead role, aided by the full LA Opera cast and the LA Opera Orchestra conducted by James Conlon. The combination electrified the Center, bringing the standing-room-only audience to its feet.
"The ovations were incredible – it was like this eruption," said Richard Bryant, Musco Center's executive director. "You could see that the performers were having so much fun. They didn't have to deal with the costumes, the props, the cues. They just sang."
Indeed, Koelsch said that the concert performance invigorated the LA Opera performers and orchestra, who enjoyed sharing the stage instead of being separated, as is typical for a fully staged opera.
"Our performing artists usually are not in a position to hear each other (when the orchestra and chorus are in a pit)," Koelsch said. "It's an incredible morale booster to take stock of how terrific an ensemble they are."
There is an "exquisite tension" between the theatrical and musical forms of expression in opera, Koelsch added. "But this is principally a musical art form. Even for opera aficionados, it's a huge pleasure to be able to experience the power of the music in performance."
From the beginning, Musco Center has enjoyed a mutually beneficial relationship with LA Opera and Maestro Domingo.
"Mr. Domingo considers Musco Center one of the finest halls he has performed in," Paul Musco said.
The collaboration will continue Oct. 1 with an LA Opera concert performance of Verdi's "Don Carlo" starring Domingo. For tickets and more information, visit muscocenter.org.
"We're working to build more memories by bringing more great performances to Chapman," Struppa said.
Classy Connection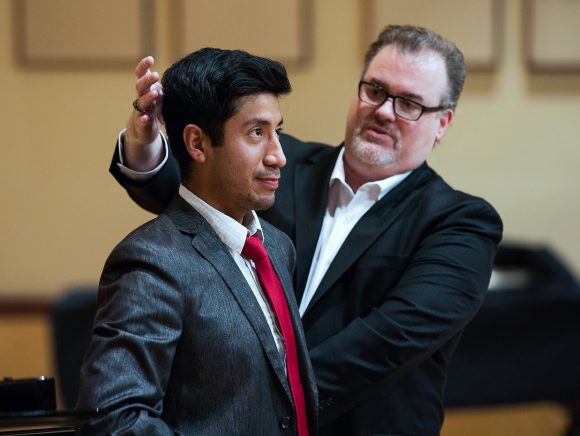 In addition to a masterwork, LA Opera brought a master class to campus as an impactful extension of its "Nabucco" performance at Musco Center. Many of the Chapman University vocal performance students who were in the first rows for the concert also got first-hand tips from principal baritone Morris Robinson during a workshop organized by Professor Peter Atherton, director of operatic studies at Chapman.
"It's really critical that the shows align with what we teach," said Musco Center executive director Richard Bryant. "Whenever possible, we're bringing the expertise of professionals into students' lives."
Similarly, when Musco Center presented a "Three-Tenor Valentine" concert featuring alumni singers Vale Rideout '95, John Ken Nuzzo '89 and Bruce Sledge '94, a master class enhanced the experience for students. As Axel Mejia-Juarez '18 prepared for the Opera Chapman production of "Albert Herring," Sledge provided some applicable vocal suggestions. Sledge helped Juarez refine his technique with new breathing exercises and other tips.
"He also helped with interpretation of character," Juarez said. "He never told me how to sing, but he gave me tips that made me sound better."
Juarez dreams of becoming a professional opera singer himself, so the opportunity was especially rewarding.
"Singing for a professional in opera is a true honor," he said. "It's even cooler because Bruce Sledge comes from Chapman. It gives me hope for my own future that I can do this, too."
Photos/Doug Gifford
This story appeared in the spring 2018 issue of Chapman Magazine.