In every student's journey at Chapman there's a story of perseverance, of dedication and of a commitment to a better world. In the face of unexpected challenges, this year's graduating class proves that Chapman students are made for excellence. Here are some of their inspiring stories.
Edena Khoshaba
BS in Biochemistry and Molecular Biology, minors in Leadership Studies and Rhetoric and Writing Studies
An early commitment to research paid off for Edena Khoshaba: she became Chapman's first Goldwater Scholar during her junior year, one of only 396 undergraduate students in the nation to receive the prestigious STEM scholarship in 2020. In her first year at Chapman, Khoshaba worked with Dr. Reza Mehvar from Chapman's School of Pharmacy, and as a sophomore she conducted research with Dr. Patricia Lopes in Schmid College of Science and Technology. In her junior and senior years, she held internships with Baylor College of Medicine and Rockefeller University. Those experiences led to a job in the research department at Children's Hospital of Orange County (CHOC), along with a number of publication credits as an undergraduate.
"Just having the ability to start undergraduate research at Chapman was such an amazing advantage and really gave me the opportunity to build my profile," she says.
Another formative experience for Khoshaba was the opportunity to tutor and serve as a supplemental instructor for three years. "It's very fun to give back and help other students succeed," she says. Her commitment to helping other students also led her to become an orientation leader at Chapman. "I had really great mentors when I was a first-year student," Khoshaba says. "To then become a mentor to others is a kind of chain that's very important, helping others to be comfortable at Chapman and find their own passions. I hold that experience close to my heart."
Though Khoshaba is graduating this year, she's not quite ready to depart Chapman. In the fall, she will be teaching an organic chemistry lab at Chapman while she prepares to attend medical school, where she hopes to forge a path to a career that includes both research and patient care.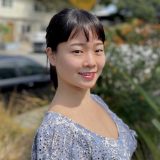 Nanase Nikura
BA in Integrated Educational Studies, minor in Language and Literacy
As an international student from Japan, Nanase Nikura used to wonder if she had made the right choice coming to Chapman. "My English was not very good," she says, "and I felt really behind other students who had been in the States longer than I." But the ongoing support of her Chapman professors helped her shed her doubts and embrace the different perspectives she could bring to the classroom. Since then, Nikura excelled as a student: she made the Provost's Honors List every year since 2017, is a member of the Gamma Beta Pi Honor Society and is graduating magna cum laude.
She also became active as a campus leader in the Asian Pacific Student Association and the Chapman Cross Cultural Center, helping facilitate learning opportunities and services for her classmates. "As a student of color, it was difficult for me to find a place where I felt that I belonged when I came to Chapman," she says. "Collaborating with clubs that honor other cultures really encouraged me to educate myself," she says.
Inspired by the Black Lives Matter movement, Nikura sought out an internship with the Karat School Project, which helps to transform lives by funding education in Ivory Coast. She also volunteered with the Light and Salt Children's Ministry, tutoring immigrant and refugee children for whom English was a second language. In the future, Nikura hopes to blend her international experience with education and non-profit work.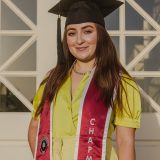 Natalia Ventura
BA in Peace Studies
For Natalia Ventura, designing her own minor in Aesthetic Activism was not just an intellectual exercise, but a way of life. "Tying together my passion for art and activism, I found a lot of purpose in that, and my personal life goals," Ventura says. But she's most proud of her work with Preetha Raj '21 at the Cross Cultural Center. Together, they created a diversity, equity and inclusion training program that has become mandatory for incoming first-year students.
For this and her other social justice work at Chapman, Ventura has been awarded the university's Diversity Leadership Award, along with the Don Will Award for Student Organizing from Wilkinson College. "It was a win for our whole activist community," she says. "It felt really great to be recognized and affirmed for the work I've done throughout my four years. It made me wish that we had more opportunities for students who do this work to get recognized."
Though passionate about her causes, Ventura often struggled with persistence in achieving her goals when faced with the resistance from the administration and others. "Having that resilience to keep pushing was the most challenging aspect," she says, "but through my social justice community and setting personal boundaries so I wouldn't burn out, I was able to always keep busing and find a balance of work and sustaining my energy."
Ventura has started a summer internship with the Smithsonian National Museum of American History, where she will be continuing her work in diversity.
Michael Romero
Juris Doctor
Michael Romero never imagined he would go to law school. "It wasn't even a dream," he says, "it was something that seemed so physically impossible for me to ever achieve that the reality of my world and existence had to change for me to get there."
Romero grew up in southeast Los Angeles, the youngest of three children being raised by a single mother. During much of his elementary and middle school years, Romero and his family spent most of the time living out of their car in between brief stays with relatives all around Southern California. "I brushed my teeth and washed my hair in public restrooms, did homework under parking lot street lights, recycled bottles to buy school supplies and called the backseat of a van my bedroom, while lying to everyone I knew that my life was normal," Romero said.
As he entered his teens, his family's situation began to stabilize, and by the time he completed high school, a college education was no longer out of reach. While studying Criminology, Law and Society and Political Science at the University of California, Irvine, he worked at a Newport Beach Wells Fargo branch, first as a teller and later as a licensed banker and brokerage associate. While a career in finance was a real possibility, he couldn't shake the dream if being a of being a lawyer — a choice that led him to Fowler School of Law.
During a summer internship at the Securities and Exchange Commission in Philadelphia, life took an unexpected turn: after his first week, he ended up spending nine days in the hospital—five in the ICU—when a mosquito bite likely infected him with Lyme disease. Romero refused to let the long-term effects of his illness stop his progress, becoming an award winner and leader on campus, serving as a Student Bar Association representative, president of the Moot Court Honors Board, co-president of the Corporate Law Society and competitions chair of the Alternative Dispute Resolution team. He served as an Academic Fellow, a First-Generation Student Mentor, and a Student Ambassador. And upon graduating (with a certificate in Taxation), Romero won the ALI-CLE Scholarship and Leadership Award as well as Excellence Awards in Appellate Advocacy, Mediation, and Negotiation.
Now that Romero is in a better position to help others—with his legal career fairly well mapped out—he says it's his dream to start his own charity foundation to support kids who are dealing with circumstances similar to the ones he hid for so long from almost everyone he knew.
"My goal after I take the bar is to do a charity drive to collect backpacks, books, everything, and just drop those off to homeless shelters," he says. "When I was poor, having a normal backpack, it just makes you feel like a normal kid. Those small things change kids' worlds."
Read more about the achievements of the Class of 2021 and this year's Campus Leadership Award winners.