A first-gen college student who volunteered at a children's hospital, co-authored a published research paper, presented at 11 conferences and is working on a female weightlifting app has been awarded Chapman University's highest undergraduate student honor, the Cheverton Award. The announcement was made by Dean of Students Jerry Price during a virtual presentation of the Campus Leadership Awards on May 7.
Decided by a vote of the full Chapman faculty, the Cheverton Award is the oldest and highest undergraduate student honor at the university. The original bronze Cheverton Award cup, a gift of the class of 1929, remains on exhibit in Argyros Forum along with its successor, a silver bowl. These trophies are engraved with the names of all Cheverton awardees since 1929.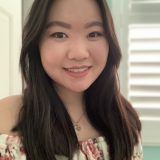 As a first generation Asian American college student, Vivan Luong '21 never imagined when she first arrived at Chapman that an honor like this would be within her reach. "This award is a testament to all the enriching opportunities and endless support Chapman's faculty provides all students to achieve anything imaginable," says Luong, who watched the virtual ceremony alongside her parents. She hopes in-person ceremonies can resume next year. "I would have loved to cheer for everything my peers have accomplished and celebrate their awards alongside them."
In addition to the Cheverton Award, the following awards were made during the online event.
Gloria and Julian Peterson Award for Outstanding Leadership
Ronald M. Huntington Award for Outstanding Scholarship
Ashley Nichols & Javari Hunt (tie)
Paul S. Delp Outstanding Service Award
Outstanding Diversity Leadership Award
Outstanding Seniors
Pilar Quezada, Leo Ortega, Daisy Haas, Taylor Hein, Maddison Milla, Mallory Warhurst, Monroe Roush, Shun Kato, Sarah Yang, Sophia Barr, Joshua Oommen, Edena Khoshaba, Julian Garrido-Figueroa, Abigail DeMuth, Abbey Umali
Due to the extended period of remote instruction and the resulting lack of campus leadership opportunities, it was decided that there would be no Outstanding Junior, Sophomore or First Year Student awards made for this year.
James L. Doti Outstanding Graduate Student Awards
Doctoral Category: Azam Saghaeidehkordi, Ph.D. candidate in Pharmaceutical Sciences, School of Pharmacy.

Masters Category: Tryphena Yeboah, Master of Fine Arts degree candidate in Creative Writing, Wilkinson College of Arts, Humanities, and Social Sciences.
Scholarship Winners
Jerry Price Campus Leadership Award

Dougherty Scholarship

Sophia Barr

Kayla Kluemper

Newman Civic Fellow

Barry M. Goldwater Scholarship

Fulbright Scholarship
The entire virtual ceremony can be viewed through a series of posts on the Chapman Student Life Instagram page.