Stories and art have a way of sparking creativity when they get together – even when the meeting is in a virtual setting. That's what happened this spring semester when Chapman University student dancers harnessed the power of story to the language of dance.
For an assignment in the course "Dance Outreach and Education," students were challenged to create brief dances based on life stories shared by residents of a senior living community, gleaned during the pandemic through calls and Zoom conversations.
'She Nailed It'
The result was a heartfelt experience for all, made even more special when vaccines arrived and infection rates dropped, permitting a joyful in-person outdoor concert at Emerald Court, the senior residence in Anaheim that partnered with Chapman on the project.
"I think she nailed it … She told my story," said Desiree Engels, after watching student dancer Kiley Panasuk's performance depicting Engels' escape from the Nazis at age 19.
Indeed, even the dance faculty say they couldn't have wished for a better outcome from the project that began as an assignment in the course Dance Education and Outreach and culminated with the mini dance concert.
"The project exceeded my expectations in exposing people to the beauty of modern dance, building sustained intergenerational friendships, developing a new community partnership and reminding us of the power of dance to connect," said
Julianne O'Brien, chair of the Department of Dance in the College of Performing Arts.
Students Explore Teaching in the Community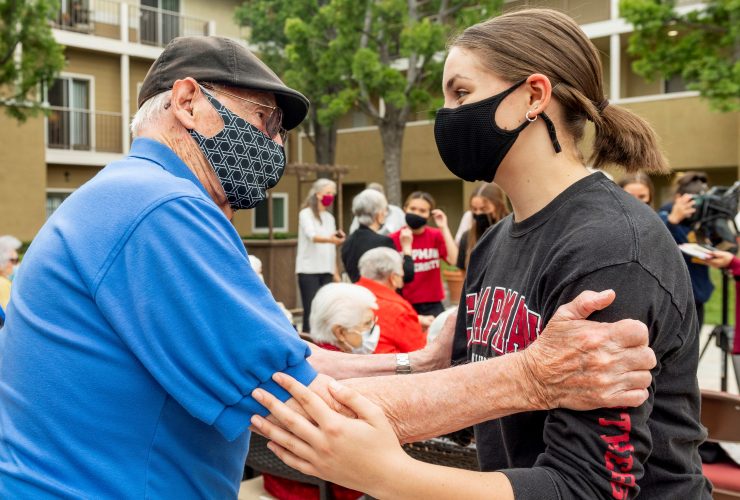 O'Brien co-teaches the course with Jennifer Backhaus '94 with the aim of giving students the experience of teaching art in the community. Through the years Chapman students have worked with a variety of groups, frequently at local schools.
Then along came COVID-19. But O'Brien was undaunted and recrafted the assignment to fit pandemic protocols. Through virtual visits, each dancer connected with one of the residents at Emerald Court to learn their life stories, the highs and the lows. Students used those accounts to craft a brief dance sequence, or what choreographers call a "dance phrase."
"The students put those stories into their bodies, into the nonverbal language of dance to gestures, mimes and shapes," O'Brien said.
Storytelling Through Student-Created Dances
Many of the phrases conveyed happy times. Raising children. Building careers. And like dances within a dance, some included memories of gliding cheek-to-cheek with beloved spouses long ago.
But the residents also shared tough times, inspiring some of the most dramatic phrases.
Using graceful abstract motions, Panasuk depicted Engels' harrowing World War II scramble across the Alps and her cross-Atlantic voyage to escape war-torn Europe.
Rosemarie Marabella conveyed Judi Cokliss' struggles growing up in a time when bipolar disorder was not well understood or diagnosed, opening her dance phrase in a frenzy of tantrum-like anger.
Lauren Leung connected not only through dance and friendship with Rosette Vicente, but also through a shared heritage.
"Being half-Filipino, I was overjoyed to hear that she was originally from the Philippines," Leung says. "I instantly told my mother about this, and we became emotional due to my own Lola (Filipino term for grandmother), who passed on about 10 years ago. I knew this was the perfect opportunity to create a beautiful and cultural connection with Rosette."
Toward the semester's end, O'Brien and Backhaus choreographed two final dance pieces from those phrases and all the others created by all the 17 students in the class. The final presentation became a reality when COVID restrictions eased in late spring, and the outdoor mini-concert and brief reception could be safely planned.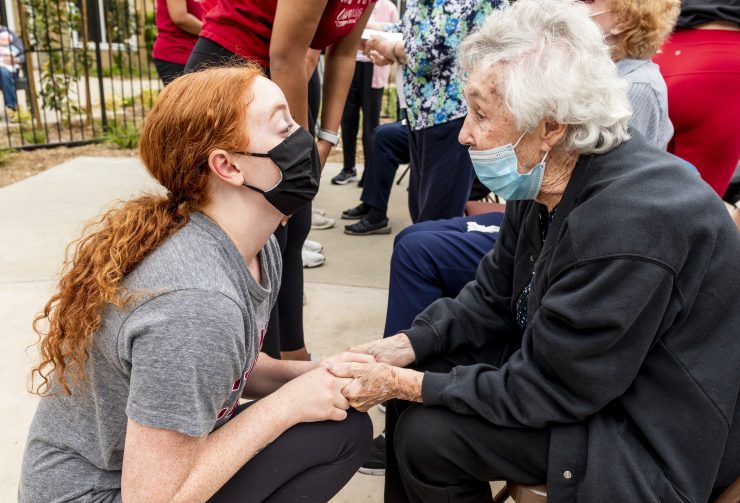 When that overcast May morning arrived, residents bundled up in sweaters and took their seats around the improvised courtyard stage. The students entered as a group, filling the courtyard with energy.
Soon, the music began and the dancers sprang into motion. Even the required face masks couldn't hide everyone's delight, as residents applauded each movement, some raising cell phones to record the action.
After final bows, the dancers rushed into the audience for in-person greetings, the residents posed for photos and everyone reached out at long last to take the hands of their new partners in story and dance.
That was the most powerful moment of all, Panasuk says.
"It's so beautiful to see all the stories come together in one piece," she said. "Not only are these individual stories and dances, but we're all connected in one form or another."
---
Learn More
Chapman's Department of Dance offers a BA in Dance, BFA in Dance Performance and a minor in Dance.