Chapman University's new Sandi Simon Center for Dance is taking shape in the circa-1918 Villa Park Orchards Association Packing House, an icon of the Cypress Street Barrio and region's citrus-growing heyday. But this is far more than a historical-preservation project.
Turns out, many features of the structure that worked so well for generations of citrus workers will be just the thing for student dancers, from spacious interiors to the gentle northern light that pours through the still-functional wall of windows near the ceiling, called clerestory windows. Such elements are history's gifts to the next occupants and an ideal backdrop for the upcoming chapter in the life of a beloved space, says Collette Creppell, Chapman's vice president of Campus Planning and Design.
"It's a storied building," Creppell says as she describes the Sandi Simon Center for Dance, scheduled for a June 2022 opening. "The way in which we're approaching the design for this space is to reveal in many ways how rich and layered this site is and the stories of this building, of which dance is the next."
Helping Dance Majors Thrive
That next era also promises to propel the award-winning dance program at Chapman to a new level of excellence. The adaptive reuse of the building will provide nearly 33,000 square feet for several teaching studios, including a central one that can transform into a performance space, a training center dedicated to dancer health, study spaces, classrooms, meeting areas and a third-floor mezzanine adaptable for a variety of uses.
"Dance has been one of the great success stories at Chapman," says Giulio Ongaro, Ph.D., dean of the College of Performing Arts (CoPA). "Now we will have a top-notch facility commensurate with the program. The impact of Ron and Sandi Simon's generosity will provide countless student opportunities and inspire Orange County's arts community for years to come."
The $5 million naming gift is among several contributions from the Simons to Chapman and builds on the Orange County philanthropists' enduring commitment to education. The Simon Scholar PA Program provides full scholarships and mentoring to students from underserved communities attending Chapman's program in physician assistant studies. Similarly, the Simon STEM Scholars program serves talented students from Orange High School who plan to major in science, technology, engineering or math.
Opportunities in the Arts
This latest gift will provide parallel advancement for CoPA's nationally recognized Department of Dance, says Julianne O'Brien, department chair. The move from the current Partridge Dance Center – which will be incorporated into a proposed expansion of the university's Hilbert Museum of California Art – offers much more than just extra elbow room. Think inspiration.
"It will have a feeling of open possibilities. When students walk into this building they'll immediately see inside the studios and through the open area to the mezzanine where dancers can be stretching out. The light will be pouring in through the open windows. Looking over your shoulder, you'll see one class. Look up and you'll see another," O'Brien says. "It strikes me as a cathedral to dance."
Quality Setting for Dance
Lorcan O'Herlihy Architects created that immersive experience with a design that preserves the Industrial Vernacular Style architecture of the historic buildings, while adapting the interior to the needs of a top dance program. The center will share a courtyard with The K Residence Hall, an adjacent building which also incorporates the architectural heritage of the original packinghouse.
"It's all based on the ideas about movement, light and space," Creppell says.
Among the many highlights:
Natural light from the preserved north-facing clerestory windows and industrial sawtooth roof
Curved staircases and walls to echo the movement and grace of dance
Cutting-edge technology and performance lighting in the larger performance studio, where students can master production skills
Spacious studios that surpass standards set by the National Association of Dance.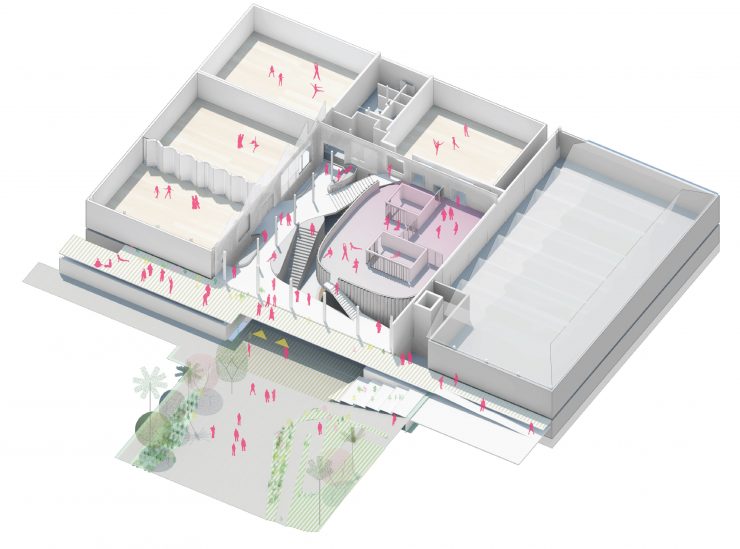 Building Dance Careers
The new space will accommodate growth, but not in the sense of larger enrollments. The department will continue to accept about the same number of dance majors a year, but those selected will now have a premier experience in the finest facilities where they can develop the skills and talents for career success, Ongaro says.
"We don't want to grow it in terms of huge enrollment numbers," he says. "We want to continue to grow it in quality."
---
Learn More
Chapman's Department of Dance offers a BA and a BFA in dance, as well as a dance minor.