Economic recovery in the wake of the COVID-19 crisis is on the way, but so, too, is inflation, according to Chapman University's Economic Forecast Update presented by Chapman economist and President Emeritus Jim Doti.
Nationally, the Chapman forecast calls for real GDP growth of 6.7% in 2021, versus a 3.5% decline during COVID-wracked 2020.
"That's gangbuster growth. We haven't had that since the early 1980s," Doti said in his annual presentation of the A. Gary Anderson Center's Economic Forecast Update on Wednesday, June 16.
The team made their presentation to a virtual audience of more than 4,000 viewers and a number of local business leaders who attended in person, as the state lifted most of its COVID-19 restrictions this week.
The V-shaped recovery predicted by Chapman forecasters in December has been fueled by fiscal stimulus packages, resulting in an unprecedented annual increase of more than 25% in the nation's money supply, Doti said.
Inflation and Interest Rates
However, the forecast team also pegs that infusion of spending to a higher rate of inflation by mid-2022. They predict that interest rates will soon follow. For example, they forecast that homebuyers will see a 30-year mortgage rate rise from the current average of 2.9% to 4.7% in 2023. Similarly, they project that a 10-year Treasury Bond will hit 3.4 percent.
At the moment, though, Orange County's home market is hotter than ever, the economists said. The average number of days to sell a house is 20 days, a historic low. Construction is already at pre-pandemic levels, with residential permits rising from 5,900 in 2020 to 10,200 this year, according to the report.
Housing Bubble for Orange County
But the county is also in a real estate bubble, according to the report. The current median price of a home in Orange County is slightly more than $1 million and the forecast predicts that the pressure from rising interest rates will soon push that down to $930,000.
"I think that will be a minimum adjustment … I'm thinking in the 10 to 15% range," he said.
What's the stock market going to look like?
How will the stock market react to inflation? With volatility, so investors should plan to diversify portfolios, said Fadel Lawandy, professor and director of the Hoag Center for Real Estate and Finance in the Argyros School of Business and Economics.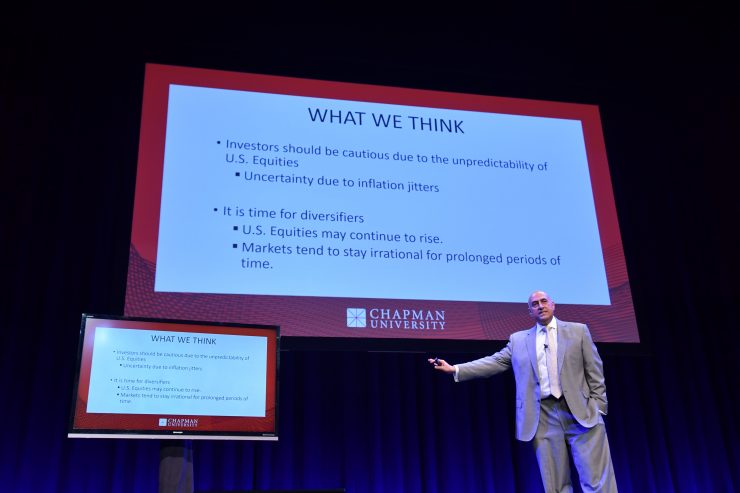 "A little bit of inflation, the market likes. The market likes it because a little bit of inflation means the economy is going to grow," he said. "Where the market starts to get worried is when the inflation gets high enough that the Federal Reserve is going to intervene by increasing interest rates."
California's Economic Forecast
In California, payroll employment is expected to increase by 3% in 2020 versus 2.6% for the U.S. Doti explained California's faster job growth by its deeper job losses during the COVID-19 recession.
While many jobs are returning to the Golden State, Doti presented evidence that California's population growth is declining and connected it partly to California's high number of regulatory statutes – some 395,000, compared to an average of 100,000 for most states. California's out-migration is 3.4 percent, compared to the 10 most low-tax states, which added an average of .5% to their net in-migration, he explained.
"If you want to start reducing this out-migration, you have to start thinking about our taxes and our regulation," Doti said.
For decades, the forecasts presented by Chapman's A. Gary Anderson Center for Economic Research in the Argyros School of Business and Economics, have been regarded as the most accurate forecasts in the nation. The next report will be the 44th annual Economic Forecast in December.
Missed the Presentation?
A recording of the update and the Q&A that followed is available on YouTube.
---
Learn More With the Economic & Business Review
An in-depth look at the research and data driving the Forecast Update is available in the Economic & Business Review. Purchase your copy today.