Bigfoot, aliens, ghosts and psychic abilities used to be the stuff of checkout-line tabloids and daytime TV. But now these, and many more beliefs like them, are securing a spot in the mainstream.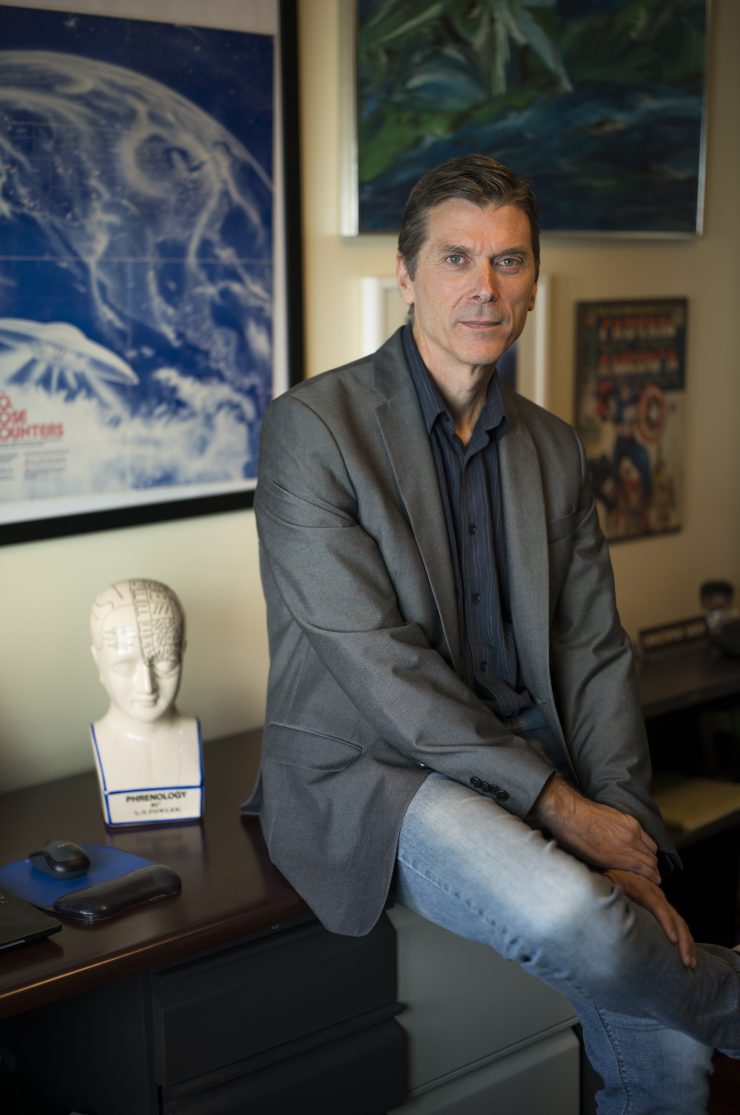 A majority of Americans – 52% and rising – profess to having a paranormal belief or experience. Are belief systems becoming more "out there," or does this rise in acceptance of the paranormal tell us something larger about a shift in how people come to develop their beliefs?
This is the compound question Chapman University research professor Christopher Bader, Ph.D., sought to investigate in his book "Paranormal America: Ghost Encounters, UFO Sightings, Bigfoot Hunts, and Other Curiosities in Religion and Culture."
"Belief in the paranormal is no longer a fringe subject," says Bader, who co-leads Chapman's Institute for Religion, Economics and Society with professors Ann Gordon, Ph.D., and Edward Day, Ph.D. The three are principal investigators on the annual Chapman University Survey of American Fears.
Bader has published widely on paranormal experiences, fear, sociology, deviance, criminology, the sociology of religion and education. He has embedded with Bigfoot hunts, talked with UFO encounter support groups and gone on and organized ghost hunts.
The research for "Paranormal America" pulls information from five survey projects that involve Bader, drawing from a combined survey set of more than 4,000 respondents.
The research shows that the trend toward paranormal beliefs and experiences embraces a broad pantheon of ideas. Some believers in the paranormal search the skies for unexplained lights, go on late-night hunts for ghosts or hike through North American woods in search of Bigfoot.
Some believe in the lost city of Atlantis, demon possession, prophetic dreams, reiki, healing sounds, power crystals and tarot cards. The intensity of belief also varies widely.
The Paranormal Is Personal
One commonality is that people don't like it when others tell them what to believe, Bader says. "They're hearing, 'Here's what God is, here's what God wants, here's what God says is right and wrong.' If you walk into your church and you say, 'I'm seeing a ghost,' they can say, 'No you didn't,' and that's it," Bader says.
These days, Bader's research reveals that people are less likely to let outside forces dictate their beliefs. The shift from institutional to personal belief structures could be one reason for the rise in the reports of paranormal experiences, he says.
With the paranormal, Bader notes, things are extremely democratic, except as they affect atheists and the intensely religious. These groups are the least likely to report paranormal beliefs or experiences.
"It's because they're convinced it's something else," Bader says. Each of these groups has a strictly bound belief system already in place, he adds.
Research indicates that people tend to focus on a particular area of paranormal interest based less on what they know and more on what they feel or see.
"The paranormal is about people who have experienced something," says Bader."The people who are the most into it are the people who have experienced it for themselves."
Survey Findings
Professor Bader's research shows that…
25% of Americans have read or researched the world of ghosts, hauntings and apparitions.
Men are more likely to connect with the paranormal via cryptozoology, or animals of folklore (Bigfoot, the Loch Ness Monster, the Chupacabra).
Women are more drawn to New Age connections (psychics, mediums, astrology, ghost contact).
67.9% of women respondents, 63.3% of male respondents    Report a belief in Atlantis.
59.1% of women respondents, 52.1% of male respondents     Report a belief in haunted places.
Married = Unmarried – Married and unmarried people are equally likely to chase Bigfoot.