Sixteen million viewers around the world watched Season 2 of Netflix's "Stranger Things" within the first three days of its release on Oct. 27, 2017.
Of those 16 million, 361,000 viewers binged, watching all nine episodes, one right after the other.
"It's safe to say that 'Stranger Things' has become an instant classic," said Akin Ceylan '90, COO of home entertainment at Lionsgate and president of Chapman University's Alumni Association. Ceylan introduced "Stranger Things" creators Matt and Ross Duffer '07 when they gave a master class in Folino Theater in October 2017. The series is still going strong, having recently premiered its new season on Netflix.
The day before their master class, the Duffer Brothers accepted the Alumni Achievement Award at Chapman Celebrates, they generously gave back to Chapman University and its students. Before an overflow crowd, they shared insights about their journey and offered a range of career tips, some specific to the film industry and others that apply to any profession. Call it a top-10 list with a twist.
"Learn from the masters."
"Watch a lot of stuff," Ross told the students. "Old movies, new movies, good, bad– everything." The Duffer Brothers explained how watching a variety of shows and films helped them pick up on what works and what doesn't. "There is a rhythm to storytelling, and you start to absorb that," Matt said.
"Work hard—really hard. "
"The kids who work the hardest are the ones who succeed," Ross said. "We did most of our work when the film school was in DeMille Hall, and there was a core group of kids who were there every day, sometimes till 3 in the morning, helping each other." So it wasn't a surprise when a group member found industry success. "I mean, of course Justin Simien ('05, writer/director of Dear White People) made it, because you could see it back in the day," Ross said. The Duffers also realized they couldn't just focus on directing; they needed to become good writers, too. "The most valuable thing to have," Ross said, "is a script people want."
"Intern, intern, intern!"
"It was really important for us to get up to Hollywood and work for the production companies," Matt said. "You get the coffee, make the copies, deliver the Christmas presents. You put in the time, you earn the respect, and then they give you more responsibilities."
"Write what you want."
Did you know that the Duffer Brothers were turned down the first few times they pitched "Stranger Things" to industry executives? "No one wanted the '80s, and no one liked that there were children in it," Ross explained. "At a certain point you have to stop listening."
"Find inspiration—and keep finding it." 
The Duffers were inspired by the work of filmmaker M. Night Shyamalan, and after he read their first film script, "which was very M. Night Shyamalan-like," Ross said, the director invited Matt and Ross to meet with him. "That invigorated us," Matt said. "We got jobs writing for 'Wayward Pines' (a Shyamalan TV series for Fox). We got television credits at a time when TV was getting really interesting. We took that money and developed the show that became 'Stranger Things.'"
"Find and know your purpose." 
The Duffers knew that they wanted to direct films when they were "tiny little dudes," growing up in North Carolina. They saw a commercial for Tim Burton's Batman, and "that's how we found out what a director does," Matt noted. "The difference between us and other kids is that we knew movies were 2 hours long, so we'd set a timer, and with about 15 minutes left, we'd say, 'OK, better start wrapping this up.'"
Also at an early age, they knew they wanted to work together. "We're fairly dysfunctional apart," Matt said.
"Don't overanalyze why something works." 
So many people want to talk about "Stranger Things" as a marketing vehicle, the Duffer Brothers said. And so many are now trying to manufacture the next "Stranger Things."
"You don't want people sitting around saying, 'What's your kids-on-bikes pitch?'" Ross said. "Don't pay attention to what's hot in the marketplace. Do what makes sense to you."
"Don't be afraid to fail." 
Accept that getting knocked down is just part of the process, Ross said. "Those who love it so much that they can't imagine doing anything else? They're the ones who get up and put themselves back out there."
"Create your own luck." 
Although their careers are young, the Duffer Brothers have endured ups and downs. There was a period before "Stranger Things" when they questioned their career choice. During that time, they were writing what production companies wanted. They decided to reconnect with their own storytelling passions and go back to writing tales of the paranormal. It wasn't long before "Stranger Things" was born.
"Learn to say no." 
The Duffer Brothers had a few early offers on "Stranger Things," but they wouldn't have been allowed to direct. Ross and Matt's response? "We had to say, 'Sorry, you can't have it,'" Ross said. "That was hard. We could have said, 'Well, we'll just watch our baby grow from a distance.'"
"At some point," Matt said, "you have to bet on yourselves."
Their list of career tips complete, the Duffers made an admission.
"Super cheesily, we were going to do 11 lessons," Matt said, "but we lost one on the car ride over here."
Watch the entire master class below:
Groundwork for Success and Lasting Friendships
Tashi Trieu '10 works as a freelance colorist and finishing artist for various Hollywood clients, and in 2015 Technicolor hired him to work on a fledgling project for Netflix called "Stranger Things." There was no need for an introduction to the show's creators, the Duffer Brothers.
Trieu first met Matt and Ross Duffer '07 at Chapman when he was a freshman and they needed post-production help with their thesis film, a sci-fi work called Eater.
Even before he started, Trieu was impressed by the film and the brothers.
"They were great to work with," recalls Trieu, now also a lecturer at Dodge College of Film and Media Arts. "Some friends and I recently saw that movie again, and it's impressive filmmaking."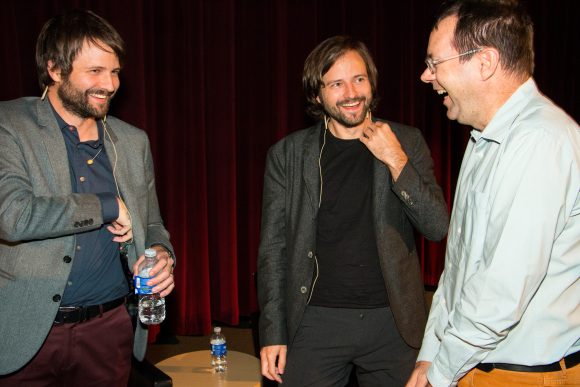 Back then, Trieu couldn't have predicted that the Duffer Brothers would create a series as wildly successful as Stranger Things. But he did recognize their talent, and he has come to understand that "no one is an accidental success."
"They really cared. When I started on "Stranger Things," it was just friends working together again," Trieu says. "Some of my best friends to this day I met at 8 a.m. on the first Monday of my freshman year (at Chapman). It's a group that shares the same ethic, the same commitment to doing this job."
Like Trieu, Chapman film professor Michael Kowalski says that the Duffers' success "has happened to the best possible people."
Kowalski first saw the depth of the Duffers' talent when they were chosen as sophomores to produce a film from their own script for an Interterm class called Location Film.
"We had never selected sophomores before," says Kowalski, who is also dean of academic Affairs for Dodge College. "They possessed a certain talent, and they were very confident."
Later, Kowalski saw the brothers take their game to an even higher level with their thesis film.
"That story is chilling," he says of Eater. "Watching it at home, alone, with headphones on … I had to take the headphones off because it's so creepy. Anyone who can direct a short film like that can direct anything."
Photos/John Saade
Watch the Duffers' thesis film, Eater, below:
This story appeared in the fall 2017 issue of Chapman Magazine.