Meet Leah Thomas '17 and step into her D.C. summer. Take a tour of President's Park and the White House Visitor Center. Learn about the intersection of science, conservation  and social justice. Go to chapman.edu/podcasts.
WASHINGTON, D.C. — Working steps from the White House never fails to inspire Leah Thomas '17. As an African American student intern, she takes special pride in seeing the first U.S. president of color exit Marine One when the helicopter lands on the South Lawn. So it surprises a visitor when Thomas shares that her great grandmother, a champion of the '60s civil rights movement, didn't want to see Barack Obama elected president.
"She never thought this would ever happen, and then when she actually had the chance to vote for him she couldn't help thinking about Martin Luther King and Malcolm X, also Bobby Kennedy. She was worried that something bad would happen to him (Obama)," Thomas says.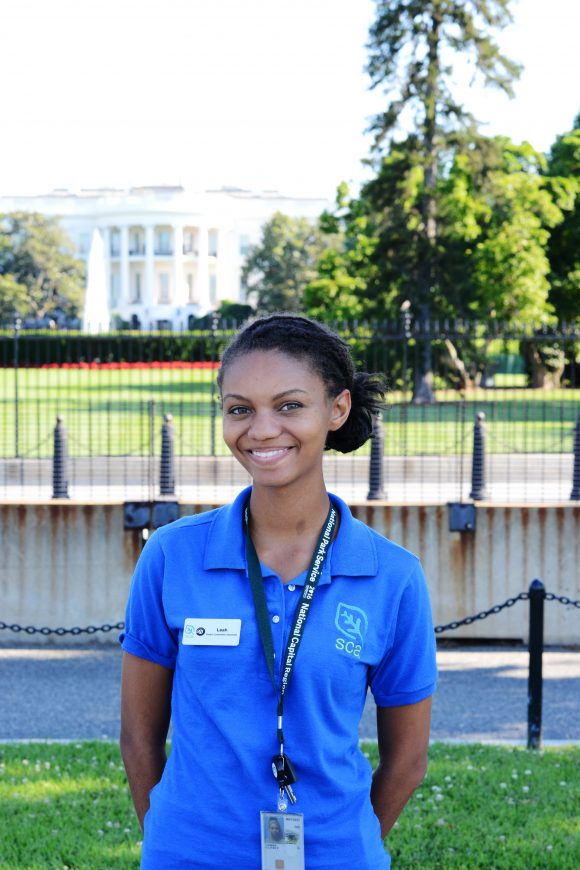 Fortified with personalized historic context, Thomas often talks to young people visiting Washington, D.C. Recently she spoke with middle-school students who didn't understand the significance of a black president. Then it hit Thomas: The only president they had really known in their lifetimes was African American. What was the big deal?
To say that Thomas' White House experience has been enlightening and rewarding is an understatement.
"I feel like this summer is going by really fast," she says a month into her experience.
Watch Thomas expertly manage the line of White House visitors or share insights as she leads a walk around President's Park and it's clear that she has fast become a key member of the D.C. visitor information team. Park Service rangers offer her enthusiastic high-fives, and Kevlar-vested Secret Service agents flash broad smiles and extend warm greetings.
"The agents are cool," Thomas says. "I try to emulate the way they mediate conflict."
With her fall return to Chapman University, the Environmental Science and Policy major will begin work for the California Coastal Commission assessing water quality. During her Chapman experience, she has taken on a host of roles, including investigating oxygen depletion plaguing waters in the Gulf of Mexico.
Last summer, a Student Conservation Association internship took her to Kansas, where she educated visitors about the only remaining town in the West established by former slaves after the Civil War. She still misses all the friends she made at the Nicodemus National Historic Site.
"Part of me really misses seeing wheat waving in the wind," she says.
Likewise, it will be hard to say goodbye to her new colleagues and the many visitors she has invited into the White House experience.
"The other day I got to see the prime minister of India," Thomas says. "That kind of thing definitely doesn't get old."