Chapman chemistry professors pride themselves on interacting with each student during lab sessions, but to get to those students they must weave in and out of alley like aisles.
A molecular biologist is researching pancreatic cancer, but sometimes she grows cell cultures in a converted closet to protect them from contamination.
Unquestionably, profound research and personalized teaching happen every day in the University's science programs, despite the age of its well-used buildings and the challenges posed by cramped laboratories.
"Nothing stops me," says Melissa A. Rowland-Goldsmith, Ph.D., who teaches molecular genetics and researches compounds that may slow cancer of the pancreas.
But how will the work be easier and even more ambitious in the new Center for Science and Technology, rising fast on the east side of campus? Just ask the faculty who will work and teach in the 2.25-acre complex. Terrific new buildings matter – for better spaces to teach and explore, so students and cultures can grow; for team-oriented laboratories and collaborative workspaces that mirror the career environments students will enter; for state-of-the-art technology and facilities that streamline complex research.
And yes, it's also about necessities like special dishwashers, social areas for students and, believe it or not, the delight of pulling a marker from your lab coat and turning to one of the many glass walls that will line the corridors and noodling through a problem with a student.
"That's going to be great for faculty and students," Rowland-Goldsmith says. "To have this big space where you have room to write things out. We can just go to town."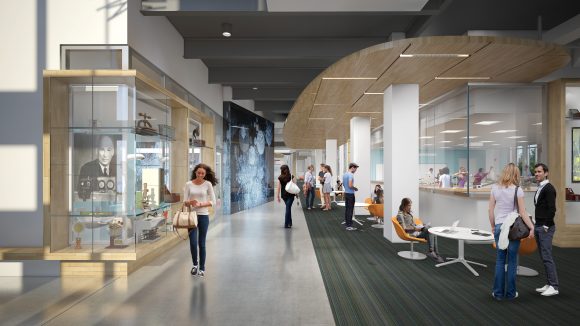 Making big leaps is precisely the idea behind the $130 million facility that will be the new home of the Schmid College of Science and Technology. From the carefully chosen glass walls to a $1 million lab dedicated to food safety research, the Center is envisioned as the staging ground for 21st-century research and teaching. Forget those outdated notions of the lonely scientist holed up in a lab. Make way for – sorry, here comes a buzzword, but one that's not going away – collaboration.
"We understand as educators that peer-to-peer and mentor-to-mentor relationships are vital to the process of learning, both inside and outside the classroom," says Schmid's dean, Andrew Lyon, Ph.D. "Having a building that has space intentionally allocated to (team) and  group  learning  relationships,  which  may occur in an ad-hoc fashion, is extremely important."
With teamwork in mind, it's fitting that the Center's unique design even incorporates the adjacent Ernie Chapman Stadium. Located on the site of the University's former tennis courts, the Center will feature an exterior flank that doubles as the visitor bleachers overlooking Wilson Field.
That design was necessary to preserve the stadium, but faculty love the heart-of-the-campus connection it lends. They're also excited that the working labs will be viewable through clear glass walls, ending the image of the lonely lab geek working silently behind closed doors, says Elaine Benaksas Schwartz, Ph.D., an associate professor of chemistry.
Science needs to be seen to be understood, or at least appreciated, she says.
"When people come and see us, they'll actually see how we operate. They'll see those working labs. We have an obligation to the public to convey how science happens," she says.
All majors will benefit, too. With the additional space, Schwartz envisions more lab-based courses for non-science majors. "(Teaching) doesn't have to be at the depth a science major is studying. But certainly understanding the scientific method – observation, how you build from that, the hypothesis – everybody should know how to think in those ways because you can solve all kinds of problems that way," she says.
There's also the responsibility to prepare students for the career settings that dominate science and technology industries. Lyon keeps a stack of blueprints for the Center on a work table in his office and quickly turns to the pages where that mission will be evident. On one page, he points to a sketch that includes podlike work areas where small groups can team up on projects. On another page, he notes areas designed to foster informal meetings.
"Those experiences help our students become better prepared for the dynamic, team-based, collaborative environment that is found in so many workplaces."
Schwartz has first-hand experience with such spaces and can attest to their importance. She spent 15 years in pharmaceutical research and development before joining Chapman. During a tour of a temporary lab recently built in a portable building on campus, she points out the hallmarks of that work style. Long lab benches float like islands so that colleagues can easily move back and forth. Pipes, shelves and hardware are placed slightly over the work areas, allowing for easy face-to-face discussion. Away from the benches and chemicals are desk-like writing areas for small groups.
Students chat as they move about and cross paths. The teamwork makes for a busy and pleasant but structured vibe. And that's what professional life will look like for many of these students, Schwartz says.
"If you can't work on a team, you become ineffective," she says. "You have to work with your small group and cross boundaries with other groups so your project can advance."
The new Center will give research itself room to grow, too. Schmid professors are proud of what they've accomplished in existing facilities. But they're eager to spread their wings in a space they say will help attract more grants for major projects.
"In the eyes of granting agencies, core- function facilities and the like actually enhance the positivity of the reviews," says associate professor Marco Bisoffi, Ph.D., who collaborates with Rowland-Goldsmith on the cancer research. "Let's face it, we're much more likely to have research funded."
Lyon agrees. Great ideas ultimately win funding – from government and private sources – but he says it's easier to dream big when you know there will be room to carry out the effort.
"The facilities within which research is conducted, and the research tools available within those facilities, can often dictate the complexity of the problems being tackled," he says.
Finally, there's the everyday business of things like pure cell cultures. It is a testament to the science faculty's can-do spirit that they've flourished in the existing facilities.
For example, Jason Keller, Ph.D., is an ecologist who slogs through wetlands ranging from Minnesota peatlands to tidal marshes of Southern California to study their greenhouse-gas dynamics. Currently he and several undergraduates are studying some of the ways methane gases are being released in wetlands. It's unique research that may lead to more projects, he says.
And it's messy. Keller stands in the center of his small lab and describes the almost comical dishwashing drill for lab glassware he and his students use in the process of soil analysis. Essentially it involves a quick rinse in a tiny sink – too small for some of the equipment – a trip across the hall with tubs of glassware for a soapy scrub, an elevator jaunt to the fourth floor with carts of glassware for an acid wash with a fume hood, and a dip in nano-pure water – only available on the fourth floor – and then back to the main lab where they dry.
"That tangible ability to just do dishes in the new Center is surprisingly exciting," Keller says with a laugh. "How many hours in the past few years have I spent just walking around with dishes?"
Back in Rowland-Goldsmith's shared lab, everyone is on guard to protect the cell cultures critical to the molecular biologist's research into polyphenols' ability to inhibit pancreatic cancer cells. Extraordinary efforts even go into the careful maintenance of the heating, ventilation and cooling system.
Ideally, to prevent mold and other contamination, investigators should avoid shared laboratories.
We don't have a designated room for cell culture," she says. "We have to be extra, extra careful. And we've been OK. We train our students really well."
There's also new lab equipment that arrived in September, but they have yet to free up lab space for its installation. So the completion of the new labs, sinks, cabinets, meeting rooms, glass walls and science- themed artwork sketched out in those blueprints is eagerly awaited. Even the facilities' real-time construction can be observed via a campus webcam at
cstsouthcam.chapman.edu
.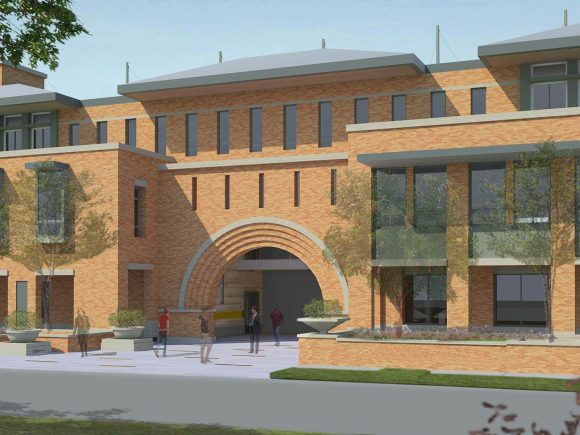 Yet, what really excites the faculty are the other doors the new Center will open. They see a growing ability to recruit rising-star faculty with innovative research, and especially the capacity to enroll even more high-achieving students eager to dive into that work.
"The building is awesome. But more than that it's really a reflection of what the sciences are about at Chapman right now," Keller says.
And the future students? They are dream material.
"Who knows?" Rowland-Goldsmith wonders. "Maybe this is going to allow us to get students who find that they want to go into cancer research as a career. … Maybe they're going to be the ones who find something to really slow down cancer. Who knows? It's absolutely more than just new offices and sinks. It's training brilliant minds."
Display image at top/In a lab at Hashinger Science Center, biochemistry and molecular biology major Taryn Miyake '17 lifts a specimen from a tank of liquid nitrogen as professors Marco Bisoffi and Melissa Rowland-Goldsmith look on.
Learn how you can be part of this endeavor by visiting the Capital Fund for the Center for Science and Technology information page.