President Jim Doti once stated in a lecture that "every great university has a distinguished museum of art," and he was right. Now Chapman University is celebrating the opening of just such a museum, featuring works that tell compelling visual stories of California's history.
The Feb. 26 grand opening of the Hilbert Museum of California Art means that Chapman students, alumni and staff, as well as visitors from all over the world, will get a chance to view engaging works of representational art from the collection of Mark and Janet Hilbert. In November 2014, Chapman announced it received from the Hilberts a gift of art valued at more than $7 million, in addition to $3 million to establish a museum on campus.
Hilbert Museum of California Art

167 N. Atchison St. in Orange
(across from the Orange Metrolink station)

Open Tuesday–Saturday, 11 a.m.– 5 p.m.

Free admission, free parking
"This is the first art museum totally dedicated to the display of California Scene paintings," Mark Hilbert said. "Our purpose is to cast a spotlight on this style of representational art and, through traveling exhibitions, share California's rich art heritage with people all over the world."
The 7,500-square-foot Hilbert Museum is an elegant space on Atchison Street next to Chapman's Partridge Dance Center. It's a short walk from the Orange train station, adding to its accessibility.
While the museum's works will be of interest to even the most sophisticated art connoisseurs, each exhibition will be set up so that people new to art appreciation enjoy the experience. In addition to descriptive plaques and information panels detailing works and museum sections, the plan is for docents or special guests to give occasional talks that provide additional insights.
Exhibitions will emphasize the educational value of the works. Each show will have direct links to corresponding academic departments on campus. For example, a number of the artists featured in the museum's inaugural exhibit,
Narrative Visions: 20th Century California Art from the Hilbert Collection,
produced animation art and preproduction art for Hollywood studios, including Disney, Warner Bros., MGM and Universal. Works by studio artists will be of special interest to students at Chapman's Dodge College of Film and Media Arts. Students learning to paint watercolor background art for animated and feature films will find a number of the 1930s-era watercolors of special interest, as they were painted by well-known animators of that era.
In addition, students taking fine art painting and commercial art classes at Chapman will benefit from studying the works of amazingly creative California artists and considering how styles evolved over the past 100 years.
The inaugural
Narrative Visions
exhibition features 100 oil and watercolor paintings produced from 1930 to 1970, when scene painting was the most popular art form in California. Featured are some of the world's finest examples of the style. Among them:
San Dimas Train Station by Millard Sheets. This is one of the finest watercolors of the 1930s by this celebrated American artist.
Sunday at the Plaza by Phil Dike. This large-scale work was reproduced in Fortune magazine shortly after it was painted, and since the 1940s it has been part of at least eight important American museum exhibitions as well as being reproduced extensively.
Back From the Ride by Emil Kosa Jr. This work won a top prize in the 1954 National Academy annual exhibition in New York City. It is California-style watercolor painting at its best.
If I Had The Wings of An Angel by Barse Miller. Not only is this work beautifully designed and painted, but its subject matter tells a visual story, which is what Narrative Art is all about.
Arches by Roger Kuntz. This 1961 work is a fine example of this artist's Freeway Series, which has received much attention from the art community in the past three years.
Like Kuntz, artists George James, Keith Crown and Edward Biberman also produced engaging more-recent works featured in the museum.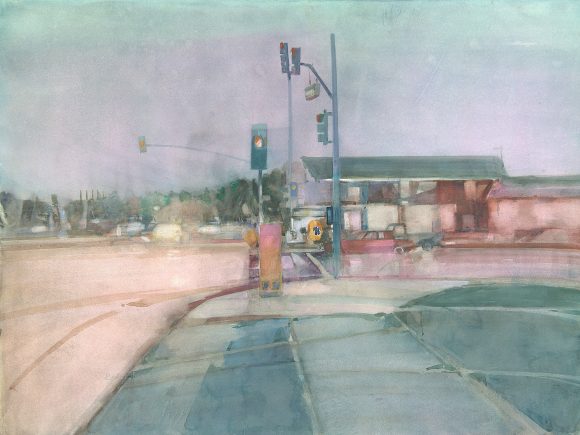 "We're delighted that Chapman will be the new home to the type of works we have devoted ourselves to collecting," Hilbert said. "Knowing that they will be shared with the students, faculty, visiting researchers and the wider public brings a special excitement to this opening. We can't wait to see their faces light up when they see these paintings."
The collection was decades in the making, and now that the museum has become a shining reality, the moment provides a special culmination to a rewarding process, Hilbert said.
"Five years ago, I never would have dreamed that this museum would be possible," he said. "It's been quite a journey. And now we're part of a whole new family, which is a wonderful feeling."
Gordon T. McClelland has authored 15 art books and five museum exhibition catalogs on California art and history. In addition, he has curated 18 art exhibitions throughout California and three in Europe.
Top image: From left to right, curator Gordon T. McClelland, donator Mark Hilbert and Chancellor Daniele C. Struppa all discuss the paintings.