Of all the things that motivate Chapman University soccer player Haley Fedden '16, personal awards barely even register. Which helps explain why she won a conference award for sportsmanship and team play.
"I've never met such a selfless person," says Chapman women's soccer coach Courtney Calderon.
A senior team captain, Fedden was a natural choice for the Brine Award of Distinction, as selected by coaches in the Southern California Intercollegiate Athletic Conference (SCIAC). The honor recognizes sportsmanship, community service and academic success as well as impact on the field.
Fedden is a three-time All-SCIAC selection with a 3.38 GPA as a political science and business administration double major. She also works with One Degree Leadership, which seeks to help adolescent girls build confidence through team sports, and she helped organize a soccer camp for at-risk youth through the Orange County District Attorney's Office.
Fielding questions about all aspects of life, Fedden came to admire the youngsters with whom she built a bond bigger than soccer.
On the field, it is Fedden who is admired. A tenacious defender, she often marks the best player on the other team.
"Fitness, hard work, dedication, desire, determination – all of these are things we never question about her," Calderon says. "She's one of those players people gravitate to. She's not very vocal, but when she speaks everyone listens."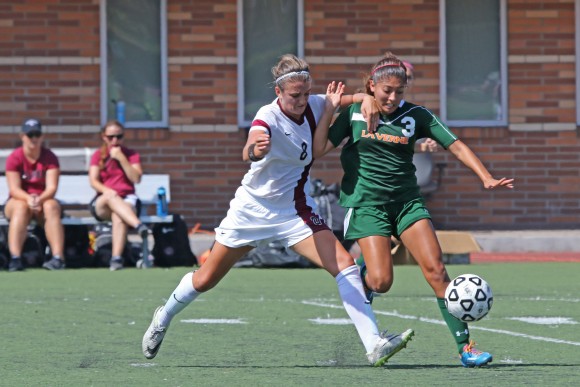 Fedden's success hasn't come without challenges. Early in her Chapman experience, she commuted to Los Angeles, where her dad was in a rehabilitation center battling liver cancer. Soccer became Fedden's escape, offering a sense of normalcy when the world seemed anything but ordered.
The bond with her Panther teammates was never stronger or more needed than when Fedden's father passed away during her sophomore year. The team attended his memorial service in uniform and held a moment of silence at a game. They also donned black wristbands in his honor, wearing them every game thereafter.
"My mom never really said anything about it," Fedden recalls, "but at senior game, she said, 'Tell them how important it was for me that they wore those wristbands.'"
Through it all, somehow Fedden remained a rock for her teammates, as they were for her.
"Doing so well in school and being a leader for a team is sometimes weight- bearing," Calderon says. "She handles it like nothing."
Achieving a balance of athletics and academics is its own reward, Fedden says. And there has been plenty of fun along the way.
Her semester studying abroad in Thailand is a highlight. She took two political science and two business classes as she also developed an appreciation for differences of culture and teaching style. Then there was soccer.
"I loved playing with (the locals)," Fedden says. "It's a sport that brings people together all over the world."
Her time in Thailand didn't stop Fedden from connecting with her Chapman teammates.
"She was just starting her captainship," Calderon says. "We had a meeting and they set it up so that every single player was on Skype."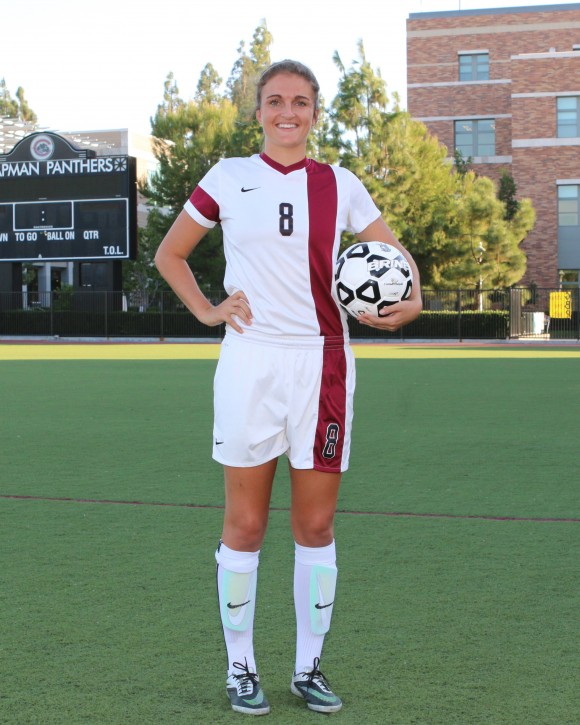 For Fedden, being a good teammate even extends beyond her own squad. In addition to coaching, Calderon teaches at Katella High School in Anaheim, and after sharing with the Panthers that a Katella student wanted college guidance, Fedden stepped in.
"Haley met with her, helped her write her admissions letter and talked to her about college," Calderon says. "Little things like that – she's awesome."
Fedden says she's the one who has benefited.
"I don't know any other school where, with all that's happened, I would've been able to play soccer, go abroad and still be there for my family," she says. "It was a blessing to be here."
Calderon becomes teary at the thought of Fedden's graduation.
"I'm going to miss her," the coach says. "She's going to be super successful in life. I hope my kids are like her."
Top image: Haley Fedden dribbles the ball.