Before he even knew there was such thing as the Musco Center for the Arts, James Neal '17 harbored theatrical dreams of attending Chapman University. Then two summers ago he visited campus and saw a structure rising up to meet his greatest expectations.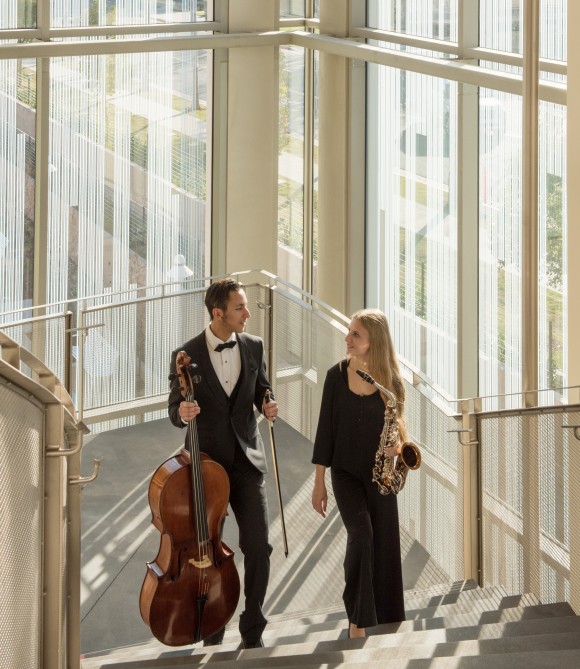 "I got chills," recalls Neal, a native of San Jose.
It turns out that Neal's father had recently dreamed of walking on campus with James and watching a world-class performing arts center take shape.
Now – for the Neals and so many others – the dream is real. The March opening of the Marybelle and Sebastian P. Musco Center for the Arts provides a new world of opportunities, lifting up the musicians, vocalists, actors and dancers who are eager to call it home.
There's so much to celebrate, beginning with the March 19 opening-night roster of performers, led by opera stars Plácido Domingo, Deborah Voigt and Milena Kitic, as well as an orchestra and chorus of 150 singers conducted by Grammy winner John DeMain. In addition, a free Community Open House and Arts Festival will be held April 2; highlights include a spectacular performance by all the major Chapman student and faculty ensembles, the Pacific Symphony playing Beethoven's Fifth Symphony and Grieg's Piano Concerto (featuring acclaimed Chapman faculty concert pianist Grace Fong), and an all-day outdoor and indoor festival on four stages starring local and student performers.
Many more performances are planned through May in the opening and preview season, including Grammy-winning jazz vocalist Dianne Reeves on April 8 and a Chapman production of Shakespeare's
The Merchant of Venice
on April 15, 16 and 23.
No wonder, then, that the campus and the wider Chapman community are so excited.
"When I saw our students, who are so talented in music and theatre and dance, I thought it was a shame not having the facility that their talents warrant," says Chapman President Jim Doti. "Lives can be made more meaningful because of what this incredible venue will help make possible."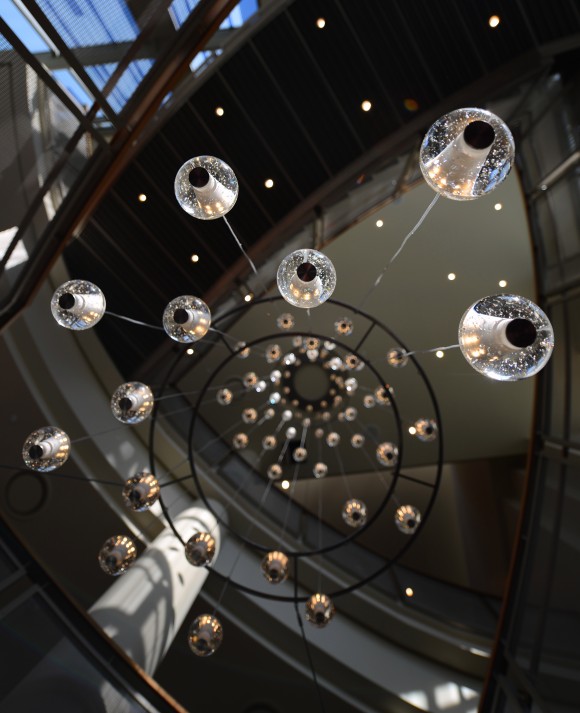 As a performance space, the $84 million Musco Center really is top of the line. The architect is Los Angeles-based Pfeiffer Partners Architects, which also designed the University of Notre Dame's DeBartolo Performing Arts Center, USC's Glorya Kauffman International Dance Center, the Colburn School of Performing Arts in Downtown Los Angeles, and the renovation and expansion of the Griffith Park Observatory.
The acoustics were designed by Yasuhisa Toyota, who was also the acoustician for Walt Disney Concert Hall, the revamped Sydney Opera House, the Danish Radio Concert Hall, Helsinki Music Centre and Mariinsky Concert Hall in St. Petersburg, Russia.
The Musco Center features an 88,142-square-foot theatre, seating capacity for 1,044, a three-level lobby and advanced lighting, sound and broadcast systems.
Other highlights include the highly anticipated Julianne Argyros Orchestra Hall, the main stage (named for the Women of Chapman support group), which is large enough to accommodate a wide variety of productions, a retractable flying orchestra shell, a highly sophisticated streaming audio/video electronic system called K-SAVE provided by the Steve and Helen Kay Family Foundation, nine dressing rooms, ample wardrobe facilities and storage areas, and a trap room below the stage.
"We have a stage here that can be set up to do anything," says Giulio Ongaro, Ph.D., dean of the College of Performing Arts. "The interior of the building is extremely well designed. Acoustically and with the sight lines, it's designed for a superior audience experience. There's no limit to what we can conceive and do in there."
ROOM TO GO AROUND 
Southern California residents are fortunate, with several fine performing arts facilities to choose from, including the Segerstrom Center for the Arts in Costa Mesa.
But the Musco Center fills a niche in the most populous part of Orange County, where professional, state-of-the-art facilities are lacking.
"Not to take anything away from what's going on in other places, but (the Musco Center) expands the lexicon and music into another place that's different, with a different audience," says Richard Bryant, interim executive director of the Musco Center.
The impressive facilities at the Musco Center will make it a magnet for professional performers and productions. Ultimately, however, the Center is for Chapman students.
"It's got to be for students," says William Hall, Ph.D., founding dean and artistic director of the Musco Center. "It's got to be for education."
"We're all 18 to 22 and we'll get a chance to be in a performing arts center designed for professionals like Plácido Domingo, which is amazing." Julia Dwyer '16, vocal performance major.
Daniel Alfred Wachs, an associate professor of music who also directs the Chapman Orchestra, has been a key organizer of the April 2 Community Day, which he calls "the largest collaboration in the history of the College of Performing Arts."
"For students, it's a professional stage," says Wachs, "When you perform on a professional stage, it's different than in a rehearsal space. The way that you project sound, hold yourself – all of that becomes more real-world. It will be a real-world experience and a real-world hall. It will be very interesting to see how (the students) hold themselves."
Since the Arts Center will be wired with Internet and streaming capabilities to complement the latest audio and visual technologies, it will help students behind the scenes get a leg up on production and the growing field of entertainment technology.
"They'll be able to move into the industry without missing a beat," Ongaro says.
Many at Chapman also see the Center as a recruitment tool.
"We intend to show every single prospective student the Musco Center," Wachs says. "Chapman doesn't do things in a small way. We do things in a big way."
AN ARTFUL COMPLEMENT 
The construction and opening of a multi-million-dollar performance center seems timely, but it won't render existing performance venues on campus obsolete. Memorial Hall, built in the 1920s, has been the main home of the University's performing arts since Chapman moved to Orange in 1954. However, it does have its limitations: Sets have to stay onstage during productions, the stage is often too small, and the acoustics aren't exactly built for intimate classical music concertos. Memorial Hall will still be used for lectures, panels and other important events.
The Waltmar Theater will continue to host theatre and dance performances, as well as rehearsals. Oliphant Hall will still serve music students, who utilize the John and Donna Crean Orchestral Recital Hall, the M. Douglas Music Collection, practice rooms and the Steeve and Helen Kay Music Technology Center. In addition Salmon Recital Hall, with 220 seats in Bertea Hall, will continue as a valuable performance space.
Still, as excitement grows for the Musco Center and the calendar fills up with student performances, award-winning pianist Vadym Kholodenko on April 26, the Stan Kenton Legacy Orchestra on May 3 and much more, those associated with the new premier facility say the sky's the limit.
"If the Center is integrated into the fabric and the curriculum of the University, it's not just another room, not just another space," Maestro Daniel Alfred Wachs observes, "but it actually works as a laboratory for new ideas."
Neal, the Chapman screen acting student, can't wait to see another dream realized when he performs in the Musco Center's first theatre production,
The Merchant of Venice
, alongside his mentor, Chapman Professor Michael Nehring.
"To be equals with him, that really drove me to want to do this play, and to be directed by Professor (Tom) Bradac," Neal says. "
Neal auditioned with a special feeling "that this is where I need to be," he adds. "And I kept thinking back to my dream. And lo and behold, I got a really good part."
"I'm thrilled to death, and it might sound silly, but I felt like something greater than me gave me this opportunity."
Dean Hall, who has seen countless advances and milestones during his 53 years at Chapman, feels an energy building at the University and in the region's arts community.
"There's an atmosphere on campus that's literally thrilling," he says. "We've all been waiting for this for a long time."
Top image: The exterior of the Musco Center for the Arts.
DID YOU KNOW?

There's much about the Musco Center that makes it special. To wit, the following project details, provided by Pfeiffer Partners architects William Murray and Brian Nichols.

Out front, the Bette and Wylie Aitken Arts Plaza extends a campus tradition of providing green space for students to enjoy. With its sloping design, the Plaza also evokes memories of the historic core campus' late, great Sunken Lawn, now the Bert Williams Mall.

The 17,000 square feet of gray carpet with cardinal accents in the lobby showcase a sublimation print. The design is linked aesthetically to the greenery of Renaissance-era manor gardens.

The acoustic design for the walls and carved-wood shell of the theatre is inspired by the garden at Murray's own home. As the architect searched for an effective and attractive sound-diffusion element, he thought of the layered stalks of the acanthus plant in his back yard.

Scattered throughout the Center are tangerine-sized lights termed "crystal droplets." They dot the cherry-wood seating boxes seemingly at random – but not quite. The lights mimic drops of water settled on a leaf. Look closely and you can see tiny bubbles that conjure droplets, each one unique.

One of the most integral designs of the theatre may go unnoticed by guests. Between the acoustic wall panels are sound-diffusion "banners" that extend down to soften sound for dramatic performances and pull up to intensify music during concerts. The banners are patterned to resemble the wall panels so closely that they appear translucent. Another clear sign that the Musco Center is a cut above.