ON THE WINGS OF MYSTERY AND WONDERMENT, AMERICAN CELEBRATION FINDS NEW WAYS TO CHARM.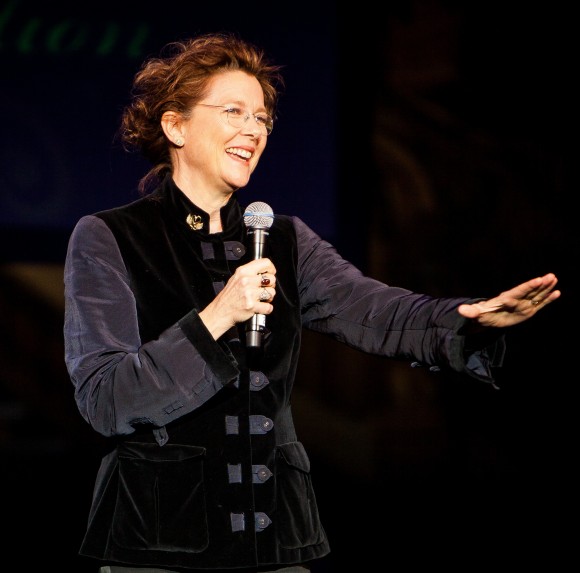 "Thou know'st the mask of night is on my face."
No one arrived expecting to hear a recitation of Shakespeare by one of America's most acclaimed actresses, but then American Celebration audiences have come to anticipate beguiling surprises from Chapman University's premier stage event. And by all measures, the 33rd annual revue and gala dinner was a towering success — in Shakespearean terms, sailing upon the bosom of the air, like the sweetest music to attending ears.
Remarkable philanthropists were honored, more than 130 students performed a spectacular show and a record $2.26 million was raised for student scholarships.
About 850 people attended the Nov. 1 show and gala, chaired by Barbara and Mark Chapin Johnson '05. As is tradition, attendees enjoyed a spectacular Broadway-style musical revue performed in Chapman Auditorium by students from the College of Performing Arts. Woven throughout the program were students' heartfelt thanks, conveyed both in video montages and by several of the evening's performers.
"I can truly speak for a lot of us performers up here, without your generous support and your donations we would not be standing here on this stage. So thank you very much," said cast member Jordan Goodsell '15, who has performed in American Celebration since hisfreshman year.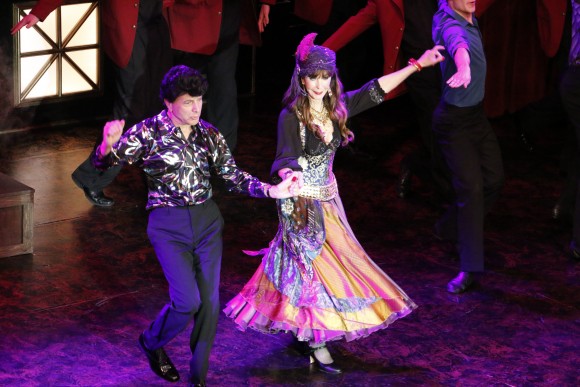 For their profound generosity to the University and the greater Orange County community, Bette and Wylie Aitken were named Citizens of the Year. The Aitkens' commitment to Chapman is multi-layered, from support of the Family Violence Clinic at the Dale E. Fowler School of Law to the forthcoming Musco Center for the Arts, where the front plaza will be named for them. But in accepting the award, Wylie Aitken turned the limelight toward the many supporters who make American Celebration such a success.
"It's really about these incredible, wonderful students and the incredible performance we've already seen here tonight. Your generosity, which makes a difference in these children's lives, is what this evening is all about," he said. Inspiration was also brought to the stage by film and stage star and Oscar nominee Annette Bening, who was presented with the Lifetime Achievement in the Arts Award.
Days after teaching a master class in acting at Chapman, Bening borrowed from American Celebration's theme of "Masquerade, Mystery, Wonderment," telling the audience that she has reached a point in her career where she is trying to bring a sense of the beginner's wonder to her work.
"This award will inspire me to do that," Bening said. "We all have to work at maintaining our sense of wonder and our sense of curiosity about the world." Bening closed her remarks with "a little bit of Shakespeare," reciting a portion of the balcony scene from Romeo and Juliet. After such a performance, followed by an elegant dinner and dancing, never has parting been more like sweet sorrow.