Families with autistic children face a multitude of challenges. Chapman educators are helping to ease their burden.
Liza Krassner turns to her computer and clicks open a large file called an Individualized Education Program, or IEP. It's a plan written by staff members at the school attended by her autistic teen-age son, Mark, spelling out the programs and services he should receive in the coming year. Krassner scrolls and scrolls and scrolls.
"See what I mean?" she says.
Krassner is a university administrator, holds an advanced degree, launched a film company to produce short documentaries and volunteers on behalf of autism causes. But nothing prepared her for the daunting process of plowing through a 32-page document outlining the plan to educate her son.
"There's a lot of language there that's very confusing to parents. And not just confusing, it's extremely overwhelming," she says.
Fortunately for Krassner, educators in Chapman University's College of Educational Studies are working to make things easier for parents and their autistic children. As partners in Orange County's new Center for Autism and Neurodevelopmental Disorders, Chapman educators are designing programs to make materials more understandable and education plans more effective. Krassner is just one of many parents who've already benefited from the innovative programs.
"It's been very helpful to me," Krassner says, nodding toward an IEP on her computer screen. "They teach you how to read these things."
Apps To The Rescue

One app captures the highs, lows and everything in between in an autistic child's day. Another helps autistic teens dress a little more cool. And a third guides parents through the special-education process.

All these new computer applications are created by Chapman University students. Hailing from the disciplines of computer science, digital arts and education, the

students have rolled up their digital sleeves and harnessed technology to help children with autism and their caregivers manage day-to-day tasks.

"This is a prime example of interdisciplinary research," says Erik Linstead, Ph.D., assistant professor in the Schmid College of Science and Technology.

Chief among them is Autism Management Platform (AMP), in development thanks to Linstead and his Ph.D. students. AMP functions like a news feed that allows everyone involved in a child's care to post information and reports to a user-friendly database.

The data paint a picture of a child's progress and challenges that all team members might not otherwise see because they only observe the child in a particular setting. It even includes features like temper-tantrum timers and medication trackers, as well as the option of recording short videos.

Ultimately, Linstead says, he envisions using the collected data to identify longitudinal trends that could shed light on patterns — from weather to major transitions — that influence the behavior of autistic children.

A high school special education teacher who has field-tested the app during development is eager to see it formally launched. Student information now is jotted down in a spiral notebook that moves about the school among teachers and aides. "When you have a notebook, you're just relying on someone writing all this stuff. It's not in a data format," says Jans Baltgalvis, who teaches special education at Edison High School in Huntington Beach, Calif.
With AMP's drop-down menus, the data fed into it are also more structured and less prone to being vague or skewed by the user, Baltgalvis says.

"I'm really excited about it," he adds. "This is such a real-world application."

Another head-turning autism app is Smart Dresser, a clothing organizing system helping teenage girls pull together outfits that align with social norms. The app uses an algorithm that monitors weather as well as what outfits have been worn a lot recently. Smart Dresser was created by a team of computer science and digital arts students and won the Surprise Award at last year's Autism App Jam at UC Irvine.

Then there's FAST, which helps parents consolidate a mountain of paperwork, from progress reports to the learning plans created for all special education students. The app was created by Jared Izumi, a Chapman graduate student working
with Families and Schools Together (FAST) at the Center for Autism and Neurodevelopmental Disorders.

Izumi drew inspiration — and the similar name — from the program because he saw that all of the 1,000 families served by the center would not have the opportunity for one-on-one assistance. The FAST team helps families understand special-education jargon and documents.

Clearly Izumi is on to something. FAST won the User's Choice Award at the App Jam.
Help is what the Center for Autism and Neurodevelopmental Disorders is all about. The center is a partnership between Chapman, UC Irvine, Children's Hospital of Orange County (CHOC), the Thompson Foundation for Autism, and the Children & Families Commission of Orange County. The aim is to make the center the nation's premier facility addressing all the needs of children and young people up to age 22 who have been diagnosed with autism spectrum disorders.
Chapman will lead the center in the development of programs that educate and connect families and schools.
A Unifying Approach
The need is huge, says Don Cardinal, Ph.D., dean of the College of Educational Studies (CES). The relationship between parents and the school is vital, but it can also be an emotionally charged arena if the two have different expectations or goals for the student. Too often, Cardinal says, dialogue breaks down and leads to frustration, and even costly litigation. In response, some groups have emerged to represent student rights, while others focus on defending schools. Chapman's programs offer a unifying approach.
"The idea is to work with districts and families and not have either one own you," Cardinal says. "Our version is trying to get these groups to work together."
Two countywide surveys conducted by Professor John Brady, Ph.D., College of Educational Studies, underscored that need and a particular interest in family services. Guided by Brady's findings, CES faculty, graduate students and interns created two unique programs to cut through the confusion. The Chapman Ability Project (CAP) offers programs for teachers and other school professionals, while Families and Schools Together (FAST) supports families struggling with their children's special needs at home and school.
True to its acronym, FAST has quickly made a difference for families. Those legally required and hefty IEPs are a source of much angst and have been a focal point, says Amy Griffiths, Ph.D., assistant clinical professor at Chapman and director of FAST.
"It's very complicated. There are lots of laws. … For families to figure that out on their own is really tough," Griffiths says.
Krassner felt there were gaps in Mark's education, but she was uncertain where to start. She turned to Griffiths' team, which helped her dissect and refine Mark's IEP. As one example, instead of a general aim to "understand money," a better goal was to have him learn to count change.
Behavior issues had also arisen with the onset of Mark's adolescence, so FAST counselors suggested the addition of a behavior plan to teach appropriate social skills and language. In addition, they recommended the Krassners use insurance benefits to provide Mark with a behavior-intervention therapist for additional work at home.
Special Needs
As Mark prepares dinner one recent evening with his therapist's guidance, the day-to-day challenges his family must manage are clear. Mark struggles to choose between pork or beef, slams the oven door, retreats to his art table when he tires of browning meat and throws a cooking utensil to the floor.
Watching from the family room, Krassner quietly points at the kitchen activity as the therapist guides Mark toward more appropriate behaviors.
"The manifestation of everything that goes on that (IEP) is this," she says.
Berlina and Pascual Felipe of Santa Ana, Calif., are still learning what it means to raise an autistic child. Their son Jesus Alejandro — who asks everyone to call him Alex — is a busy 4-year-old fascinated by cars and the Ninja Turtles. Early on he was identified with special education needs, but was just diagnosed with autism in September. Doctors referred the family to CAP. The Felipes jumped right into parent education classes like "Special Education Basics," as well as an introductory course on IEPs.
The course was empowering, Berlina Felipe says.
"When I got his IEP I said, 'OK, Which goals did he meet, and what goals are we going to set for this year?'" she says.
It's a far cry from her first IEP experience.
"It made me feel dumb. I looked at it and I thought, 'Oh my God, what is this?' I just felt really bad that I couldn't understand it," she says.
She signed it without question — and without a school administrator at the meeting. After the CAP course, she learned that she should write a letter detailing her expectations for Alex's school progress and request that an administrator attend the IEP meeting where it would be discussed
as learning goals were set.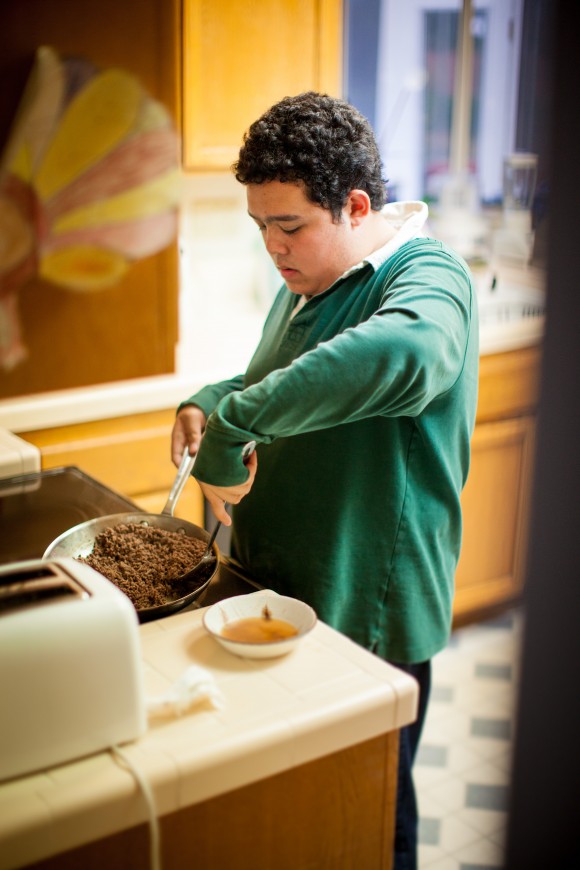 As promised, Chapman's programs also serve educators, who increasingly face challenges of their own as they strive to meet the needs of children with autism. Teachers and their support staffs are hungry for such expertise, says Jeanne Anne Carriere, Ph.D., assistant professor and director of CAP. The courses have been offered on campus, as well as in the community.
"We're trying to fill a gap that schools cannot possibly fill because they have so many other responsibilities," Carriere says.
About Autism

Autism "isn't one thing, it's many things," says Don Cardinal, Ph.D., dean
of the College of Educational Studies at Chapman University. "That's why they call it autism spectrum disorder. People with autism can be very, very different."

Most often, though, autism encom- passes a range of issues with communication, social skills and behavior. Scientists have
not determined a single cause and suspect there may be several factors, including genetic predisposition and complications during pregnancy.

According to the U.S. Centers for Disease Control and Prevention (CDC), around 1 in 68 U.S. children are on the autism spectrum, representing a tenfold increase over the past 40 years. The CDC says it is unclear how much of the increase is due to a broader definition of the disorder and better efforts at diagnosis.

Autism can sometimes be detected at 18 months or younger. Learn more at www.autismspeaks.org.
Indeed, the classes have been ideal for the Orange County Department of Education says Christina Romanosky, program administrator for the department's special education services.
"This year I had them do two sessions. The first was on building positive relations with parents. That was really great," Romanosky says. "It's nice to be able to have experts come in. We are always looking to keep our staff up to date on what is most current, what are best practices."
Those kind of happy partnerships are just a glimmer of what Cardinal envisions for Chapman's contributions to the field of autism and the work of the center.
"We're trying to get these groups to work together for the students' best outcome," he says. "That's why we like the autism center. There's so much potential there."
For families like the Krassners and Felipes, it's life-changing.
"For me, the most important thing is to learn," says Felipe. "I have to learn how to help him become a better person in the future. I never expected to get so much help."