These stories were originally printed in the summer 2014 issue of
Chapman Now
, a special publication from
Chapman Magazine
. They reflect thoughts on "home" — whatever that is and whatever that conjures for various members of the Chapman community. We invite you to comment below and share your thoughts. You may also write to
magazine@chapman.edu
.
---
My home is creatively furnished with four beautifully smart, athletic and kind children my husband and I have raised. I find myself reflecting on how incredibly blessed I am when we are all sitting down for our traditional Sunday evening dinners. My home comes alive when I have all four children home with their friends, hanging out, swimming, playing pool or shuffleboard, or watching a movie. The sounds of innocent laughter, embraced with love, make my home special.
Erin Lastinger '88, a communications graduate, is chairman and CEO of the A. Gary Anderson Family Foundation.
---
Alone in my second-story dorm room, I raise the window overlooking the quad. Elbows propped on the paint-cracked sill, hands on my cheeks, I listen to night sounds: a fountain splashing, wind rustling through eucalyptus trees, crickets calling, and the clang-clang of the Los Angeles Railway V Line streetcar, rumbling down Vermont Avenue. Chapman's redbrick, ivy-covered buildings surround the quadrangle, where four sidewalks converge at a fishpond and fountain. Students gather at the crescent-shaped benches encircling the pond to chat between classes. The fountain will become a symbol of my four-year metamorphosis.
Mary Ellen (Zimmerman) Barnes '50, an English graduate, describes her first evening in her new home on the Chapman campus, which in 1946 was on Vermont Avenue in Los Angeles.
Copies of four of her books are in Leatherby Libraries.
>>Online Exclusive: Read Barnes' entire essay Windows.
---
A morning treasure hunt for sea glass and heart-shaped stones on the beach gives way to a breakfast that indulges our daughter Maddie's love of all things syrup. Then it's on to table games and suspiciously easy wins at Rummikub for Maddie, who beams when our hosts, Ann and Dale Fowler '58, ask about her thoughts for the future, allowing her to share her goal of one day becoming a Broadway star. Now it's Ann and Dale's turn to beam as we delight in their latest treasure — a video of their great-granddaughter Jane, just a few months old, smiling for the camera before a successful rollover. The setting is the spectacular coast of Massachusetts, which is a wonderful place to build a house. But to build a loving home, you need special people like Ann and Dale, whose commitment to family and friends can turn a rainy Fourth of July into the warmest of experiences.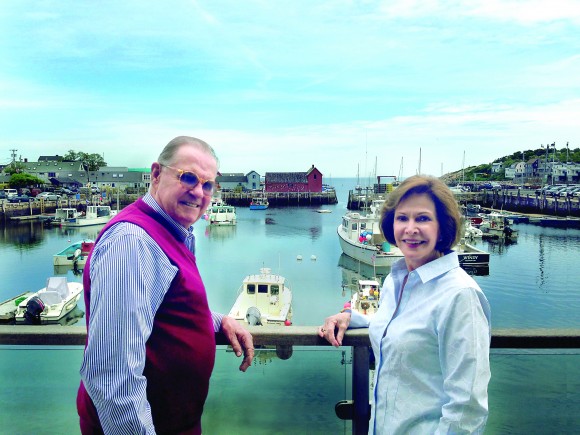 Larry Bourgeois '05, '10, his wife Sheryl Bourgeois, Ph.D., executive vice president for university advancement at Chapman, and Maddie visited the Fowlers at their home in Beverly Farms, Mass.
---
After having to move many times from one city to another because of my father's job during my childhood and adolescence, and then, after being held in two different prisons for a long time during the last Argentine military dictatorship, and after having to move from Argentina to Los Angeles, to Mexico, back to Los Angeles, again to Buenos Aires and, once again, back to Los Angeles, I can say that home, for me, is my writing. We all know that home doesn't have to be a geographical location. It can also be a mental or emotional place. Or, at least, that's how I really feel it. For me, everything I do and see refers back to the activity of writing. The topics that I write about are hard on my emotions, keep me on edge and cause me to take breaks to protect myself from the effects of that intensity, but that intensity is what I feel as home. It's where I feel secure, confident, where I have good and bad times, where I relax, feel under pressure, listen to the music of words and get to pile up enough bricks to build that home and the characters that inhabit it, among which I, in the end, am able to survive.
Alicia Kozameh is a faculty member in the Department of English at Chapman University. Her latest book is
Eni Furtado Has Never Stopped Running
.
---
Home is where my family and loved ones are. It is a place of love, hope, faith, creativity, dreams and security. Home is walking in the door and being greeted with kisses by my dog, Teddy. It is sharing a home-cooked meal and conversation with family and friends. It is a sanctuary after a long day at work. It is the word I used to describe my feelings when I first stepped foot on Chapman's campus. No matter where I go or what I do, I always carry a little bit of home in my heart.
Erin Gonzalez '08, a vocal performance graduate, made her debut with the Florentine Opera in Milwaukee last November and was accepted into the Santa Fe Apprentice Singer Program for this summer.
---
For me, thoughts of home begin with my beloved Alexandria, Egypt, where the fresh smell of the Mediterranean Sea gave me hope and energy every morning. Alexandria is full of firsts – my first car, my first group of real friends and my first and eternal love, which changed my life forever. As life took me and my little family to cities across America, I learned to take advantage of every single experience. When my older son is holding a handstand for almost six minutes, my younger one is winning a national championship in diving or my daughter is doing her first ballet show, this is when I feel that my family is happy. And these experiences are what I call home.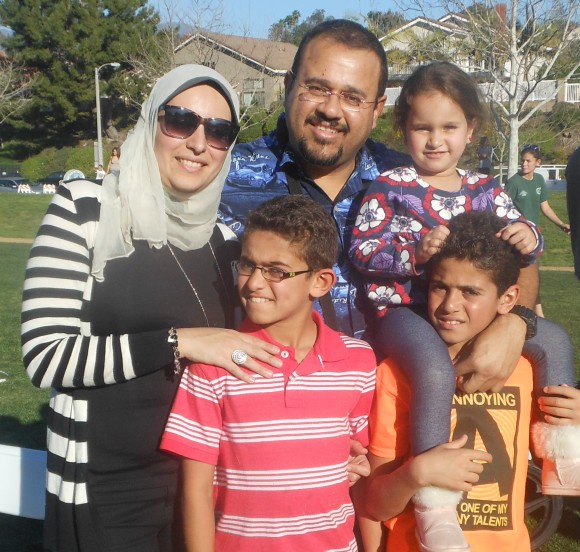 Essraa Nawar is development coordinator for Leatherby Libraries.
>>Online Exclusive: Read Nawar's full essay on thoughts on home.