Building on the foundational success of the inaugural Chapman on the Road event in New York City this past spring, Chapman University's Office of Alumni Engagement extended its warm embrace to the Pacific Northwest in Seattle on August 15. The event brought together Chapman Family members for an evening of connection and camaraderie.
At a cocktail reception hosted by current parents David and Danielle Limp, proud parents of Dylan '26 and Duncan '26, Chapman alumni, parents and friends enjoyed an evening of networking and connection with one another. Chapman President Danielle C. Struppa shared the latest updates about the university's inspiring momentum, including a rise in national rankings, a new strategic plan, and the university's future.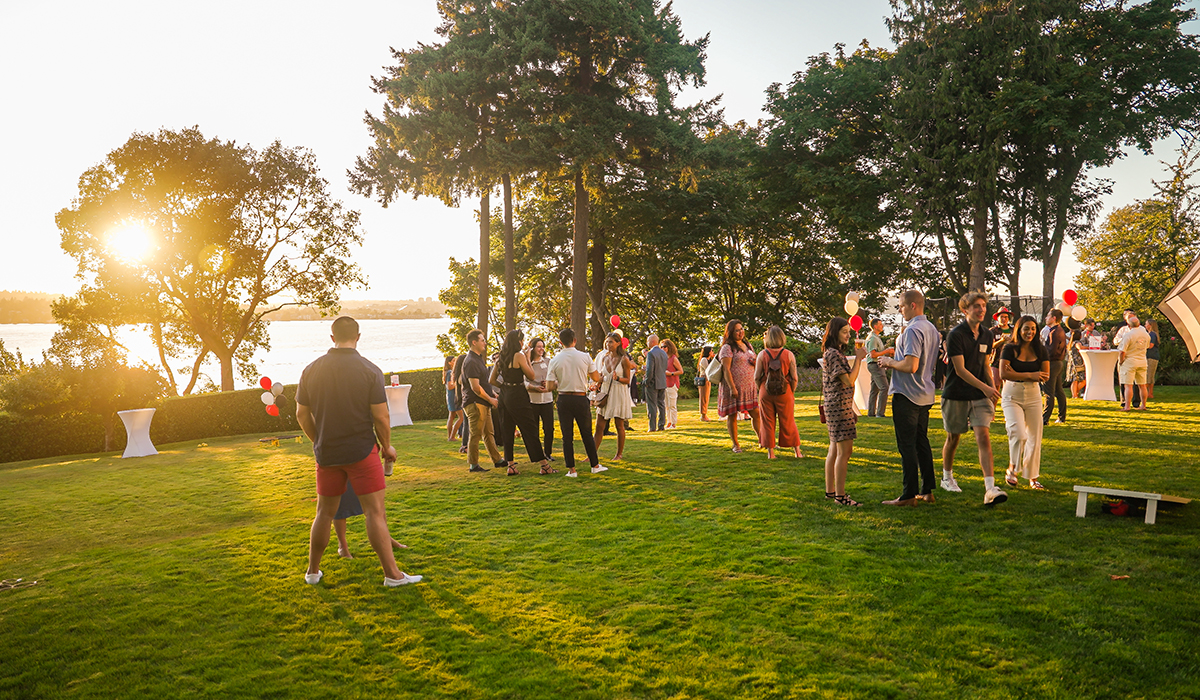 President Struppa began his address by expressing gratitude to the hosts and everyone present for their unwavering support. He highlighted Chapman's unique position in higher education in the United States, emphasizing the university's growth and the vital role played by the Chapman Family and its community.
"We have a situation in which we are doing very well, and we are on the opposite side of the spectrum because we are growing," he shared. "We have very supportive and helpful friends in the community, great students and parents."
The president described how the university thrives due to exceptional students who do well in their studies, become successful in their jobs and contribute to new students attending the university.
The president then underscored the university's ambitious goals outlined in the new strategic plan to elevate Chapman to the ranks of elite institutions nationwide.
"We have become better and better over the last several years, and now we are at the level that we can really make a further jump."
President Struppa pointed to the success of Chapman's film and business schools as prime examples of the university's academic achievements. Dodge College of Film and Media Arts is No. 4 in the country, while the Argyros School of Business and Economics rose to No. 60.
Furthermore, the president encouraged alumni to visit the campus and witness the recent enhancements, including the new state-of-the-art Sandi Simon Center for Dance, Keck Center for Science and Engineering, Chapman Grand and The K Residence Hall.
Looking ahead, President Struppa provided a glimpse of future projects, such as constructing a new residence building, expanding the Hilbert Museum of California Art, and a spectacular facility for the Institute for Quantum Studies at the historic Killefer School.
Chapman on the Road will visit the Bay Area in November. Alumni, parents and students are invited to attend for the chance to connect with fellow Panthers, expand their networks and contribute to the ongoing success of Chapman University. RSVP today and prepare to be inspired, connected and engaged.