"Who are you and what will you fight for?"
This is the question Nobel Peace Laureate and human rights activist Nadia Murad posed to the graduates of the class of 2022 during Chapman University's recent commencement celebrations.
"You are here because you believe in the world, you believe in education, you believe in the health and future of a peaceful world, and you believe in your power to do something good. I believe in it, too. This audience is different from all other audiences I've spoken to because I can feel the hope all around me," she said, addressing an audience of 6,000 graduates, faculty, friends and families gathered on Wilson Field.
Murad, who was awarded the Nobel Prize in 2018, offered a challenge to the new graduates as they prepare to leave Chapman.
"The world is big, and beautiful, and troubled. It needs you," she said. "No matter what you pursue after today – whether you go to work for a tech company or become a writer or a teacher. If you start a family or run for political office. If you become a doctor or an artist or none of these things or a combination of all of them, will you also try to make things better? Will you look at your life, big moments and small, good and bad, and use what you believe in to help others?"
Captivity, Freedom and the Fight for Justice
Murad's message is heavy with the weight of personal experience. In 2014, her home in northern Iraq was attacked by ISIS, an act of genocide against the minority Yazidi population. Thousands were murdered, including Murad's mother and six brothers. Murad herself was taken captive and, along with thousands of other women and children, held in sexual slavery by the invading forces, until she was able to escape.
Since gaining her freedom, Murad has shared her story many times – to world leaders and human rights organizations, in her memoir, "The Last Girl: My Story of Captivity, and My Fight Against the Islamic State" – not for sympathy, but to raise awareness about the plight of her people and of others who have suffered through similar tragedies. Through her organization Nadia's Initiative, she works to restore the community of her homeland and to bring justice to the survivors, while championing the survivors of gender violence around the world.
Engaging Students in the Quest for the Greater Good
The graduates at this year's Commencement are not the only Chapman students who have had the opportunity to hear directly from Murad. During the pandemic, Chapman professor Jim Brown arranged for the activist to meet with students in his Peace Studies classes over Zoom.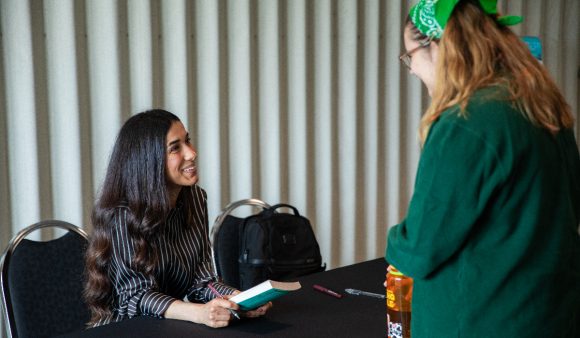 This summer, Murad will begin a three-year appointment as a Presidential Fellow at Chapman, providing even more Chapman students with the chance to learn from and be inspired by Murad's experiences fighting for social justice. During her appointment, Murad will visit campus on multiple occasions and meet with students and other members of the Chapman community.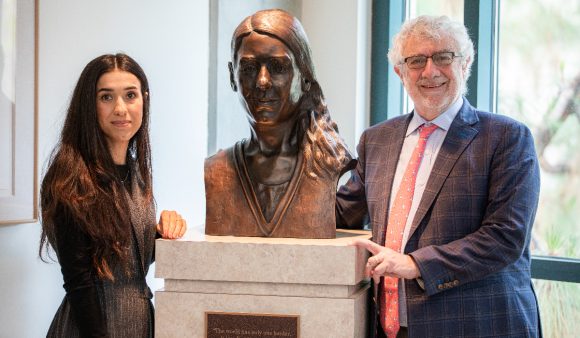 During a pre-Commencement event, "From Genocide to Justice: A Conversation with Nobel Peace Prize Winner," Murad answered questions from students about her life and her experiences both before and after the ISIS attacks. Murad, now a student at American University in Washington, D.C., spoke to the importance of education, and especially learning about those who are different from yourself.
"Only one other time, when I moderated a conversation with Nobel Peace Prize laureate and Holocaust survivor Elie Wiesel, have I witnessed an audience so absorbed in every single word spoken," said Jennifer Keene, Dean of Chapman's Wilksion College of Arts, Humanities, and Social Sciences, which hosted the question and answer session.
"Afterwards, Nadia spent a full hour signing books, talking intimately to each student as they approached her. She truly provided us all with a transformational educational experience, a lesson in courage and resilience," Keene said.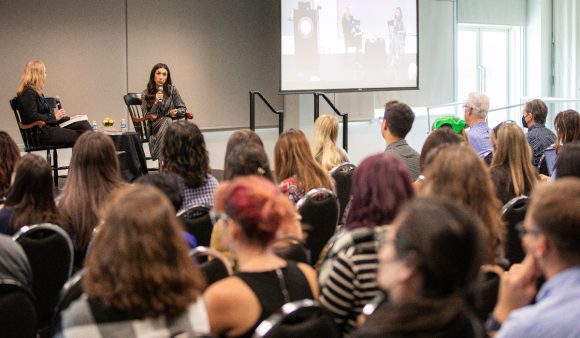 Brown, during his introduction to the question-and-answer session, spoke eloquently about what it is that Chapman students can learn from Murad, from rebuilding communities that have been decimated by genocide to uplifting the rights of women around to the globe to holding perpetrators responsible and brought to justice. "Perhaps most importantly, this remarkable woman that's demonstrated how we might find hope for the restoration of our humanity," he said, "In response to great evil she has shown us how great good can replace it."
"Each one of us should take Nadia's words to heart: who are you and what do you fight for? With so much violence permeating daily life at home and overseas, we must, like Nadia, take a stand to fight for a better world for our children to inherit," said Keene.