"Hurricane Maria left my home in shambles. Most of my family's member's homes were also affected by this natural disaster," says Arianna Benitez '22. "For about four and a half months, I lived with no electricity; I had little food and water but that didn't deter me from my goal: applying to Chapman."
Benitez remembers her struggle and determination to persevere. With no access to the internet, Benitez and her mother would go on Wi-Fi "scavenger hunts" in order to finish and submit her college applications. In a small booth at a Burger King Benitez submitted her application to Chapman, hoping it would change her life.
During her time at Chapman, Benitez thrived. While at first she wanted to study broadcast journalism, she switched to sociology with an emphasis in social work. Broadcast Journalism became her minor, giving her the opportunity to broaden her skills within both Wilkinson and Dodge Colleges. "I fell in love with sociology and social justice after taking a few classes my freshman year. The sociology major itself is very diverse. Depending on your emphasis, there's many electives that you can take, so I was able to shape my studies to influence my goals," says Benitez.
Benitez was able to drive her passions and learn more about what career she hoped to pursue through several of Chapman's organizations. "The Student Government Association, Chapman's Legal Affairs Office and Kappa Alpha Pi Pre-law Co-ed fraternity were very driven and welcoming, motivating me to do better at Chapman."
"In 2019 I created the Alumni Mentorship Program for Kappa Alpha Pi, which is a program that pairs active members with alumni who work in the fields they are interested in. I'm happy that it is still an ongoing project run by the current alumni chair," says Benitez.
During her third year at Chapman, Benitez endured a devastating family event. "When my father unexpectedly passed away, it felt as though my world was falling apart again. But the Chapman community provided me with the family and support I needed when my family couldn't come visit me due to COVID-19."
This fall, Benitez will be attending USC Gould School of Law to earn a Juris Doctor (JD) in law to become an attorney. Her long-term goal is to "provide affordable counsel to marginalized populations all around the U.S. and give back to my community in Puerto Rico," says Benitez. "I'm also interested in the entertainment industry, specifically representing young talent to ensure they receive fair treatment, women's rights, and advocating for victims of sexual violence."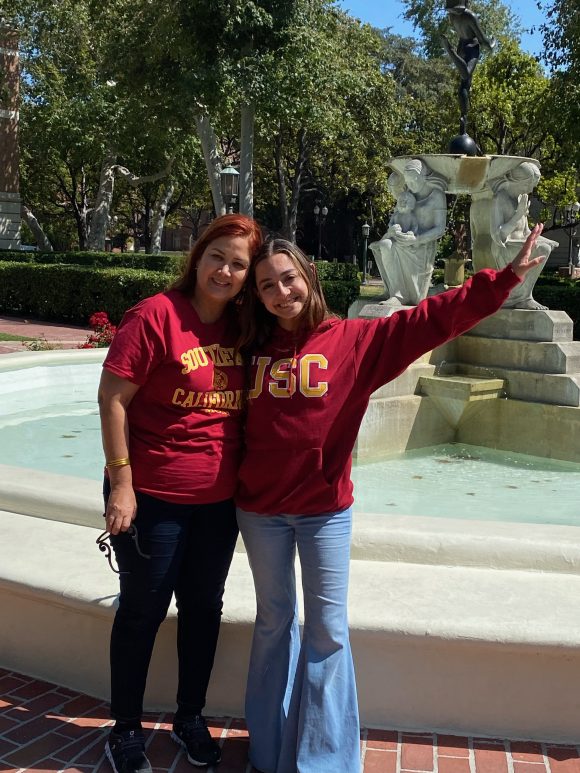 "When I got my acceptance I screamed of happiness and cried tears of relief. I was proud because it meant all the effort I had put in and all that I had sacrificed had been worth it," Benitez says.
Benitez shared her story of perseverance with the Chapman community during the most recent Giving Day, helping to raise over $1.2 million for scholarships for future students in financial need. Benitez also speaks in a video created by Chapman for Giving Day.