"Generosity" was the word of the day on April 26, Chapman University's fourth annual Giving Day, as the Chapman community united to ensure that every deserving student can afford the full benefits of a Chapman education. With more than 650 donors participating, over $1 million was raised for the Chapman Fund during the 24-hour event.
"The success of the event shows how much our community is dedicated to our students," said Matt Parlow, the university's executive vice president and chief advancement officer, "and they know that one of the best times to make a real impact is during Giving Day, when donations can be doubled thanks to generous matching grants."
Of particular note this year was a $275,000 matching grant sponsored by the members of the university's boards. The "Evening Sprint" successfully raised $550,000 in the final six hours of the day thanks to their donation.
"Our Board of Trustees, our Board of Governors, the President's Cabinet…these are people who really care about the institution," said Chapman University President Daniele Struppa, when he announced the matching challenge during Tuesday evening's Party in the Piazza. "They devote their lives to supporting us, advising us, guiding us. They sense the importance of Giving Day."
"I will always be grateful for the generous donations to the Chapman Fund because they made my dream possible," said Arianna Benitez '22 during the event in the Attallah Piazza. Benitez is a sociology major whose story was shared over social media during Giving Day. "I've been at Chapman for four years and now I'll be graduating and going to law school. Even the idea of being able to go to law school and be an attorney wouldn't be possible without the different opportunities that Chapman has provided for me."
A Community of Giving
At Chapman, the importance of Giving Day goes far beyond the dollars raised.
"We talk a lot about the Chapman Family, and on days like today it's apparent how true that phrase is," said Kim Greenhall, assistant vice president of strategic engagement and development. "Our volunteers were here manning the phones for 24 hours straight. Our Executive Parents Ambassador Council decorated our office spaces where Giving Day was implemented, and students and staff ensured every part of the day went off to perfection. Everyone – staff, faculty, alumni, students – came out to join us in the Attallah Piazza for our first in-person Giving Day celebration."
Mareek Pitts '23 was one of those people giving their time and effort to ensure Giving Day's success. A strategic and corporate communications major, Pitts was able to come to Chapman as a transfer student, thanks to a scholarship from the Chapman Fund. His story was one of those featured during the day's social media programming.
"Mareek was here making calls to alumni and parents all day, raising money for the students that will come after him," Greenhall said. "He came to the Party in the Piazza and talked with students and alumni there. And then he stayed after midnight to help clean up the office area used for Giving Day, so that it would be ready for work the next day."
"That's what sets Chapman students apart," Greenhall said. "They are committed to the community, and willing to go the extra mile to help in whatever way they can."
Funding the Future of Chapman
Funds raised on Giving Day go to the Chapman Fund, a foundational resource for scholarships, programs across the university, student activities, faculty development, research centers and more. Eighty-six percent of students at the university receive at least some financial aid, which means there is an ever-present need for support from donors.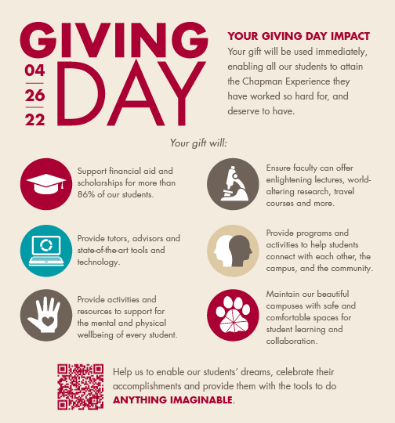 Even if you missed the day, your gift can still make a difference for Chapman students. Make a donation online and your gift will count toward the Giving Day total.