When mothers and daughters talk, Michelle Miller-Day listens.
Stories shared with her during two decades of research fill Miller-Day's two books and even inspired her to write a play. Still, the Chapman University professor remains eager to peel back even more layers of the mother-daughter dynamic.
"It's always evolving," says Miller-Day, Ph.D., a professor of communication studies in the Chapman School of Communication. "Mother-daughter communication takes many forms and spans lifetimes."
This semester, 34 students are joining Miller-Day on the journey in her upper-division course "Mother-Daughter Communication." Class members are learning how intellectual study of communication theory can help inform personal relationships, including "how they can gain personal insights into their own communication behaviors with their moms," she said.
"Ultimately, I want my students to realize that like all relationships, these take work, and the students contribute to the relationship as much as their moms do."
Miller-Day has had male students in the class previously, and she welcomes nonbinary students, but this semester it's all daughters.
Rich Discussions Yield Insights
On a recent Tuesday evening in Doti Hall, class members debrief about an assignment in which they interviewed their moms about legacy and end-of-life issues. Responses range from reticence about discussing such things, to exchanges full of rich and meaningful tales rife with family history.
One student says she learned a lot about her maternal grandmother's flight from Ukraine in the previous century and how her grandmother had lost her father when the Russian Bolsheviks invaded.
As she and her mother talked, the student started to piece together the tapestry of her family narrative, including how threads connect to the mothering she and her sister received.
"How many of us don't know that much about our cultural heritage simply because it was never a big deal in our household?" Miller-Day says, reflecting with the class.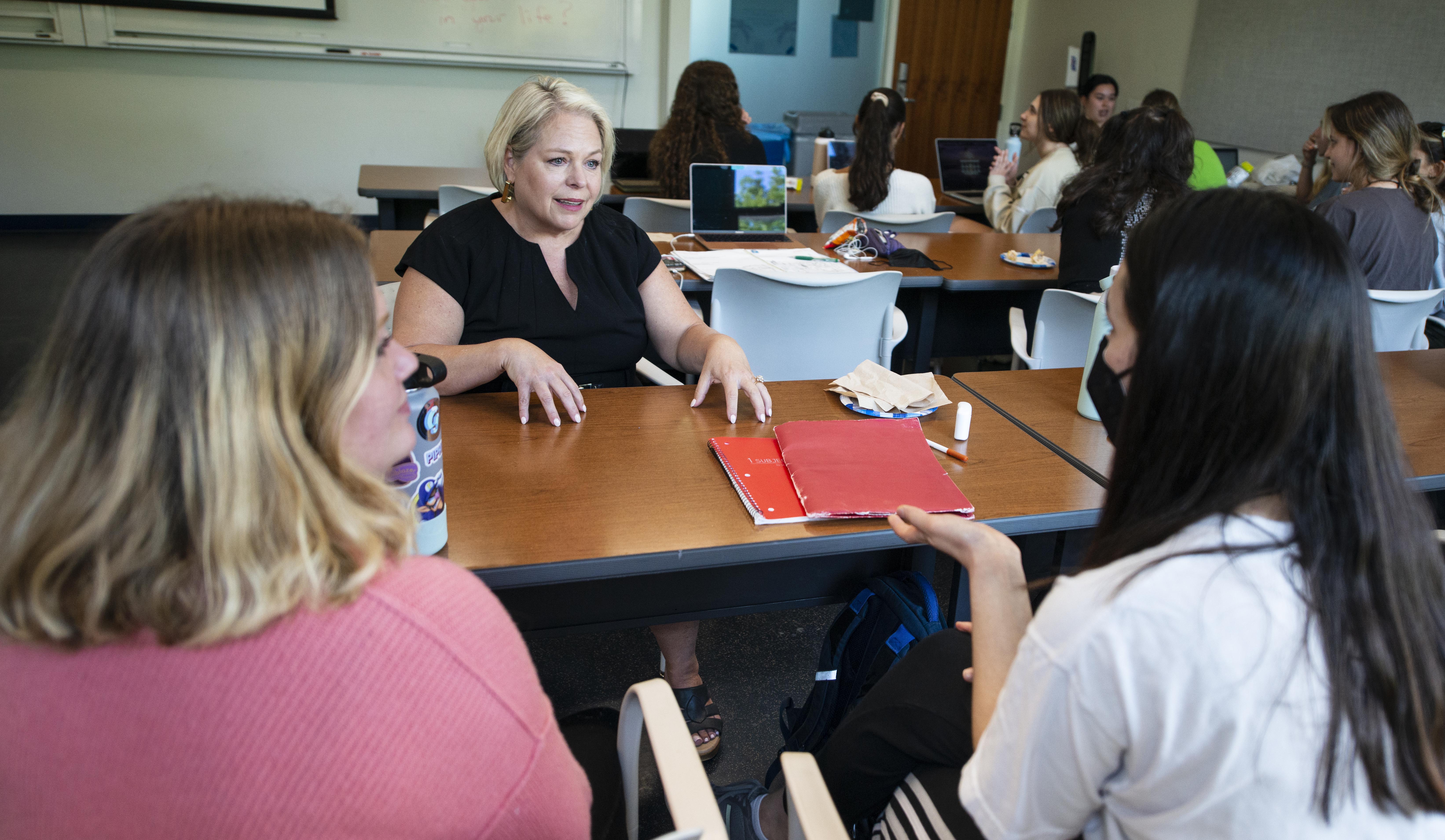 Research Began When She Was a Student
Miller-Day's interest in mother-daughter communication dates to ethnographic research she did as a student and which ended up being her doctoral dissertation. Insights from mother-daughter interviews also became fodder for her play "Two of Me," about intergenerational communication and not repeating the mothering mistakes we experience as children. For four years, the play was staged in Phoenix on and around Mother's Day.
For a chapter in one of her books, Miller-Day interviewed more than 100 women about the turning points in their relationships. Her book "Constructing Motherhood and Daughterhood Across the Lifespan" is now the textbook for her class.
So how have the stories changed over the years? Well, for one thing, when Miller-Day started her research, she didn't hear tales of smartphone apps that allow mothers to track the whereabouts of their daughters 24-7.
In a previous class, a student shared that she didn't know such an app was on her phone until one day her mom pulled up alongside her car and admonished her for being somewhere Mom didn't think she should be.
"So many trust issues," Miller-Day says.
As her research continues, Miller-Day highlights some other findings of note:
Social media is an important source of support for many daughters, especially on Mother's Day. Even those whose moms have passed away find community in sharing that they continue to maintain a relationship with their mothers. "I started this work before my mom and dad had passed away. I totally understand this perspective now," Miller-Day says.
In our culture, we use the term "mothering" when what we really mean is "daughtering," Miller-Day notes. As daughters increasingly are called on to care for aging parents, they deserve to have that role recognized and respected as distinctive from the care mothers provide to infant and adolescent daughters.
Students these days talk about the shaming they experience if they say that they don't want to be a parent. "It seems to be socially acceptable to shame someone for this, which amazes me," Miller-Day says. "This warrants more research."
But even as times change and communication issues evolve, core truths endure, the professor says. For instance, bonds grow stronger when daughters and mothers communicate at a level that defies cellphone tracking.
From Conversation to Appreciation
"At the beginning of the semester, students often say, 'My mom's my best friend,'" Miller-Day relates about her class. "Then as we get deeper into things and students start hearing stories from those who have relationships with their moms they wouldn't call friendships, I often have students say, 'I went home after class and I called my mom to tell her how much I appreciate her.'"
The semester ends with a big get-together, to which moms, grandmothers and other family members are invited. It's something like a celebration of passage for all involved.
Students often acknowledge a change in perspective.
"At this time in their development, they tend to think, 'Mom is there for me. She's my support network,'" Miller-Day says. "Then it shifts. 'How am I contributing to this relationship?' Students tend to get closer to their moms as the class progresses."
There's another byproduct of the class that Miller-Day enjoys.
"I've had moms give me big hugs and say to their daughters, 'I'm so glad you took this class!' Those are nice moments," she says.