A National Endowment for the Humanities (NEH) grant will establish a minor in Asian American Studies and support current ethnic studies courses and programming at Chapman University.
The $150,000 award announced in January is the largest NEH grant in the university's history and just one of 208 awarded to universities, museums and other organizations across the country. It will further advance the strong 21st century humanities educational experience offered in Wilkinson College of Arts, Humanities, and Social Sciences, says Jennifer Keene, Ph.D., dean of Wilkinson.
"The NEH grant will offer critical support for next year's Engaging the World: Leading the Conversation on Ethnic Studies initiative by helping us develop innovative curriculum that advances the conversation on diversity, equity and justice in our community," said Keene. "This includes distributing George Takei's graphic novel about his experiences in a Japanese American internment camp to all students enrolled in the Engaging the World FFC program and bringing him to campus to speak."
Adding an Asian American Studies minor is a logical next step for Wilkinson College, which in recent years expanded its interdisciplinary minors to include Africana Studies and Latinx and Latin America Studies, said Associate Professor Stephanie Takaragawa, Ph.D., who will direct the program.
Moreover, it is especially timely, Takaragawa said. Hate incidents against Asian Americans have surged during the Coronavirus pandemic, a symptom of racism and inadequate appreciation for the diversity that has long existed in U.S. history, culture and civic life, she said.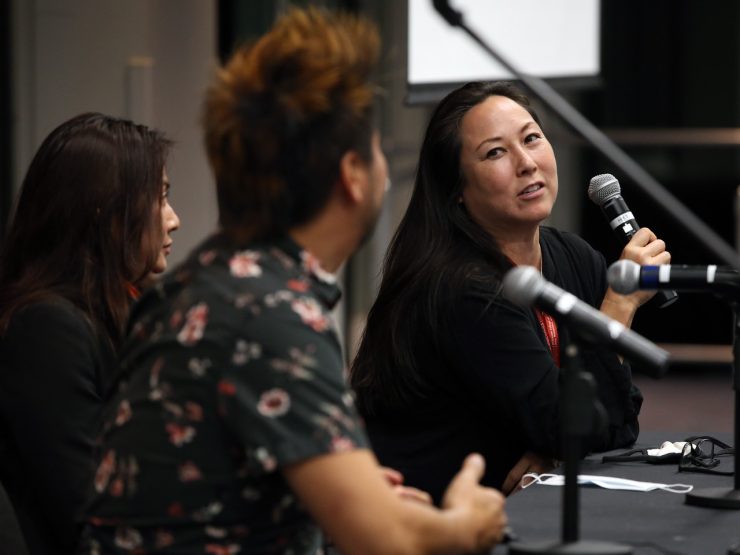 "Asian Americans continue to be seen as a perpetual foreigner or model minority that has been misunderstood in mainstream American history," Takaragawa said. "It has become a problem in light of excessive violence toward Asians in recent years. The thinking that Asians are unassimilable, responsible for SARS and bird flu, along with the tendency to exoticize or fear Asians, has caused backlash. I think part of it is a lack of education and understanding."
The new major also resonates with Chapman history. Chapman was a school of choice for many Filipinos at a time when few Asians were welcome in American higher education. Similarly, Japanese-American alumni like Toshi Ito '46 and Paul Nagano '42 found kindness and support at Chapman in the years surrounding World War II.
"We have this history that is instilled in us," Takaragawa said. "That's one of the reasons this is a really important legacy for Chapman."
Wilkinson will incorporate programming related to the new minor in upcoming events and projects. Official enrollment in the minor opens in fall 2023.