In a private consultation room, a pharmacy student discusses medications with a patient struggling with the unfortunate trifecta of diabetes, high cholesterol and hypertension.
Down the hall, another student stands by an emergency room crash cart and swiftly prepares an injection for a pregnant woman suffering from a pulmonary embolism.
Upstairs, a research scientist and clinical pharmacist move through a classroom, helping teams of students understand the biology of endocrine system diseases as well as the therapeutic regimens for their treatment.
Sound like a teaching hospital? Think again. This is the world of Chapman University's School of Pharmacy (CUSP). Rotations in real-world hospitals and other medical settings are part of the package, too. But here, pharmacy students learn foundational lessons through the lens of peer collaboration, interactive instruction and with simulated experiences – aided by paid actors who portray patients – so they are career-ready upon graduation.
Classroom Experience Offers Real-World Footing
A hallmark of the CUSP learning experience is the collaborative and rigorous teaching style that shapes everything from curriculum to classroom layouts that put faculty "on the side as a guide rather than a sage on the stage," says Ron Jordan, CUSP's founding dean.
"It's a different approach than many schools of pharmacy," Jordan says. "We empower students to become self-learning professionals through personalized education and a high level of contact between students and faculty."
Teaching That Leads to Success
All these strategies are serving CUSP students well.
In launching Orange County's first school of pharmacy, Jordan and his faculty fashioned a teaching model to prepare a new generation of pharmacy professionals equipped to succeed in today's team-based health care environments, where pharmacists are medication experts and problem-solvers with direct impact on patient outcomes.
"We are molding pharmacy practitioners and scientists who possess a deep scientific foundation, a passion for human health improvement and the caring concern needed to make a difference in people's lives," Jordan says.
That shift from prescription-dispensing to patient interaction was one reason Adaeze Anthony-Wise chose to pursue a pharmacy education at CUSP.
Patient-Centered Instruction
"One of the things that piqued my interest in pharmacy is the opportunity to have consistent relationships with your patients," she says.
However, even she was pleasantly surprised to discover how quickly the program immersed students with patient-centered instruction.
"They started training us on these simulations from the first year," she says as she relaxes in a student lounge following the mock consultation with the actor portraying the diabetic.
"From these alone I've found the importance of learning how to engage with different sorts of people. The Chapman experience helps me overall to be more prepared for what I'm going to be seeing in the field," she says.
Hajar Elsayez (Pharm.D. '23 ) agrees. Although she is aiming to work in the pharmaceutical industry — another avenue many CUSP students pursue — she values the clinical experiences because they develop both her science and people skills.
"I'm really interested in the medical science liaison side of the industry, and that involves a lot of communication. These simulations help prepare me for when I will talk to physicians in the future," Elsayez says.
Connecting Patient Care With Science
This holistic approach to teaching is built into CUSP courses, which are often team-taught so that students learn science, pathology and therapeutics in concert, a model akin to medical school instruction. Research faculty are key to that formula. Jordan says the university's investment in state-of-the-art lab facilities is helping to attract researchers who enrich the classroom experience.
"Thanks to Chapman's investment, we were able to design and build core labs that attracted leading researchers. I believe great researchers are also great teachers because they take the passion they have for their particular area into the class and it ignites passion in students," he says.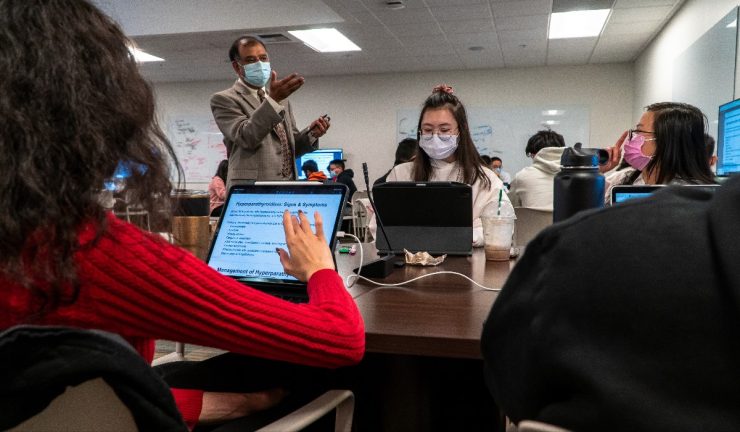 On a recent morning, passion was especially evident in Integrated Therapeutics: Endocrinology, taught by Michael Kelly, an assistant professor of pharmacy practice with expertise in diabetes care and education, and Assistant Professor Ajay Sharma, a scientist with research interests in diabetes-related ocular disorders.
After a bit of teasing about each other's showy dress socks, the two share a kind of center-court computer station, encircled by student workstations.
Students had completed in-depth readings and reviews in advance on the day's topic, hypothyroidism, so the professors' talks are brief. Sharma, Ph.D., discusses the causes of endocrine system ailments. Kelly, Pharm.D., describes prescription therapies and dosing regimens.
Then the room bubbles with energy as students spend the remainder of class in breakout sessions, putting their knowledge to work, tackling discussion questions together while the professors stroll among the teams, offering guidance as needed.
Educators define this as a "flipped classroom" model. Student Mason Myers (Pharm.D. '23) calls it an ideal learning environment.
"I absolutely love it. Having the understanding of where our treatment modalities come from is so helpful," says Myers, who aims to work in clinical or outpatient settings. "It gives us a more holistic approach to treatment and helps us understand what we as pharmacists can do to make sure the patient gets the optimal results."
Excelling in New Teaching Facilities
Patient consult rooms and mock emergency rooms also help students prepare for a profession that is increasingly patient-centered. Located at Rinker Health Science Campus, which houses CUSP and Chapman's other health science graduate programs, the special facilities offer unique interprofessional training opportunities with PA students in Physician Assistant Studies.
That scene in the ER with the mock patient presenting serious symptoms is just one example of such collaborations. During a round of recent exams, a physician assistant student conducts an examination and a pharmacy student stationed by a bright red crash cart stands ready to prep medication orders.
Quickly, a diagnosis is made and the PA student calls out for an injection of potassium chloride. Katherine Lyon (Pharm.D. '23) responds, filling a syringe with a precise amount of benign saline solution. The pharmacy and PA duo continue to work together as another dose is needed when the actor-patient fails to respond to the first dose.
Minutes later, students and professors circle up to debrief and evaluate everyone's performance. For Lyon, the lesson was significant, even if it had all been a simulation.
"It's a good way to apply your knowledge and it really helps to see how much team collaboration you need going into these kinds of situations," she says.
Forget Those All-or-Nothing Finals
Even the CUSP exam schedule is designed to deepen students' mastery and application of subject matter. Most tests are not given in a class-by-class fashion. Rather, students are assessed every four weeks through integrated exams that measure their mastery of multiple subjects.
One advantage of this multiple-topic testing mode is that it is similar to the state board exam students will face after graduation. It also provides continuous feedback and highlights areas that need more study, thanks to color-coded results that track students' performance in nearly 70 subject areas.
Students notice such attention to every detail of their education, even as they are deep in the work of that educational journey.
"It's been such a mind-opening experience," says Phyllis Kim (Pharm.D. '23). "There are so many resources and opportunities for you to better yourself. Chapman helps you succeed at that by being there with you and guiding you to be ready for the real world."