Being a Pharm.D. student in Chapman University's School of Pharmacy (CUSP) is no easy feat in its own right. Getting matched with a highly competitive residency or fellowship program upon graduating? Even harder.
But on Match Day this year, the Pharm.D. graduates' hard work paid off as a record number of 16 graduates learned they will be heading to residency programs after graduation. In addition, another student, Courtney Wong, Pharm.D. '21, was matched with one of the most competitive fellowship in all of the U.S. – Merck in collaboration with Rutgers University.
In their postgraduate work, these graduates will focus on a specialty, which gives them access to many career opportunities.
Several of these graduates were part of the Pre-Pharmacy Freshman Early Assurance Program (FEAP), directed by Laura Cook, Pharm.D. This program allows high school graduates to earn their Doctor of Pharmacy degree (Pharm.D.) in only five years. After completing program prerequisites on Chapman's Orange campus for two years, students spend three years earning their Pharm.D. at the Rinker Campus in Irvine.
There are other pathways to the Pharm.D. program as well. If students are interested in pharmacy, but not sure if they want to commit to FEAP, they can take the prerequisites at Chapman or another college, and then apply for Chapman's three year Doctor of Pharmacy program.
Chapman's Pharm.D. program offers many career-oriented resources, including help with all parts of students' post-graduate applications, curriculum vitae and letter of intent reviews, mock interviews, an annual Career Showcase,and interactive faculty-led workshops. These invaluable tools help students get matched with highly competitive residency and fellowships programs on Match Day.
Future Pharmacists to Watch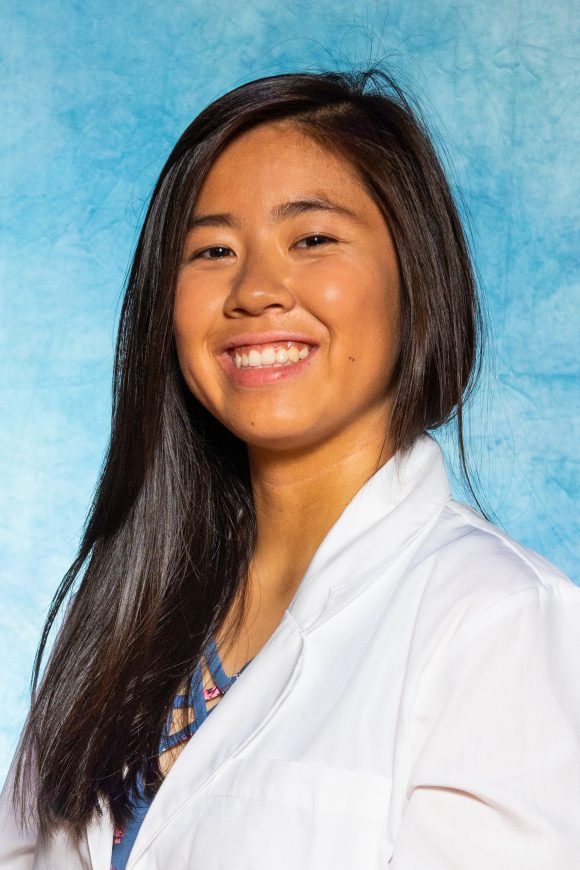 Fellowship:
Courtney Wong (FEAP) – Merck Fellowship in Late Stage Clinical Development, Oncology in collaboration with Rutgers University – Kenilworth, New Jersey
Residency:
Michael Adams – Providence Regional Medical Center – Everett, Washington
Mona Alas (FEAP) – CHI Franciscan St. Joseph Medical Center – Tacoma, Washington
Jenna Griffin – VA Medical Center – Fayetteville, North Carolina
Michelle Grace Guerrero – Providence Alaska Medical Center – Anchorage, Alaska
Eileen Hsaio (FEAP) – Kindred Hospital – La Mirada, California
Sarah Kantari – UCI Health – Orange, California
Analise Klassen (FEAP) – Providence Sacred Heart Medical Center – Spokane, Washington
Yu-Hsin Cindy Lin – Kindred Hospital – La Mirada, California
Katie Ma (FEAP) – County of Santa Clara Health System – San Jose, California
Danny H. Pham – UCI Health – Orange, California
Jay Rho – Southern Arizona VA Healthcare System – Tucson, Arizona
Nadine Saab – USC School of Pharmacy – Los Angeles, California
Caroline Sun (FEAP) – VA Northern California Health System – Mather, California
Brianne Venrick – St. Luke's Healthcare System – Boise, Idaho
Avani Kathuria '20 (FEAP) – Safeway and Midwestern College of Pharmacy – Phoenix, Arizona
Arthur Avensov '19 (FEAP) – PIH Hospital – Whittier, California