As an elite athlete and honors student, Maddie Mirro '23 lives the adage that you get out what you put in. That applies to study and training, says the Chapman University middle-distance runner, but Mirro takes it a long stride farther.  
Healthy eating helps drive her achievements and fuels her pursuit of a career in sports nutrition.
"It transformed my life," the Chapman track and cross-country athlete says of her commitment to a diet based on natural and organic foods. "I had lots of anxiety my freshman year, and I wasn't seeing the results I wanted, so I made a conscious decision to focus on what I was putting into my body. I started feeling better and doing better in school, plus I shaved 15 seconds off my best time in the 1,500 meters."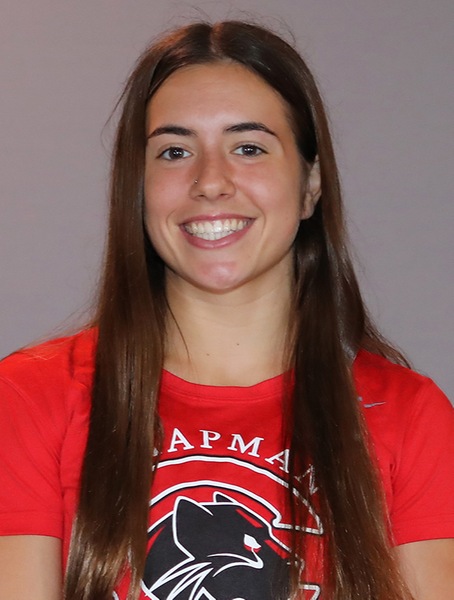 Mirro's college journey reflects the multiple facets and many rewards of the Chapman student-athlete experience. NCAA Division III athletes, including those at Chapman, often find that their athletic pursuits interweave with their academic and social lives to add enrichment all around.
We asked Mirro, a junior who has been named to the Southern California Intercollegiate Athletic Conference All-Academic Team, to tell us more about how athletics enhance academics and vice versa at Chapman.
What challenges have you faced as you blend your competitive life as a runner with your studies focusing on sports nutrition and psychology?

 
"Going into college, I was pre-med and thought I might want to become a doctor, although I really didn't know what I wanted to do. Sports have always helped me set priorities. When I really started listening to my body and focusing on eating healthy, I found that I had more energy and was sleeping better. I also saw positive effects on my skin and my mental state. It felt good to make decisions about longevity, performance and health."
How did athletics help you find the right academic and career paths for you?
"I've always been interested in STEM fields, so when I committed to healthy eating I also started taking nutrition classes and learning about things like fat ratios. I've become super passionate about helping people improve their nutrition, and I definitely want to work with athletes so they can transform their diet to maximize performance."
In what other ways have you benefited from your Chapman scholar-athlete experience?
"I love competing in sports because the rewards are clearly defined and I have a strong bond with my teammates. My community is my team. I've met so many great people and honed social skills through my team experiences at Chapman. Academics are very personal to me and bring out a different competitive side. Trying to reach that balance has helped me become more disciplined and improve my mental toughness."
What's your favorite Chapman experience so far?
"I've loved my track experience, but there's a cross country meet that really stands out. At an important regional meet, I was feeling nervous, but I was also feeling love for myself and joy for the experience. I felt strong, and I could hear my coaches' affirmations during the race – it all helped push me through the pain. In the last 300 meters, I passed two girls, crossed the line and made it to nationals. I felt so proud that I was able to push through the pain and do my best without comparing myself to anyone else. It was a great learning experience."
What advice would you give to high school students considering competing in Division III athletics?
"Sometimes it's not easy because you have to make sacrifices to commit the time and effort to both. You have to listen to your body and find ways to be accountable to yourself and your teammates. But I would encourage others to compete in athletics at Chapman because the community is so supportive. Everyone knows you and cares about your growth, which opens doors to resources. Plus, it's just fun. If you like sports in high school, you'll love it in college."
Learn More
Learn more about the student-athlete experience at Chapman.