In an event 160 years in the making, the Chapman University community came home to celebrate beloved Chapman traditions, support current students and reconnect with the Chapman Family over a two-day event culminating in Saturday night's Homecoming football game in Ernie Chapman Stadium.
Alumni, students, faculty, staff and family members of all ages were welcomed back for the weekend event on the Orange campus. For many attendees, it was their first opportunity to return to campus after a year and a half of pandemic-related separation. Enthusiasm was palpable as old friends reunited, visited with favorite professors or snapped photos with family members at picturesque campus spots.
160th Anniversary Tailgate Extravaganza
Family fun was the order of the day at the 160th Anniversary Tailgate Extravaganza in Attallah Piazza on Saturday afternoon, with free food, drinks and live entertainment. Attendees were warmly welcomed home by Chapman University President Daniele Struppa.
"After a year apart, it's great to be back in person together. We are once again studying together, enjoying our friends, alumni, parents and Chapman family. We delayed our 160th celebration until today, for Chapman's homecoming, as a symbolic coming home. So, welcome back!" he said.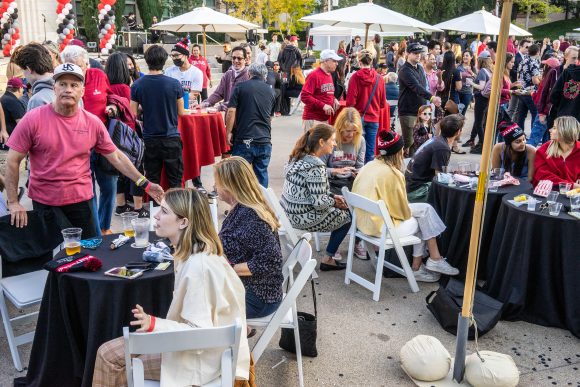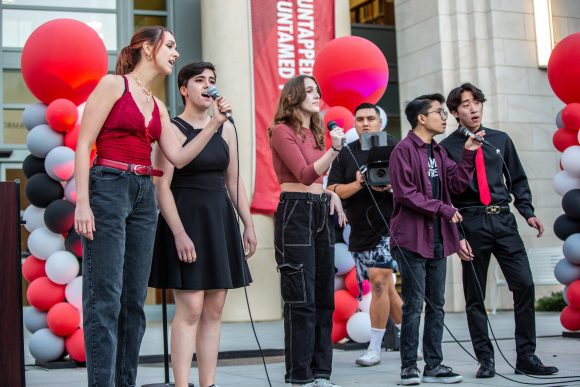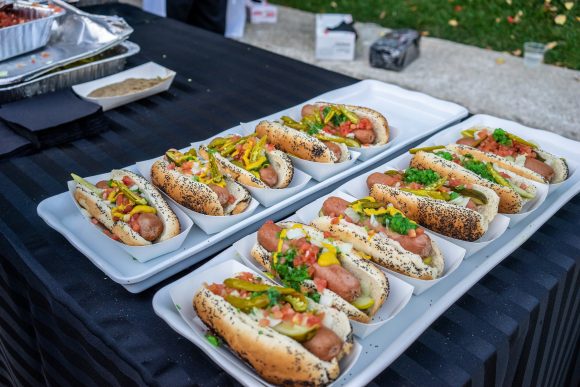 During the event, Struppa unveiled a new statue of Abraham Lincoln, a tribute to the ideals that the university has upheld since its foundation as Hesperian College 160 years ago.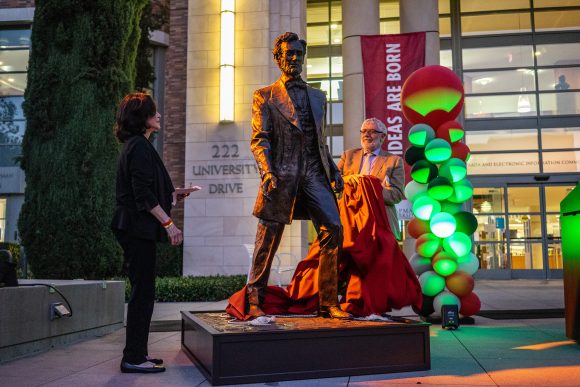 Chapman's founders deliberately chose the date of President Lincoln's inauguration to open the new college in order to make a statement about their belief in equality to a country on the brink of the Civil War. Louise Taper, historian, Lincolnphile, art collector and friend of the University, donated a new statue of Abraham Lincoln and joined President Struppa to unveil the new artwork.
"The statue will have its final home near Liberty Plaza, a prominent place on campus which I pass by several times each day," President Struppa said. "There you find a piece of the Berlin Wall and a chair inspired by the Lincoln Memorial in Washington, D.C. The statue will appear as if he is walking to freedom and Liberty. It serves as a beacon of our enduring values of equality and freedom."
Panthers Vs. Claremont-M-S Stags
What's Homecoming without a Homecoming football game? It was standing room only for the home team in Ernie Chapman Stadium as the Panthers took on the Claremont-M-S Stags in a showdown that ended with a disappointing 42-34 loss for Chapman. Prior to the game, the Panthers celebrated 33 seniors in a pre-game ceremony.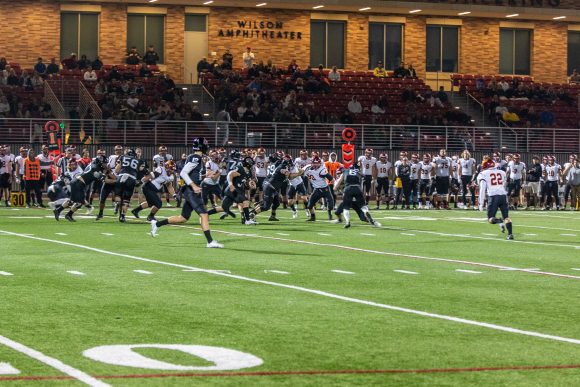 Swenson Family Hall of Engineering Dedication
The dedication of Chapman's newest cutting-edge facility, the Swenson Family Hall of Engineering, was attended by Chapman faculty, administrators, special guests and excited attendees who couldn't wait to get a glimpse inside.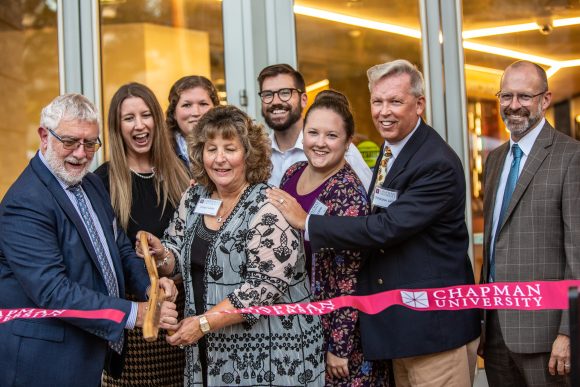 At the dedication, Dean of Fowler School of Engineering Andrew Lyon remarked, "Thanks to the extraordinary gift from the Swenson Family, engineering has a home in the Keck Center – a place where our students can work towards even higher levels of achievement, and where our faculty can bring their teaching and research innovations to life. "
"The completion of this state-of-the-art academic building marks a milestone in the history of Chapman University," said President Struppa. He thanked the Swenson Family and the Swenson Family Foundation for their generosity, and for the opportunities they have created for the next generation of engineers.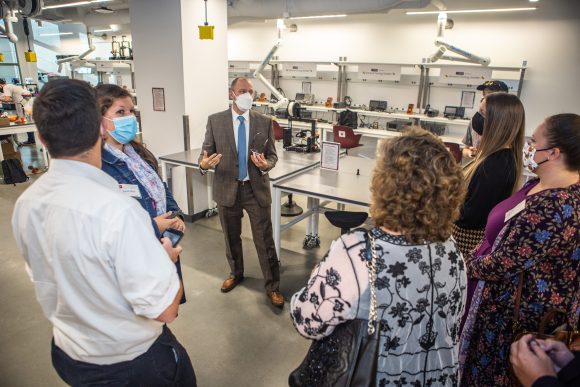 Other weekend events included Master Class lectures, including Professor Stephanie Takaragawa's popular course, "The Anthropology of Disneyland," guided tours of Chapman's Escalette Permanent Collection of Art and the Hilbert Museum, and special luncheons for this year's Distinguished Alumni Award honorees and for the newest alumni inaugurated into Chapman's 50 Year Club.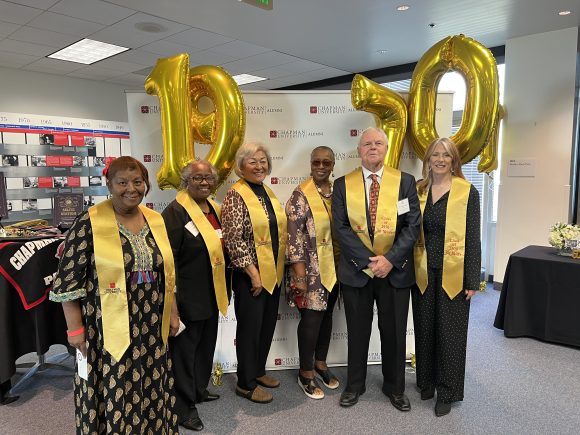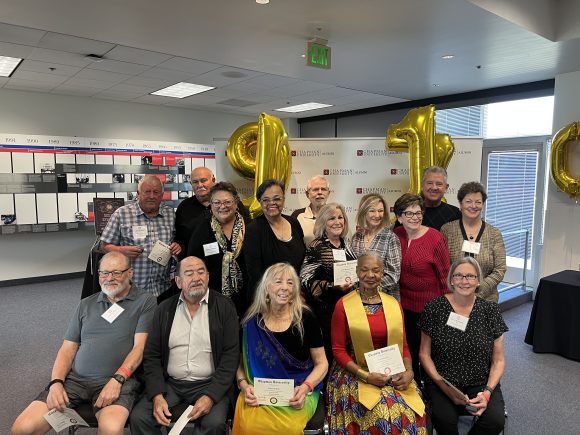 "It was so great to be back on campus," said Julianne Askew '05. "To see the students and their families having a good time. It just proves that the Chapman Family is stronger than ever."