As an undergrad, Austin Gray '19 was recruited for an internship at Target. Now, less than a year after graduation, he works as a human resource manager for the same company. He, along with recruiters, alumni leaders and executives representing businesses from across the state, were welcomed to Chapman University with vigorous applause during the 2020 State of the University address.
"One of our major initiatives is to connect with industry," said President Daniele C. Struppa, acknowledging the companies during his address. "We do two things. We find jobs that are good for our students. And we do work that is helpful and important for the companies that work with us."
President Struppa then thanked the company representatives in attendance, offering his thanks, along with his hopes for continued partnerships. "We want to hear from you," Struppa said, "about how we can train our students to be better and better, so that they will be even more successful with your company."
Among the organizations hailed as Top Employers of Chapman graduates are such world-class organizations as the Walt Disney Company, Kaiser Permanente, Boeing, Wells Fargo and U.S. armed services, along with 100 other companies across Southern California, the U.S. and the world.
Building Partnerships For Successful Careers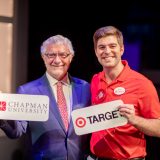 Chapman is committed to building industry partnerships that are mutually beneficial, by actively engaging in programs that encourage job training and targeted education, so that students are better prepared to take on the kinds of jobs our partners need filled.
Jessica Bergen, a corporate recruiter for Monster Beverage Company in Corona, California, has appreciated the opportunity to develop great talent among Chapman students and alumni. "They speak for themselves. They present themselves well. They ask great questions. Overall, Chapman students are prepared for the workforce, they're driven and innovative, and they're collaborative. That's what we're looking for at Monster."
"I've just always noticed a pattern of having students being very dedicated and professional, and a lot of people are coming with great experience already," says Saige Lee, director of interns at the Newport Beach Film Festival. "I'm always surprised and pleased with everybody's professional experience and positive attitude and the great work ethic they bring to the company."
"Establishing a partnership with Chapman has been very beneficial and has helped to bring additional innovative insight to our organization," says Galen Grillo (EMBA '13), vice president of the Automobile Club of Southern California, and Co-Chair, Chapman University Industry Partners Council.
Think Chapman First
Chapman's Office of Career and Professional Development also extends their appreciation for all the Top Employers that "Think Chapman First" by hiring Chapman University student and alumni talent. "Our partnerships are more than just a business arrangement," says Jo Bandy, industry partners liaison and executive director of Career and Professional Development. "Organizations that Think Chapman First have many opportunities to engage with the Chapman community across the globe, recruit top-tier job candidates, connect with valuable learning opportunities and groundbreaking research across a range of disciplines, and find purpose in our communities through fundraising and philanthropy."
"Our relationship with Chapman reflects the true, deep, meaning of 'partnership,'" says Shari Battle, senior vice president of Bank of America and co-chair, Chapman University Industry Partners Council. "We can always count on Chapman to exceed our expectations."
Click here to view the complete list of Chapman's Top Employers 2020.