At 21 years, Chapman University's Holocaust Arts and Writing Competition has reached its largest participation year on record. Nearly 250 schools from 28 states and seven countries entered this year, submitting 777 works of art, writing, poetry and film, conveying their impressions and emotions of Holocaust survivor stories.
Schools in Poland, Germany and Romania, all of which were locations of Holocaust death camps, had submissions. This year is of particular importance: it marked 75 years since the Auschwitz death camp liberation.
Grown from a passion for justice and a deep care for communicating history, the contest reaches upwards of 800,000 children worldwide, and from the final submissions, select entries would normally win in four categories. This year's March 13 awards ceremony was canceled, due to concerns of rapidly spreading coronavirus and gatherings, further heightened with caution for the at-risk nature of the elderly survivor guests. Virtual alternatives for an awards ceremony are being discussed.
Marilyn Harran, Ph.D., and her team at Chapman's Rodgers Center for Holocaust Education have been the power behind the more than two-decade span of the contest. Dedicated to the work of combating prejudices and bigotry, Harran will tell you that it starts with lessons in understanding and compassion, and it begins early.
"There are going to be fewer and fewer survivors, so these stories need to be told." Professor Marilyn Harran

In this case, too much is never too much – it's very much a "more is more" quotient.
Stories and Survival
The contest invites students to watch videotaped firsthand testimonies from people who lived through the genocide and then respond to a specific memory through creative expression. It was first launched as an essay competition in collaboration with The 1939 Society, an organization of survivors, their descendants and friends. Over the years, the society has been joined in sponsor support by the Samueli Foundation and Dana and Yossie Hollander.
Participating schools dedicate time for students to select a videotaped testimony provided through the 1939 Society and USC's Shoah Foundation and then create prose, poetry, art or film to share what they personally gained from the experience.
In prior years, after the ceremony there is a reception where survivors and students bridge the gap between generations, meeting and mingling. While only a finite amount of people would be able to attend, entries and active school numbers continue to rise.
As student contest participation increases, the number of Holocaust survivors grows smaller. Recent projections place the total number of worldwide survivors near 400,000.
"There are going to be fewer and fewer survivors, so these stories need to be told," says Harran.
A Voice From Auschwitz
This year's ceremony was to have featured guest speaker, Paula Lebovics, 86, who was not yet 12 when she was liberated from Auschwitz – roughly the same age as the children who participate in the Chapman contest. She had been living in a state of persecution since age six.
"I had survived Auschwitz, the ghettos, learning to keep myself alive like an animal," says Lebovics.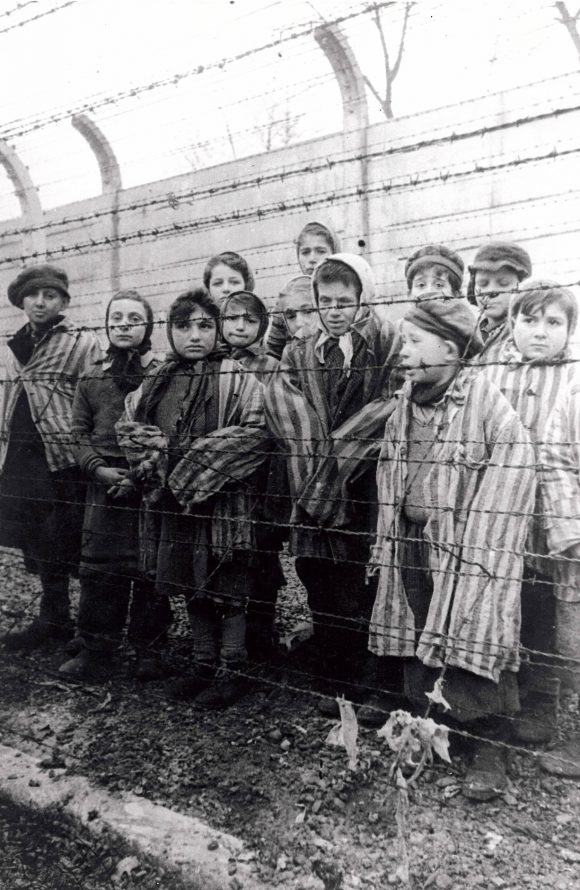 She received her first classroom education at a displaced persons camp in 1946, where other liberated prisoners joined volunteers from all over the world, pitching in to try and figure out how to teach the youngest survivors.
Lebovics credits that makeshift camp school for giving her the greatest educational lesson: To become curious and seek knowledge – the secret to knowing how to fight hate.
"The curiosity that comes with learning," Lebovics says. "Every time you learn something and you want to learn more, it becomes a link."
Lebovics said: Hate doesn't disappear, it only goes into hiding.
Asking questions, wanting to examine things and know for yourself, says Lebovics, that is where you begin an education, and it is learning that allows you to be free.
"The importance of the freedom you get from education – it's the freedom of thinking." Paula Lebovics

More Knowledge, More Freedom
As a preteen Paula had already lived through horrors that more than 6 million others had not survived. In her words, she had seen the brutality of what a lack of curiosity, a lack of will to know more about the world, could do.
"I felt for the first time, freedom. From there the hunger for learning emerged. I was free."
Lebovics says she is delighted, if a little nervous, to be the guest speaker. She greatly admires Harran and the work done at the Rodgers Center.
"I'm very honored . . . she is incredible. She has really made a space for us," said Lebovics. "She started that curriculum of teaching the Holocaust – all the survivors are grateful to her for creating that."