You might not know it, but our very own Pete the Panther got his first big break on the silver screen. Before he became the cheerful icon we know and love today, our Pete was propping up performances in Hollywood – literally!
Chapman's Past
The first incarnation of Pete started roaring in the 1920s when Chapman was known as California Christian College and a student snagged a leftover prop from a silent film production, according to Frank Mt. Pleasant Library of Special Collections and Archives. That prop was a papier-mache black panther.
The 1925 film? Lost to time. But the paper-based panther struck just the right chord with students.
The original Chapman Panther had a good life on the North Vermont Avenue campus in Los Angeles, getting trotted out for sporting events on the home field behind the El Capitan theatre and during a variety of other student gatherings.
But on New Year's Day 1934, Chapman's first Panther became a real part of history: It was one of the losses during The Great Flood of 1934 in Los Angeles.
City storm drains overflowed with rainwater and mud. The campus was built on a slope, with the dining hall, kitchen and food pantries in a building at the bottom of the hill.
Floating in 8 feet of water in the basement dining hall were a piano, tables, chairs, pots, pans – and one paper Panther, damaged beyond repair.
Chapman's Present
The Panther in physical form took a hiatus for a long time but was not forgotten. After spending almost 71 years without a tangible Panther mascot,  Chapman got its paws … er, hands … on a mascot costume, thanks to a spirited gift from our Alumni Association naming it "Pete" after University pal Julian "Pete" Peterson.
Now, Pete is an icon of the Chapman Family and the proud symbol of Chapman's sports teams, which are highly competitive in the NCAA's Division III.
While Panthers in the wild tend to be solitary, the ones in Orange stick together! And Chapman University was one of the first to welcome Cambridge Elementary's new Cam the Panther Cub mascot to the pack. This newest ferocious feline joined a proud pedigree of real cool cats and we're excited to say hello to our new neighbor.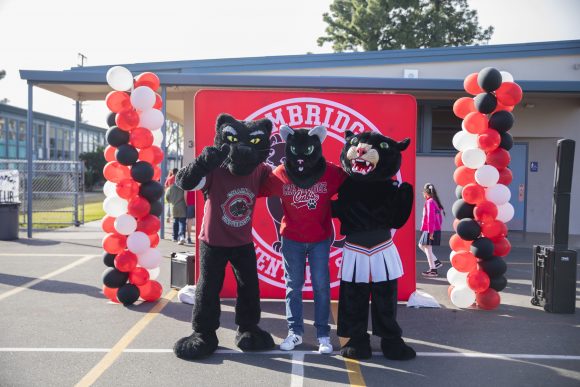 If you want to do a Chapman history hunt of your own, visit our  Frank Mt. Pleasant Library of Special Collections and Archives.