A longtime Hollywood insider who collaborated with Martin Scorsese before tapping his vast experience and industry connections to guide students in Chapman University's Dodge College of Film and Media Arts, Harry Ufland passed away March 2. He was 81.
No one in this school cared for his students more than Harry," Barry Blaustein, a director, producer and Dodge College professor, told those gathered for a campus memorial service in Folino Theater in March. "What made him a great producer made him a great mentor. He had a knack for putting people together."
As an agent, Ufland represented actors, directors and producers including Scorsese, Robert De Niro, Harvey Keitel, Peter Bogdanovich, Catherine Deneuve, Charles Grodin, Jodie Foster, Marcello Mastroianni, Ridley and Tony Scott, Adrian Lyne and Jonathan Kaplan.
As a producer, he worked with Scorsese on "The Last Temptation of Christ" and Michael Jackson's "Bad" video and formed Ufland-Roth Productions with Joe Roth, serving as producer of "Streets of Gold" and "Not Without My Daughter." His other producing credits included "Night and the City," "One True Thing," "Snow Falling on Cedars," "Crazy/Beautiful" and his final film, "The Big Wedding" in 2013.
Ufland began teaching at Chapman in 2012, creating such courses as "My Twenty Years with Marty," in which students delved deeply into Scorsese's films and heard how the 30-year-old Ufland recognized the revolutionary work Scorsese, then a 24-year-old MFA candidate at New York University, was doing in 1966. Ufland also taught a course called "Exercising Your Creativity" that students said helped them embrace fearlessness.
Perhaps above all for Chapman students and alumni, Ufland was a conduit into a world where it is notoriously difficult to get a foot in the door. A call or an email from Ufland opened those doors wide, and Dodge students and alumni expressed their gratitude and remembrances in a 10-minute video, "Dear Harry: A Tribute to Harry J. Ufland," created by Gintare Urbutyte '16.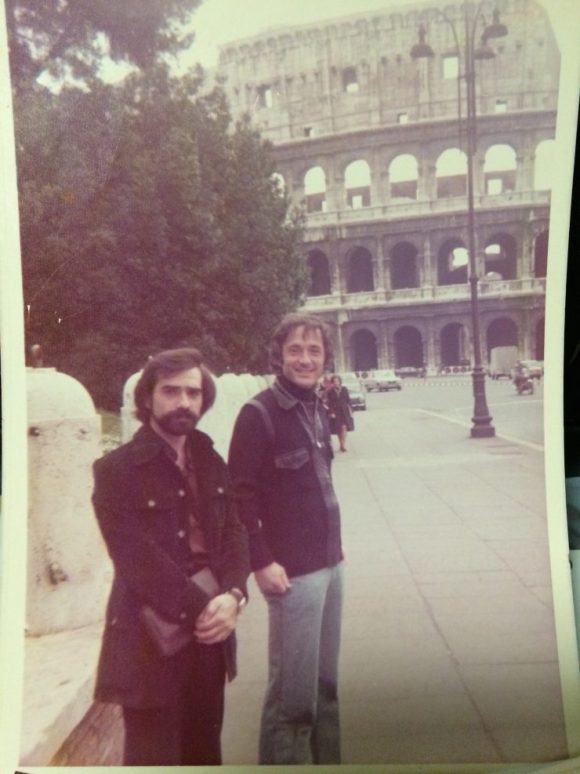 Karina Manashil '12 said at the campus memorial service that Ufland "opened the world" for his students. "At his core, Harry was an agent, and I'm so grateful that he was able to agent for all of us."
Bob Bassett, dean of Dodge College, told the gathering that he was overwhelmed by the number of emails he received after Ufland's passing, and credited him with teaching students the inner industry workings of how movies get made.
"Film schools all teach the art and craft of film. None teach the business of the business like Dodge, and no one more than Harry," Bassett said.
Ufland collected many film credits in a career that spanned 60 years, but he earned many more that will never scroll across a screen.
"He knew that success is not about what you accomplish. It's about what you help others accomplish," said Isaac Rosales '15. "Our victories became his victories."
In addition to his wife, Mary Jane, Ufland is survived by their son, Tommy, and Ufland's children–John Ufland, Anne Ufland Casey, Christopher Ufland, Jennifer Ufland Bontempo and Joslin Rose Ufland–from his marriage to Mary Ufland Cossette, as well as six grandchildren.
Display image at top/After a 2017 talk in Beverly Hills, director Martin Scorsese chats with Chapman students and Dodge College Professor Harry Ufland, who represented the filmmaker during the first two decades of his legendary career.
This story appeared in the spring 2018 issue of Chapman Magazine.