A device like a smartphone, a tablet or a laptop can unlock the world. It also can sit useless in a drawer. Or frustrate to no end.
Technological gadgets can be especially confounding to older people born long before "text" and "Google" were verbs. Now, thanks to a community service program created by Chapman University student Jacob Pace '20, the Orange Senior Center offers free one-on-one tech help from college kids.
"It was all on his own that he did this," said Katherine Connaghan, executive director of the Orange Senior Center. "He said he wanted to put together a program. We said, 'Well, OK,' and oh my gosh, he just went with it."
Pace was an Aliso Niguel High School student looking for community service hours when he came up with the idea of pairing digital natives with seniors and started a program at Sea Country Senior Center in Laguna Niguel.
It was such a success he decided to duplicate it at Chapman last fall, reaching out to his fraternity brothers at Beta Theta Pi as well as other Greek organizations and students at large. What usually starts as a way to accumulate community service hours often becomes a regular routine.
"I always tell the other kids, it's something so easy for you to do that has such a profound effect on seniors," said Pace, a business administration major who organizes about 85 Chapman tutors with online scheduling on a website called chapmantechtutors.com.
The program operates weekly during the academic year. Senior citizens seeking tech assistance can make reservations through the senior center.
Needs vary, but most challenges can be solved almost immediately by the average student. For them, tech is intuitive, and it's a simple matter to show someone how to set up their device, access their email, use map apps for directions or set up calendars or alarms.
"Some seniors have difficulty with their cell phones, but they want to have one to be able to call someone in an emergency," said Gretchen Snyder, director of operations at the Orange Senior Center. "Some are trying to learn to text. Some are figuring out social media."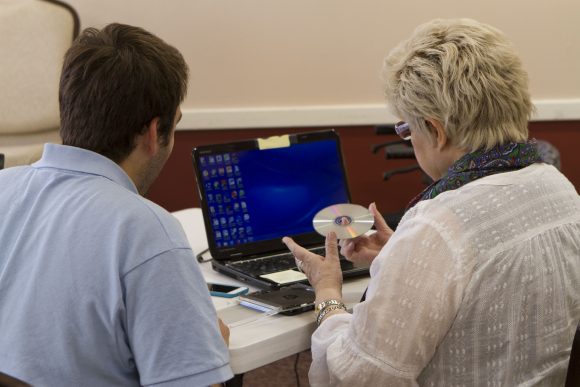 After the holiday season, Pace said, seniors sometimes come in with brand new devices purchased by their grown children to help them FaceTime family members or see glimpses of distant grandchildren's birthday parties and school plays.
Kathryn Lillard brings in her laptop regularly, and Skylar Singer '19 has helped her find ways to watch movies through services like Hulu or others.
"It's just fun for me," Singer said. "I got to be friends with Kathryn, and I've kept coming in."
Display image at top/Cole Thompson '21 is one of about 85 Chapman students who have provided tech help at the Orange Senior Center. (Photos/Amanda Galemmo '20)