They arrive as teenagers, just beginning to find their voices.
But many of the high school students who have flocked to campus the last seven summers for the Chapman University Choral Music Camp return, again and again. Some eventually become Chapman students, camp counselors and instructors, or even continue guiding young campers as Chapman graduates.
"I was just so infatuated with the school and the choral program that I wanted to find out more," said Sierra Segal '20, a music education major from the Bay Area who attended camp in 2014 before applying to the University. Her camp counselors "were some of the first people I called when I found out I had been admitted to Chapman," said Segal, who worked as a day counselor and section leader in 2017. "I had so much fun as a camper, but being a counselor was an infinitely more meaningful and rewarding experience for me," she said. "Getting to be that person for the kids that I had been so lucky to have in my time at camp was such an incredible experience."
This year's camp drew 91 high school singers, including 10 from Orange High School. A group of 32 campers stayed on campus in student housing, and 39 campers received financial assistance to attend, thanks to the generous support of the camp's sponsors, The Lloyd and Elisabeth Klein Legacy Foundation and Christine and Lon Cross.
Singing is what it is all about, of course, but there are other aspects to the camp led by Keith Hancock '02 (M.A. '04) — the national Grammy Music Educator of the Year in 2017 for his work as choir director at Tesoro High School in South Orange County.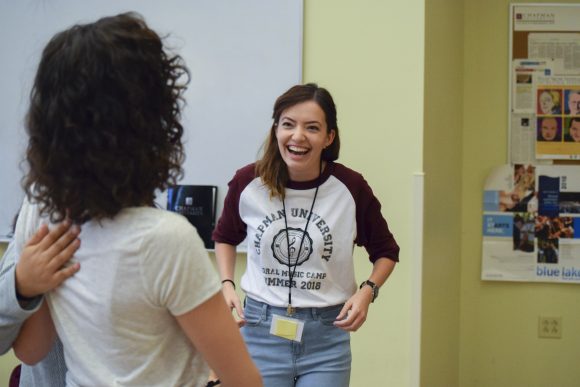 Among the offerings: Swing dancing, taught by Marie Tobias '20, who attended the camp in 2016, the summer before starting her first year at Chapman after graduating from Yorba Linda High School. She worked as an overnight counselor last year.
Many Forms of Expression
"In this camp, a lot of people have varying talents," said Tobias. "There are people who do musical theater, or people who say, 'I do dance, and singing's my backup.' So I think swing dancing, what I hope they'll get out of it, is more performance ability, and connecting that to their body. Sometimes there's that stereotype of 'stand and sing.'"
Mikayla Feldman '17 first attended the camp in 2013, the summer after graduating from Foothill High School in Santa Ana before enrolling at Chapman. Since then, she has worked four camps – as a section leader, voice class instructor, music technology instructor, small ensemble conductor and even handling publicity.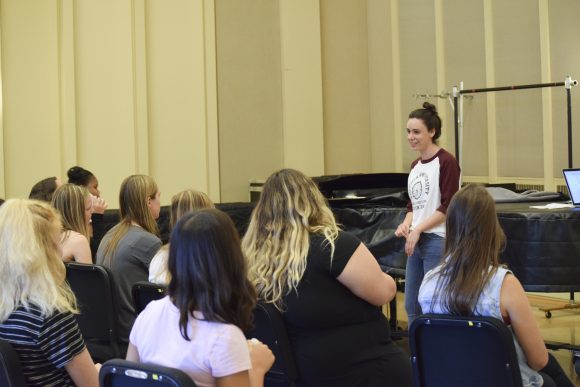 In Feldman's music technology class, campers worked intently, wearing headphones in an Oliphant Hall room filled with computers and musical keyboards as they learned to use Logic Pro X, a professional recording program for Macs that is like a far more advanced version of Garage Band.
Expanding Singers' Abilities
Part of what Feldman loves about the camp is that Hancock and Stephen Coker, D.M.A., Chapman's director of choral activities and an associate professor in the Hall-Musco Conservatory of Music, have never "dumbed down" the camp for high school students, instead "pushing them to sing at the collegiate level."
"And by end of the week, they do," she said.
Feldman has gone from camper to college graduate with Chapman's Choral Music Camp, earning a bachelor's of music in vocal performance and a second degree in business administration.
This fall, she'll add a role as assistant director for the Tesoro High School choral program, working with Hancock.
Feldman, Tobias and Segal are only some of the campers turned counselors. Others include Andy Vargas '20, who attended camp in 2014 and '16 and worked as an overnight counselor in 2017; Sydney Jarvis '20, who attended the 2016 camp and was an overnight counselor this year, and Joseph Krumbein '22, a camper in 2016 and 2017 who will be a first-year Chapman student this fall.
"I love it when former campers come back to the camp to work as counselors," Hancock said. "They bring a unique perspective when it comes to planning events and activities, since they have firsthand experience in participating in them. It's exciting to see their enthusiasm in providing the same great musical experiences for the current campers that they had when they were campers."
Display image at top/Some of the teenagers from the 2018 camp likely will return to campus as Chapman students or even camp counselors and instructors. (Photo/Doug Gifford)