The earth renews itself each spring, and Chapman University's efforts to sustain and protect the environment are abundant this year.
The Rinker Health Science Campus recently earned a WaterStar Award from the Irvine Ranch Water District for conservation efforts that keep the campus below its water allocation and make it a certified water-efficient organization.
On the Orange Campus, the Keck Center for Science and Engineering is being readied for its fall 2018 opening and features many sustainable and environmentally conscious features. Among them:
A chilled-beam system for energy-efficient heating and cooling.
Multiple design elements meant to reduce bird collisions. Instead of mirrored glazing that can confuse birds, the building uses clear glazing, frit glass and spandrel glass. In addition, the first-floor arcade on the east side helps buffer the windows, as do roof terraces and overhangs.
The steel frame of the building is made from 90-percent plus recycled steel.
Many campus events are planned as Earth Day on April 22 approaches: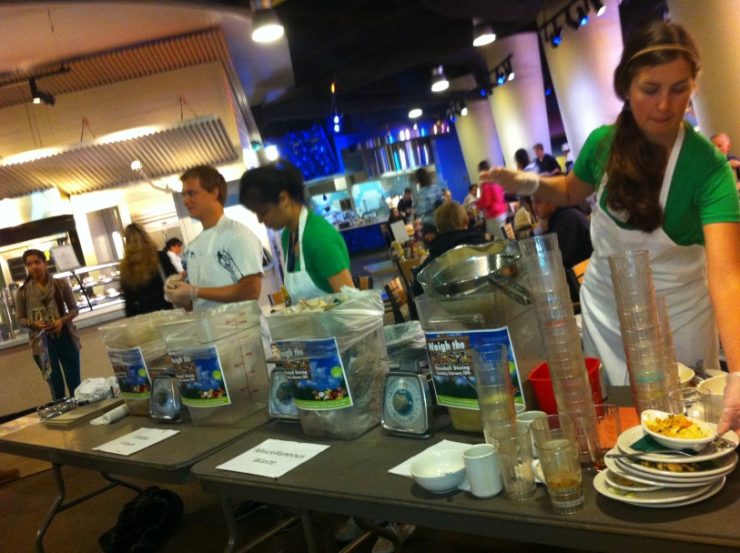 E-Waste Drive, April 9-20. Students, faculty, staff and members of the university community with e-waste to dispose of can drop it off at multiple locations, including the lobbies of Argyros Forum, Beckman Hall, Leatherby Libraries and Folino Theater.
Documentary screening, "Chasing Coral," Tuesday, April 10 at 7 p.m. in Folino Theater. The 2017 Netflix Original film is directed and produced by Jeff Orlowski, who also directed and produced the Emmy Award-winning "Chasing Ice" about glacier retreat. "Chasing Coral" takes viewers under the surface of the ocean to see how gorgeous coral reefs, a fundamental part of the ecosystem, are dying out as ocean temperatures rise.
Weigh the Waste, Randall Dining Commons, Thursday, April 19. Chapman has made significant progress in reducing food-related waste and will gather new data at this event. "One of the things that helped the most is going to a smaller plate," said Mackenzie Crigger, Chapman's energy and sustainability manager. "It was more that people didn't understand you didn't have to take everything. You can say, 'I just want the chicken, I don't want the rice, I don't want the broccoli.'"
Beeline Bikes Mobile Bike Shop, Wednesday, April 25. The business will be offering convenient service on campus as well as assistance with bike registration. (Search for Chapman University at Beeline Bikes for more information or to sign up ahead of time.)
Coming in May as students move out of dorms and community rentals, Chapman is standing by to assist with donations and reuse solutions for unwanted items.  Last year, the University donated 14,000 pounds of clothing, small furniture and unwanted but usable items to Goodwill, Crigger said.
"We also donate a lot to Casa Teresa and Grandma's House of Hope," she said, referring to local women's shelters. Popular items include plastic shelving, small furniture that the women can use in their rooms and even cleaning supplies and personal items such as unopened beauty supplies.
In addition to helping with dorm move-out, Chapman has offered large-item pickups to students living off campus so those items can be donated and not left behind.
Display image at top/The flowering shrub duranta is among the many water-friendly plants incorporated into Chapman's landscape.