I was on night watch with another volunteer, each of us scanning the pitch-black sea off the Greek island of Lesvos. Through night-vision binoculars, we searched for tiny boats filled with people fleeing war in Afghanistan or Syria, and it wasn't long before we spotted a dinghy bobbing toward a beach just below us. This was the moment for which we had trained. From our promontory position, we scrambled to collect emergency supplies.
Usually you can find me in a classroom, teaching Chapman University students about international law, or alongside human-rights workers in Cambodia, the Philippines and elsewhere, representing those caught in the undertow of war. This summer, I wanted to make a difference on the razor's edge of a humanitarian crisis.
Through the night-vision equipment, we could clearly see rows of migrants huddled behind the driver of the dinghy as it swerved toward shore. We raced to meet the boat, the whine of its outboard motor and the shouts of its passengers washing over us. Volunteers are not permitted to guide migrant boats to safety; if they do, they can be prosecuted for human trafficking. So all we could do was hold our breath as the dinghy suddenly veered toward a particularly jagged stretch of coastline.
We moved along the clifftop, which rises several hundred feet above the coastline to an almost vertical drop, forcing me to confront my acute fear of heights. Suddenly we heard the dinghy's engine cut out, and women and children started screaming. It was clear the boat had foundered on rocks, but where were the people? My anxiety rising, I peered over the cliff edge and aimed my flashlight toward the shoreline. Were those bodies in the water? We followed the sounds of shouting, and after a few interminable minutes we saw the faint glimmer of a rubber boat ringed by tiny shapes moving on the beach.
Since 2015, Lesvos has been a key transit point for hundreds of thousands of people seeking safety and opportunity in Europe after fleeing the violence and social collapse of Syria, Iraq, Afghanistan and a host of other war-torn nations. The scale of the crisis defies belief. During the past three years, more than 800,000 people are known to have braved the five-mile crossing from Turkey to Lesvos, most in flimsy and overloaded rubber dinghies. Over the same period, an estimated 10,000 rubber boats and 600,000 life vests have been discarded on the northern shores of this island.
Lighthouse Relief

To learn more about opportunities for support of humanitarian efforts on Lesvos, visit lighthouserelief.org.
After doing some research, I decided to volunteer with a Swedish nongovernmental organization (NGO) called Lighthouse Relief, which provides a range of services to migrants in the tiny fishing village of Skala Sikamineas on Lesvos. It's a picturesque hamlet of about 150 permanent residents nestled below dramatic cliffs. In 2015, the village was inundated by tens of thousands of refugees, mainly from Syria. Dinghies swamped and sank; hundreds, perhaps thousands, drowned, and local fishermen spent months pulling survivors and bodies from the water. Long before the United Nations or the Greek government acted decisively, the local communities of Lesvos shouldered an overwhelming humanitarian burden, providing warm clothes, blankets, bedding and food.
The crisis facing Lesvos during this past summer was very different in scale and consequence from the worst days of the two previous years. In 2016, the European Union reached an agreement with Turkey under which the government of President Recep Tayyip Erdogan agreed to help stem the unprecedented flow of migrants in exchange for financial aid. For now, Turkish authorities are trying to intercept and turn back boats, but many migrants still attempt the crossing, usually at night in hopes of avoiding detection. There remains the fear that the Erdogan regime, flexing its muscle with the EU, may decide to once again open the floodgates to those who prey on the hopes of the desperate. Such a scenario causes considerable worry within aid organizations like Lighthouse.
But, then, anxiety remains a constant in the lives of pretty much everyone on Lesvos.
With the small boat now visible on shore, my fellow spotter and I radioed the migrants' location to the Hellenic Coast Guard and to a landing team from the Spanish NGO Proactiva. But our work was far from done. My colleague started toward the beach on a steep, narrow path that was partially illuminated by her headlamp. We had discussed my acrophobia, so she understood when I said I would remain in the relative safety of our perch. But in no time I realized that just wouldn't do. I steeled myself and started gingerly down the path trying to keep up with her pace.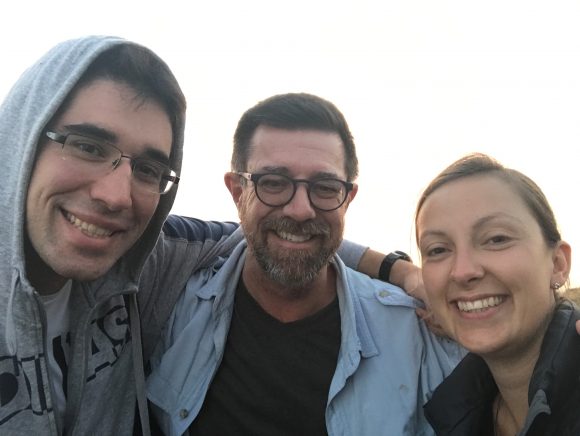 Finally reaching the rocks at the bottom of the cliff, we waded toward a cluster of people, now illuminated by a powerful spotlight from the Coast Guard boat bobbing alongside the Proactiva vessel about 50 meters offshore. Our new role was to calm the migrants and assess their immediate medical needs. We handed out water and biscuits while performing a quick count. There were 21 people in all, including 13 children, of whom two were toddlers and one a 6-month-old baby. One passenger had gashed his hand pretty badly, and we helped him apply a compress. Elsewhere, there were only a few cuts and bruises. Everyone was safe.
The migrants were from Afghanistan, but one boy spoke English, so we asked him to translate: "You are in Greece. Stay here, and you will be taken to a safer place with hot food. You are not in danger." For most of the migrants, the tension eased. As volunteers, we had been trained to work quickly without looking frantic, to speak in calming tones and to respect cultural norms such as not touching those of the opposite gender. I quickly discovered that a ready smile also worked wonders. I passed out plenty as I crouched to the level of the children, from whom I even coaxed a bit of laughter, which seemed to further relax the adults. Cellphones sprang to life as those safely on the shore sent messages to friends and relatives.
The Coast Guard decided the safest passage to the aid camp was by boat, so the Proactiva vessel approached the shore. I held the boat steady as the Afghans boarded from the beach, the baby and toddlers in the arms of adults who stepped carefully through the waist-high surf.
A special sense of relief swept through the two of us still on the shoreline. We waved to those departing, returning the smiles of our new Afghan friends as we watched the Proactiva boat back away from the shore. In an instant, the Coast Guard boat turned off its floodlight, plunging the two of us into complete darkness and causing us to rethink our decision not to go along. Aided by our headlamps, we found our way to the trail and started the steep climb. When we reached the top, a peculiar thing happened.  I realized I was no longer afraid of heights. These days, I can look down from atop a high rise without feeling anxious. This is one reason I look back on my Lesvos experience with my own sense of passage.
Now that I am back in the classroom at the Fowler School of Law, I find myself reflecting often about my summer as a Lighthouse volunteer.
We get wrapped up in our own lives, our stressful problems and petty dramas. The daily pressure of modern life keeps us busyand distracted, while the myriad humanitarian crises in the world appear dispiritingly overwhelming in scale.  It is too easy to respond by throwing up our hands in collective despair – to find reasons for not doing anything. The greater truth is that we can all make a difference, we can get involved, we can change the world for the better.
I feel that I have an obligation as a teacher to lead by example – to help our students discover an appreciation of their lifelong potential to fully engage as global citizens. Together, we can focus less on prestige, money and the formal trappings of success, and more on our ability to use our talents to make the world a more caring and genuine place.
I'm also thinking about the thousands of migrants I met on Lesvos. For many, their futures are in limbo, their needs as immediate as shelter for the night and food for their children. But at least they are safe, and skilled people who care are helping them to find safe passage to the next phase of their lives.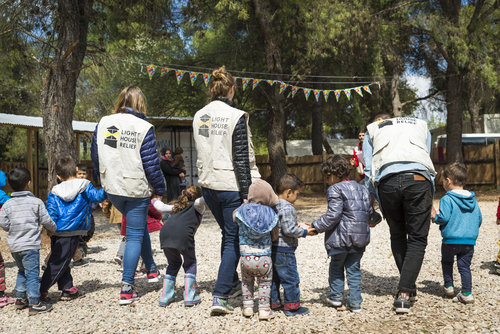 My strongest impressions connect to the humanity of the migrants as well as their courage and optimism. They flee appalling violence, terrorism and instability, just as we would in their circumstances. They risk everything, including abuse, violence, rape and robbery, to board a flimsy dinghy, all to make a new life for themselves and their children. They share a profound courage built of equal parts desperation and hope.
On Lesvos I found that the more I talked with the migrants and the more I listened to them, the more the hurtful divide of "them" and "us" seemed artificial and offensive. People in distress need our assistance, our support, our respect. They do not need our pity.
The migrants are not merely disembodied numbers. They are doctors, farmers and wives, mothers and professors. They are children, nurses, bureaucrats, office workers, drivers and accountants, all caught in a crisis that does not define them.
They are my family and friends. They are me. They are us.
At the front of my memory are the smallest of things. The items the migrants choose to carry with them are a touching reflection of their prior lives:  family photographs in ziplock bags; professional, medical and university diplomas rolled in waterproof containers; children's toys. One young man from Congo arrived dressed in his soccer uniform – his only clothing – with two pairs of cleats tied around his neck to keep them dry. A music student from Syria carried his kanun, a dulcimer-like instrument that despite its relative bulk clearly was too precious to leave behind. A mother clutched two bags, one filled with baby formula, the other with crayons.
What would I take with me if I were forced to flee my home, abandon my current life and brave untold dangers to start anew in an unknown country? My cellphone? Photographs of my daughter? Some small reminder of home in a plastic bag?
At the end of our memorable night of rescue, my Lighthouse colleague and I returned to comb the rocks and sand, where we recovered stray life jackets and cleared the beach of debris. In the spray of my headlamp I spotted something unexpected: a scarf of the finest cotton, with intricately embroidered detailing – a cherished item that survived the hazardous crossing only to become lost along a soggy shoreline. There was one more rescue to make that night. I folded it gently and placed it in my pocket.
First thing the next morning, I trekked to the camp and moved among the migrants as I held the scarf aloft in search of its owner. A boy quickly recognized it as his mother's and directed me to her. Although she and the others from the boat had only gotten a few hours of sleep, already they were being told to collect their things for another journey, this time to a processing camp run by the Greek government. The stress put everyone back on edge, but even in her exhaustion the Afghan mother kindled a warm smile of gratitude as I handed her the scarf. She placed it on the cot next to her and gave it a gentle pat.
The moment seemed as delicate as the fabric, yet there was resilience in her manner as she resumed gathering her belongings. I like to think that the scarf remains with her today, perhaps in her own plastic bag, ziplocked for safekeeping during passages to come.
John A. Hall, JD, Ph.D., is a professor and director of the International Law Program in Chapman's Fowler School of Law.
Kindness Amid Chaos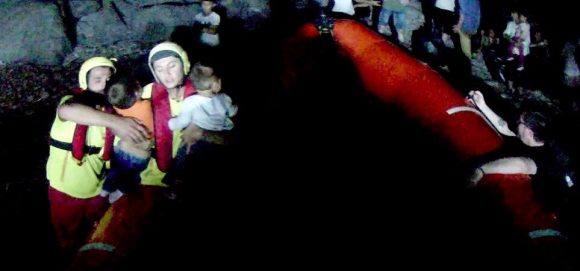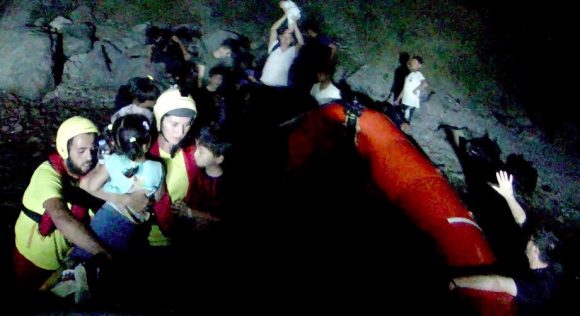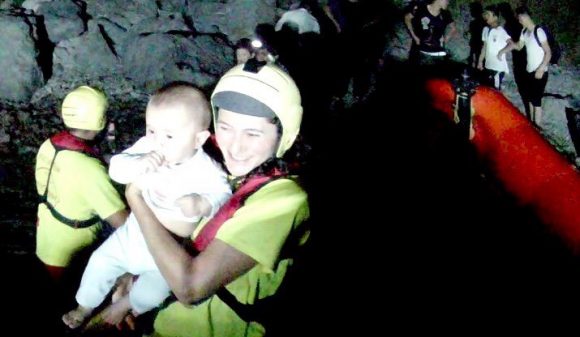 Fowler Law Professor John Hall steadies a boat at its right during a night rescue of 21 Afghan migrants who had just braved a crossing from Turkey to the Greek island of Lesvos. These images taken from video footage show how volunteers seek to calm migrants – especially the children – and then help them   get safely to refugee camps. Hall says that while he worked to give care during a time of chaos and desperation, he got much more in return. "I received the gift of a vivid awareness of our shared humanity, of the remarkable resiliency of the human spirit, and of the power and necessity of mutual kindness," he says.
This story appeared in the fall 2017 issue of Chapman Magazine.