Just one day before October's mass shooting in Las Vegas, dancer and choreographer Ido Tadmor was putting the final touches on a work he created for Chapman University students to perform this fall.
Tadmor's inspiration was surrealist painter René Magritte, well known for his gleaming images of clouds juxtaposed with floating green apples, men in bowler hats and a variety of ordinary objects that look suddenly odd parked in such a framework. The choreographer wanted to finish with a strong statement about themes of isolationism he sees in Magritte's work. So, at the conclusion a dancer who plays the outsider throughout the piece falls to the ground when the sound of a gunshot rings out.
Then the Las Vegas news poured in. Although heartbroken by the coincidence, Tadmor kept the moment in his choreographed work.
'We need to listen'
During the next day's rehearsals, Tadmor and his students struggled with the unique context that now colored the dance as the number of dead in the shooting rose. The student dancers broke into tears. Tadmor paused the rehearsals so that they could both comfort each other and talk over the connections between reality and art — and the timely understanding they now brought to their performance.
"It's a mirror to where the world is going to. It's almost like a red light. We need to listen to each other and talk to each other," said Tadmor, winner of Israel's highly respected "Landau Prize" for life achievement and a Presidential Fellow in Dance at Chapman.
That piece, "Back to Magritte," is one of six faculty works that will be performed by students in the Fall Faculty Dance Concert Friday and Saturday, Dec. 1 and Dec. 2. Other faculty who have choreographed for the show are Julianne O'Brien Pedersen — chair of the Department of Dance — as well as Sean Greene, Alicia Guy, Will Johnston and Liz Maxwell. The production is part of a yearlong series of events marking the 10th anniversary of the College of Performing Arts.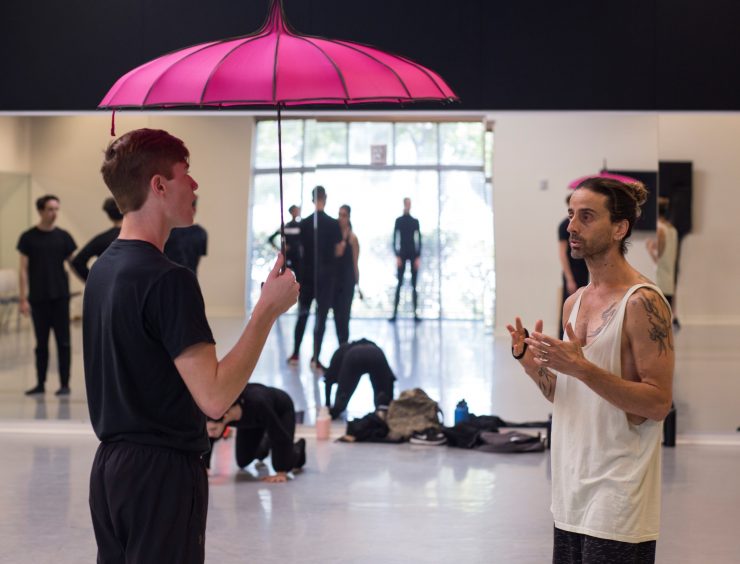 "Back to Magritte" is provocative, but not entirely heavy. During a recent rehearsal, a group of dancers romps through a jumble of green apples launched across the stage floor. A couple perform a kind of courtship dance with one dancer holding a Magritte-style umbrella the entire way. Several times, students flick and twirl their hands, creating a sense of expectant energy.
In fact, those frenetic moments belong entirely to the students who each crafted their own mini-choreographies within the larger work. Dance major Elijah Richardson '18 says it was an opportunity to add his own voice to the piece.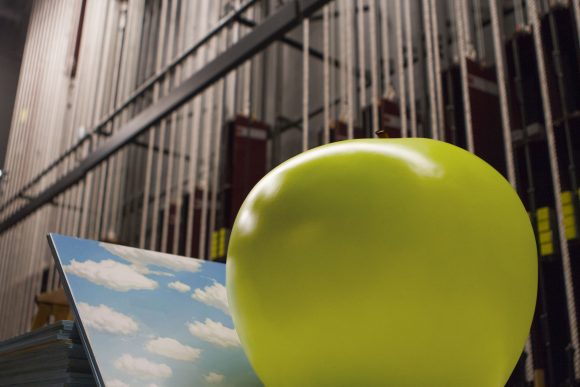 Opportunity for student collaboration
"We came up with small quick gestures and then we repeated them multiple times and it became a motif. I created my own movement. I love the collaboration," Richardson says. "It makes it more relatable and personable to all the dancers as they created a lot of their own phases. And how Ido wove it into his own choreography is just beautiful."
The process has surprising results, says dance major Sammi Waugh '18. At one point, Waugh is a menacing figure shouting commands that force the others into a lock step march. It was an artistic stretch for her, she says.
"I'm a very quiet person in real life," she says with a laugh. "I know I play a really mean and angry person in the piece, but to me that transfers just to strength."
If You Go
The Fall Faculty Dance Concert
7:30 p.m. – Dec. 1 – 2
2 p.m. – Dec. 2
Tickets $10 – $20
Musco Center for the Arts
Buy Advance Tickets
Display image at top/Real apples await their moment during a rehearsal of 'Return to Magritte.' (Photo/Troy Nikolic)