The average Major League Baseball player salary when Stan Kasten began his career as a sports executive fresh out of Columbia Law School in 1976 was $51,501.
Today it is $4.47 million.
That long view and a long line of success mean that hardly anyone was as qualified as Kasten, the Los Angeles Dodgers president and CEO, to be the keynote speaker April 14 at the Dale E. Fowler School of Law's 2017 Entertainment and Sports Law Symposium on the Evolution of Sports Business.
With sharp business insights and wisecracking barbs at sports agents, Kasten laid out philosophies that he says have not changed despite a rapidly evolving sports universe.
"Whether you're building a team or whether you're building a company, it's really the same principles," he said. "In the corporate world, I talk about building your product, building your relationship with your customer, building your brand.
"If you're in sports, for me, the translation is your team, your stadium experience, and your community relations network. It's all the same."
The conference was the Fowler School of Law's fourth Entertainment and Sports Law Symposium, an event created by law students and organized this year by Lauren Fitzpatrick (JD '18) and Lisa Hurns (JD '18).
The daylong event offered opportunities for California bar members to earn continuing legal education credits. It included panels on Broadening the Scope of Sports Law, Thriving as a Sports Agent in a Highly Competitive Market, and the Business of eSports — the rapidly emerging $1 billion industry that has arisen around competitive video gaming.
Kasten got his big break in pro sports during a cross-country tour of baseball stadiums the summer after law school when he had a chance encounter with Ted Turner, then the little-known owner of the Atlanta Braves. Kasten introduced himself, the two hit it off, and Kasten soon became a legal counsel for Turner's growing sports empire.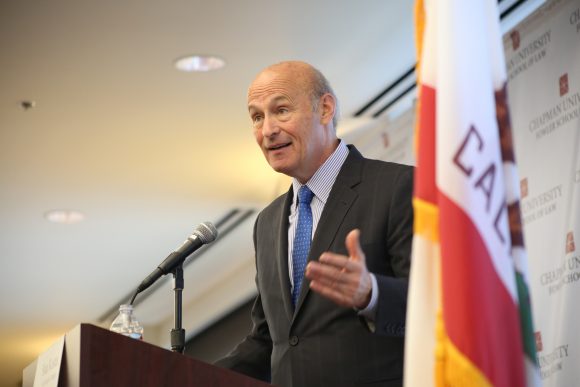 By 1979, at age 27, Kasten was general manager of Turner's NBA team, the Atlanta Hawks. He later simultaneously served as president of three teams — Braves, Hawks and the NHL's Atlanta Thrashers — and went on to become president of the Washington Nationals from 2006-2010.
In 2012, Kasten became part of the ownership group that bought the storied Dodgers out of bankruptcy court for a record $2 billion. The Dodgers have since won four National League West titles after a series of trades and big-dollar player contracts that brought them first baseman Adrian Gonzalez and helped them hold onto homegrown pitcher Clayton Kershaw.
But a franchise built on free-agent signings and big contracts alone is unsustainable, Kasten said, calling it "a fool's errand." In addition, it was important to rebuild the Dodgers' farm system.
"The year before we got here, we were No. 27 in the ranking of quality players in our minor league system. And there are only 30 teams," he said. "Last year, we were No. 1."
A stable of stars also helped the Dodgers sign a record $8.35 billion TV deal – one that became extraordinarily controversial because Time Warner Cable and its successor, Charter Communications, have remained at loggerheads with DirecTV and other pay-TV providers, preventing a huge swath of fans from being able to watch the Dodgers on TV.
"We work on it every day," Kasten said, lamenting the TV shortcomings as "the only thing we haven't gotten done."
"I think it'll happen some day," he said.
Kasten's career in pro sports has been extraordinarily wide-ranging – the only one of the four major pro sports leagues he hasn't been an executive in is the NFL. But he might have gone a different way, he said.
"I was going to be an antitrust lawyer in Manhattan," Kasten said, though he always had his eye on sports.
"Worst case, I might have gravitated toward being an agent, God forbid," Kasten said — getting in one last jab at the negotiators who sit on the other side of the table.
Display image at top/Dodgers President and CEO Stan Kasten and Fowler School of Law Dean Matt Parlow