Chapman University announces that Wylie Aitken, a longtime trial lawyer and fixture in Orange County's cultural, business and academic scenes, is the newest Chairman of the University's Board of Trustees. Aitken has served on
Chapman's Board of Trustees
since 2004 and begins his two-year year term as Chairman immediately.

"What Wylie brings to the table is tremendous vigor and energy—he has always been one of the more active members of our Board of Trustees," said
Daniele Struppa
, Ph.D., president of Chapman University. "His unique perspective on approaching the opportunities and challenges we face will add a fresh viewpoint as we move into the future."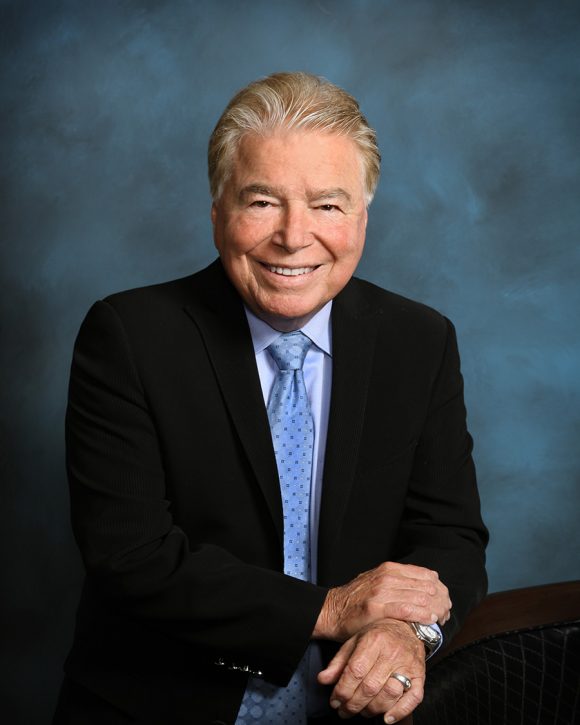 Aitken and his wife, Bette
, have a long history of involvement with Chapman University. They have been supporters of the 20-year-old
Fowler School of Law
since its inception, which also houses the Wylie A. Aitken Trial Courtroom, and where Aitken also serves on the school's Board of Advisors. 
The Bette and Wylie Aitken Family Protection Clinic
at Chapman's Fowler School of Law, the Center for Lawyering and Trial Advocacy and the Bette and Wylie Aitken Distinguished Visiting Professorship were all made possible by the Aitkens, as well.

Outside of the law school, the Aitkens were a big part of bringing to fruition the University's new
Musco Center for the Arts
, and have been consistent participants in Chapman's annual American Celebration Gala (now called
Chapman Celebrates
.) The Aitkens were honored as Chapman's Citizens of the Year at the gala in 2014. A two-minute video of that tribute can be viewed here:
https://vimeo.com/144529761/7ea8c75ca9


Aitken is a nationally recognized trial lawyer and founding partner of the firm Aitken Aitken Cohn in Santa Ana, CA. In addition to his affiliation with Chapman, Aitken is a member and former chair of the board for the Democratic Foundation of Orange County, the Segerstrom Center for the Arts, South Coast Repertory, Mission San Juan Capistrano and the American Board of Trial Advocates (and former president of its foundation) and a fellow of the International Academy of Trial Lawyers.

The Aitkens are proud parents of three accomplished attorney children and eleven grandchildren.

"I could not be more excited to work with our new president and to have the opportunity to assist in helping shape the future of such a great university," Aitken said.

The other officers on Chapman's Board of Trustees are:

Vice Chair Joann Leatherby, who is a longtime Chapman friend and supporter and active in many Orange County organizations, including her current service as Chairman of the Board of Pacific Symphony, the Juvenile Diabetes Research Foundation, and South Coast Repertory Theater.

Vice Chair Parker Kennedy is currently Chairman of First American Financial Corporation, as well as chairman emeritus of CoreLogic, Inc.

Vice Chair Jim Mazzo is Global President of Carl Zeiss Meditec's Strategic Business Unit Ophthalmic Devices, and serves on the board of OCTANe.

Vice Chair Zeinab Dabbah is a Chapman Fowler School of Law alumna and former Chief Medical Officer for Blue Shield.

Secretary Scott Chapman is co-founder of Project Hosts, and the great-grandson of university namesake C.C. Chapman.

Assistant Secretary Zelma Allred, fondly known as "Zee," is chairman and CEO of Pool Water Products in Irvine, CA, the largest woman-owned business in Orange County.