Shopping carts filled to teetering with boxes, bags and economy-sized packs of toilet paper. stream out of the parking structures, filling the sidewalks, forming trains down the dormitory corridors. It's a frenzy of "Wait where is this?," and "Where's the check-in?" or "I can't find my room."
It's move-in day.
Bring the stuff, bring your best organizing game and maybe, well probably, bring some tissues
"Oh no – he's going to start crying again," says Amanda Palleta'20, Computer Science to her mother and sister. "Daaaaaaaaad!"
"You know it's hard when you're a parent, doing this, saying goodbye when you want to be there to protect them from everything," says Vincent Paleta, Amanda's father. "It's very heart-wrenching." Amanda gives her father a hug and they're off to the next phase of the move.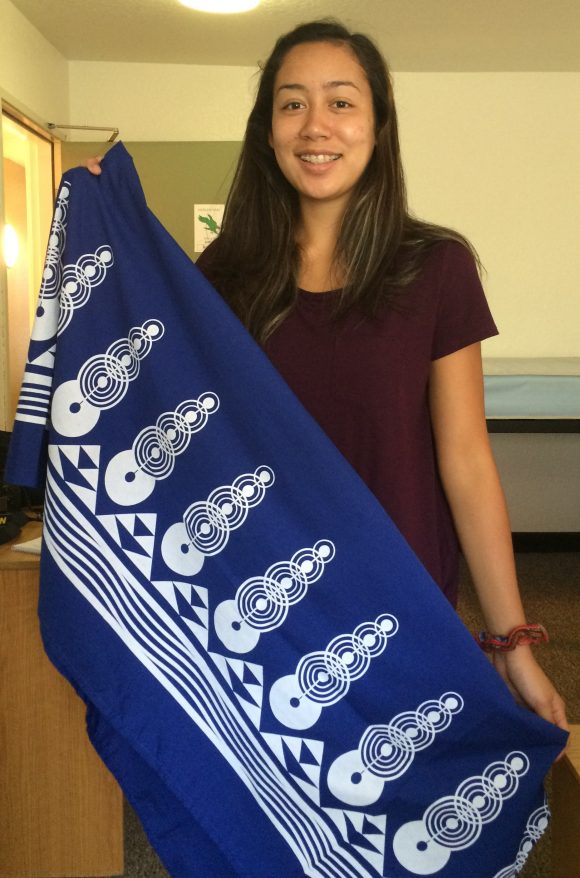 Students from all over the U.S. are bringing pieces of home with them as they settle in for their next chapter in life.
Cassidy Keola'20 Communications, from Oahu, Hawaii, brought her kihei – a unique ceremonial wrap for those who are of Hawaiian ancestry. It is covered in symbols from Hawaiian culture and was bestowed upon her for high school graduation. Students ask a significant teacher to them to tie their kihei on. For Keola, it's a link to home and also a tribute to her ancestry.
Karl Hickel'20 computer science, was unpacking in with his mother, Gloria, and room mate Michael MacInnes'20, history. Hickel, from Anchorage Alaska, hadn't brought too much of sentimentality with him, but said his token from home is a Star Wars fleece blanket his girlfriend made for him. MacInnes fished around for his sousaphone cover, which he intended on hanging on his wall to remind him of his marching band friends – but no luck.
"I left it at home!" MacInnes exclaimed.
"Looks like we're going to be shipping that down," replied his mother, Lori.
Directly on the other side of from Kichel and MacInnes is Chi Ossé'20 from Brooklyn, New York. It's been a long trip for him and mom Akin Vann. As of right now,Ossé is an undeclared major – looking forward to finding out what strikes him.
After navigating the walkways of Morlan, Ossé and Akin find his room – but alas, the door key does not work! Just another one of the trials of move-in day. But never fear, his resident adviser comes to the rescue. As for what he's brought from home? A significant "Dad Cap" collection, he says, nodding at a near-to-bursting shopping cart.  Wait – what's a "Dad Cap?"
"It's like this – the one I've got on," says Ossé, tugging on the soft form, canvas head cover. As the door situation is still being figured out it, we're not getting the whole collection out just yet. "Aw, no mom, I don't want a picture with YOU," Chi jokingly scoffs with Akin, as they get in close.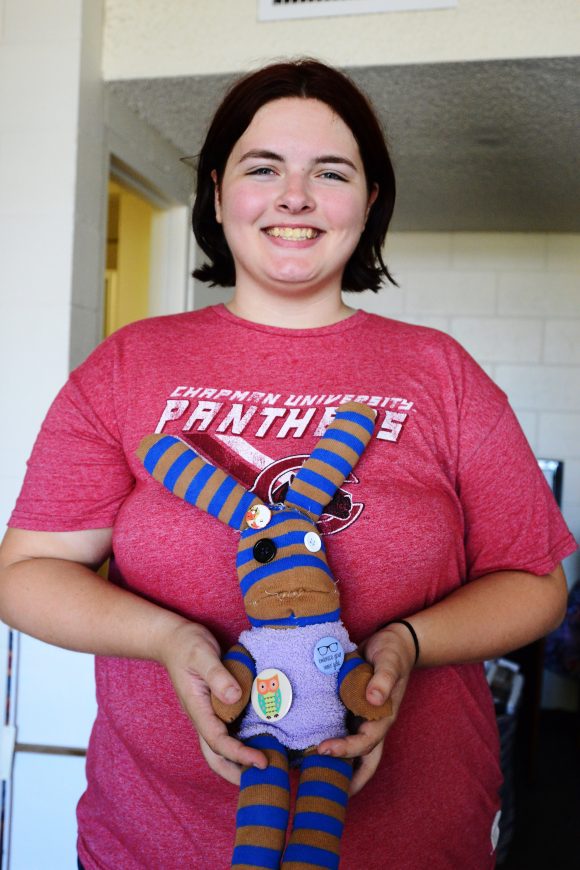 Caitlyn Mumaw'20, Graphic Design, of Kansas City, Kansas is busy with her family getting settled into her room. It's been a big trip for everyone and the morning is warming up for them. Mumaw has brought with her a stuffed animal her friend made."It's to remember her by, so that when I hold it, it's like getting or giving her a hug," said Mumaw.
Room mates Elizabeth Anne Casillas'20 Art History, from San Antonio, and Emma Gerard'20 English, from Boston, have brought between them a token of their past and a memento of the present: Gerard brought a small stuffed lamb that has gone with her everywhere since birth, Casillas has a tiny succulent plant – the plant de rigeur of her new home-state away from home.