Chapman University's Opening Convocation always marks a special moment in the lives of the incoming freshmen. The new class convenes as one for the first time, is officially welcomed into the Chapman community and hears that the jumble of excitement and trepidation stirring in their guts is completely normal.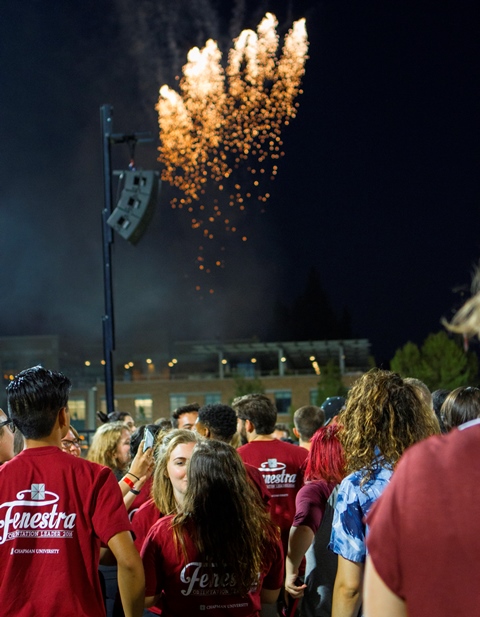 This year members of the Class of 2020 learned that they had some pretty admirable company on that last count. The students weren't the only ones getting ready to embark on a new adventure this fall, said Chancellor and President-Designate Daniele Struppa, who officially steps into the role of University president in one week.
"I'm in the same situation you are. I am excited for what's expected of me. I'm excited to take the leadership of this University. But I find comfort in the fact that we are going to be fellow travelers in the next several years. And I assure you that I'm convinced that we are going to experience much success at Chapman because Chapman is a magical place that recognizes talent, nourishes talent and makes it flourish," Struppa said.
With fireworks, music and a bit of dancing in the aisles, the Tuesday evening Convocation formally welcomed 1,540 first-year students, a cohort that includes more students than ever from outside of California. Their top three declared majors are psychology, health sciences and film production.
It is also the last class to be received into the University under President Jim Doti, who is stepping down after 25 years at the helm. Reflecting on his tenure as president, Doti told the students that the same brand of resolve that served him in those years would also serve them well in their college careers.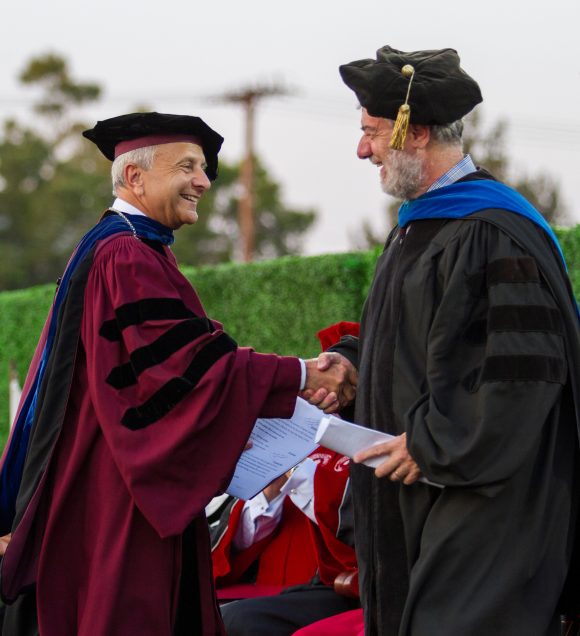 "You'll realize that the success of your Chapman journey will not be due to the luck of some genetic IQ pool. Nor will it be related to your race, your ethnicity, your gender or anything else you were born with," Doti said. "I think rather that you will find, as I have found, that your success at Chapman University will be due to number one – hard work, persistence, tenacity."
As is traditional, students were also greeted by the president of the Alumni Association, who this year is Trustee Akin Ceylan '90, COO of home entertainment and global content delivery for Lionsgate. In his message Ceylan urged the freshmen to jump into the journey.
"This is your time. Determine who you are and what you are made of. It's not anybody else's. Only you are responsible and accountable for the outcomes of your experiences. So go out, search, get out of your comfort zone," Ceylan said. "And embrace what is in front of you and available to you, even if you do not completely understand it. This is why we call it a personal journey."
Convocation also opens Orientation Week. More information about the week's programs and events is available at the New Student and Family Orientation web page.