As Danny Aviles '07 walked through an orphanage in Tecate, Mexico, he felt the eyes of hundreds of children staring at him. They
silently followed his every move as Brett Unruh '03 led Aviles through the grounds where he would stay for the next four days, facilitating a program with Football for the World USA, the nonprofit organization Aviles founded in 2015 to bring soccer and life skills to children around the globe.
The youngsters were used to Westerners arriving to do mission work without forming meaningful relationships.
Suddenly, Kique Lopez, a 10-year-old  with a sturdy build and buzzed haircut, stood up and asked Aviles his name. The visitor answered and returned the question in Spanish. "Hablas español?" Lopez responded,  shocked that his new American acquaintance spoke his language. And just like that, a friendship was born.
Such connections are an integral part of Football for the World's commit- ment to teach life skills through soccer. Building relationships and having fun on the field – "combining life skills with soccer drills" is how Aviles puts it – helps children develop a confidence they can carry with them, Aviles says.
Aviles, who has taught elementary and middle school, was inspired to establish the program while volunteering for a health- and technology-focused nonprofit in Botswana in 2011– 2013. He saw how deeply that effort impacted the lives of children with HIV/AIDS. He thought he could also change lives by sharing his love for soccer and teaching.Two years later, he and fellow volunteer Monica Bosiljevac founded Football for the World.
Still in its first year, the program already has donated soccer gear to communities in need in California, Nebraska, Tanzania, Kenya, Uganda, Mexico and Jamaica. Together, Football for the World's Canadian and U.S. chapters have donated more than 7,500 pieces of gear and provided matching soccer uniforms to 41 youth teams across the globe.
The program's curriculum is designed to improve quality of life by teaching participants to overcome adversity, set and achieve goals, lead others, collaborate and manage time. And along the way, young people get to run and jump and play.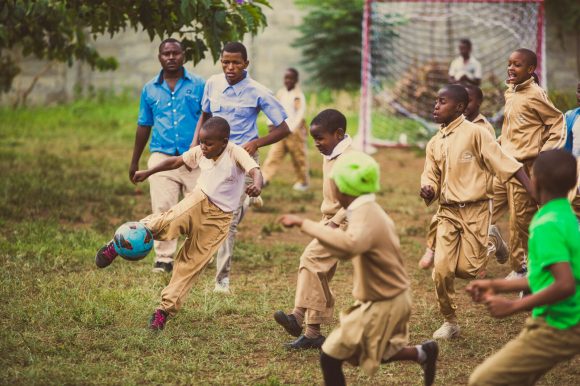 When Aviles first met Lopez at the Tecate orphanage, the child wasn't one to stay quiet, but he lacked
self-awareness and was shy with the ball, Aviles recalled. Within a couple of days, however, Lopez became a respected leader on the field.
"It was amazing to see how much a child could appreciate a gift (of soccer gear) and make the most of it," Aviles said.
Many of the children face what Aviles calls "insecurity obstacles."
For the first time, they have leaders and general support to lean on.
In the final match during Aviles' stay at the Mexican orphanage, he saw Lopez unleash a last-second shot into which he put every ounce of his strength.
"Golazo!" Lopez shouted repeatedly as he ran around the field in triumph. Then he jumped into Aviles' arms and looked up at his new role model.
"Goooooooooal!"