When Leti Romo hears stories of students suffering racial or cultural slights, she knows just how stinging those experiences can be. The Chapman staff member has been wounded herself, even in
seemingly innocuous moments. Like one time in her own college days when she simply ordered a pizza. Out with Latina friends near her Midwestern school, Romo wanted nothing more than a large with pepperoni.  The counter guy responded with "So, did your family run or jump across the border?"
She took a deep breath and answered calmly, "My parents crossed legally." But that doesn't mean the comment didn't hurt. More than once during her college career Romo remembers thinking, "I can't do this."
"If I didn't have people there helping me feel like I belonged, I wouldn't have made it through, I wouldn't have succeeded," she says.
Now Romo is one of those supportive people, helping students – and everyone else at Chapman University – feel welcome and valued. As assistant director of Student Engagement, focusing on Cross-Cultural Engagement, she's building bridges across any and all cultural divides. And she's far from alone in her work to transform the institution.
She's part of a University-wide Diversity Project that in a little more than a year has gained considerable momentum.  From a launch with about 100 participants, the project now features more than 250 volunteers, representing students, faculty, staff, alumni, trustees and administration. All are pursuing a goal to change the overall culture at Chapman "to advance diversity and inclusion across all facets of the University," as it says on the project's
Chapman webpage
.
A key factor that has gained the project credibility is the University's embrace of a Cross-Cultural Center, now being developed by a team of students, staff and faculty led by Dean of Students Jerry Price and Romo. The Center, on the third floor of Argyros Forum, is expected to open in 2017.
A multicultural space has been on students' wish list for some time, but Chapman administrators were concerned that creating a space for students of a particular race or other identifying factor would foster division instead of inclusion. The idea of a Cross-Cultural Center seems to be generating excitement that crosses multiple divides.
Of course, mounting a multi-pronged effort like the Diversity Project starts with a realization that the culture needs changing. The motivation wasn't a flashpoint or crisis, as some universities and other institutions have experienced, said Joe Slowensky, vice chancellor for institutional effectiveness and faculty affairs and the chief administrator  of the project along with Erin Pullin, director of diversity and inclusion in the Office of the Chancellor. Instead, it was a combination of factors.
For one thing, surveys of faculty and staff showed a drop in positive responses to the statement "Chapman is a place that values diversity."
"They weren't bad scores, but the trend wasn't in the direction we wanted," Slowensky said.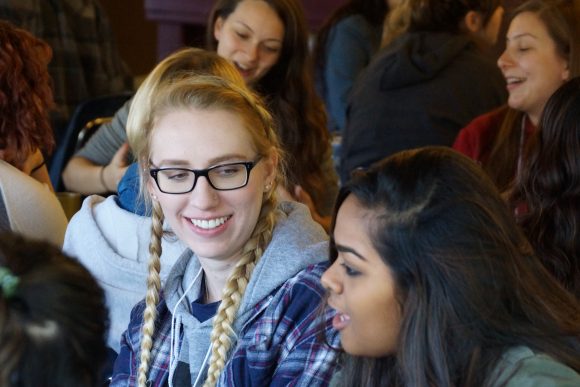 Plus, in fall 2014 there was an uptick in bias incidents experienced by students, mirroring national trends. And there was some concern voiced by women about "the positions and salaries that women hold at the institution,  indicating that we needed to look carefully at this issue. And we did," Slowensky added.
So in February 2015, with support  from Chapman's leadership, Slowensky and colleagues set about creating a framework for changing both realities and perceptions about Chapman. They pulled together campus stakeholders and other experts to figure out how "to impact a wide variety of areas throughout  the institution in a relatively short timeframe," Slowensky said.
Casting a wide net
There were a few givens about the Diversity Project. They wanted a process that promotes curiosity, inquiry and reflection, with honesty and transparency at its core. Plus, the project had to convert talk to action and ultimately solutions. And they didn't want a top-down structure.
"We wanted to hear all voices, so we cast the widest-possible net," said Pullin, whose position and office were established in 2015 to assist with oversight and development of the institutional change project. "We decided that we needed to look at diversity from all angles."
Five task forces were set up to focus the project's advocacy through institutional lenses, plus eight advisory groups were dedicated to advocating for the status of various communities. The groups cover everything from women to people of color, international communities to issues of disability and accessibility, LGBTQ+ to military affiliates, socio-economic stratification to faith, spirituality and secularism.
"It's not about political correctness," said Romo, a member of the steering committee as well as two advisory groups in the project. "It's about giving people the power to say, 'This is who I am.'"
Religious studies professor Julye Bidmead sees the effort as a natural step in Chapman's evolution.
"As we move to become an internationally recognized research university, we will continue to change and grow, and that's important," says Bidmead, Ph.D., who leads workshops with faculty to help incorporate diversity into their teaching. "The fact that we're talking about this on so many levels is a good thing for the University."
As young as it is, the project already has gained national notice. Slowensky and Pullin presented on it at a recent conference of the Association of American Colleges & Universities. They were joined by two other project participants, film student Leon Lukic '17 and sociology and anthropology professor Stephanie Takaragawa, Ph.D.
One of the project's innovations is that co-chair positions are filled not just by staff and faculty but also by students. "It reminds everyone that we're supposed to be contributing equally, and no one's input is more weighted," Takaragawa said.
"Students have been actively asking for this opportunity,"  said Jillian Strong '16, a psychology major who co-chairs the Advisory Group on the Status of Disabilities and Accessibility. "To now have it is really exciting."
A draw for students
Many students are also excited about the Cross-Cultural Center, which they anticipate will become a hub of cultural life on campus.
"I've had instances when I didn't feel welcome based on who I am – my identity," said Lukic, Diversity Project assistant as well as a co-chair of the Perceptions Task Force. "Having a space where students feel a lot more connected is important. I think it will be a draw for current and prospective students."
The goals for the Center are to "advance our efforts supporting  students from underrepresented groups while also exposing the rest of the campus to other points of view," said Price.
"Our focus is not, 'We need this because of the cultural environment.' It's, 'We need this because students benefit from exposure to and education about multiple perspectives and identities,'" Price said. "This is part of our global mission."
Support for Student Affairs in developing the Cross-Cultural Center is one measure of Diversity Project impact. Where else is the effort creating change consistent with its goals?
Pullin enjoys counting the ways.
"I got to present 65 updates to the spring full-faculty meeting on Friday, and that's not even a comprehensive list," she told project participants at a recent get-together. "I never thought we would achieve this much change in a year."
Acting on recommendations by the project team, the University and members of the project have worked together to:
Update and significantly expand the Chapman website to include resources such as all-gender restrooms and accessible entrances on the interactive map.
Establish pathways to support access and emphasize recruitment  of first-generation students.
Develop a new orientation to smooth the transition of international students, helping them gain knowledge of the campus and the local culture as well as navigate issues of transportation and communication.
Hire a consultant to help diversify faculty hiring searches and create four $1,500 annual faculty awards to incentivize innovation in adding diversity to their curricula.
Add a lactation and feeding room to the main campus that will be fully accessible and include a changing station.
Begin drafting a five-year strategic plan for diversity and inclusion at Chapman.
Dozens of other steps are in place or in the works. Some might seem relatively small – like making more microwave ovens, refrigerators and lockers available to students. But such changes can make a big difference to students struggling to stay afloat financially. Many of them travel to campus by public transportation,  and now they'll have a place to store books and a bagged lunch.
Floating ideas and then turning them into proposals is part of the hard work being done in task forces and advisory groups, Pullin said.  Working through differences to create consensus and ultimately change is critical, she added.
Latino outreach
Two of the biggest goals for the project and the University – diversifying the student body and the faculty – will not be quick fixes, Slowensky said. But work is under way now in both areas. One of the most immediate goals is that the student population  look more like that of the increasingly diverse county Chapman calls home.
That means building up the Latino population  at Chapman, where about  15 percent of students identify as Latino, vs. about 35 percent in Orange County.
"We're starting in our own back yard – with the Orange and Santa Ana unified school districts," Slowensky said. "We're working in these communities to create more awareness about what we have here as an institution that's close to home."
Among Chapman's growing number of outreach efforts, Slowensky highlighted a new partnership  with the Santa Ana district and its elementary-school cinema project founded by actor Edward James Olmos. Seventy of those students toured Chapman in May.
The students are showing remarkable media literacy skills that can translate to success across academic disciplines, Slowensky said. The University and its partners are exploring ways to keep the students on a college track that leads to Chapman.
The many tracks of Chapman's Diversity Project are still being fully developed. It's an ongoing process with multi-year timelines, so taking stock of success is probably premature. But don't tell that to Lara McKinley '16, co-chair of the Advisory Group on the Status of Veterans.
"This semester has transformed my life," said McKinley, a sociology major who is also a breast cancer survivor and who served 15 years in the military, including 9 months as a Marine Corps medic in Iraq. "This is probably the happiest I've been since my marriage and the birth of my son. Being cancer free is part of it, of course, but I do think this has a lot to do with the Diversity Project."
She said that being a voice for change has inherent rewards – for the University and for participants.
"I care deeply about the growth of Chapman," she said. "Maybe it's because I'm looking for it, but I'm seeing different people and hearing different languages. One of my best friends is Muslim; another of my friends is transgender. I have more friends than ever before – I'm actually sad that I'm graduating. I wish this would have happened to me earlier."
Sentiments such as these just might be the greatest success of the Diversity Project so far, participants say. Romo, for one, can't wait to see what happens next.
"Seeing some of the changes really keeps me going," she said. "Five years ago when
I started at Chapman, we were doing some pretty cool stuff, and now we have programs that are bringing more people together. We still have a ways to go, but we're moving in the right direction. It's great to see."