While sitting in a weekly team meeting discussing the upcoming Hilbert Museum of California Art,* editor Dennis Arp and I were casually flipping through Hilbert collection book "Windows in Time."
In those pages are many locations that are gone, paved over. The gingerbread-house and white façade spires in Bunker Hill, Los Angeles have given way to looming, sleek and undulating modern architecture.
However, every few pages one of us would exclaim something to the effect of "I know that place." Slowly the idea formed that we could get pictures of these places, showing how they have changed since the early part of the 20
th
century.
While showing all the differences of these locally recognizable places, we could also recreate one painting featuring the famous Disney illustrator Mary Blair, seen here as our centerpiece. It was a photo roughly a month in the making.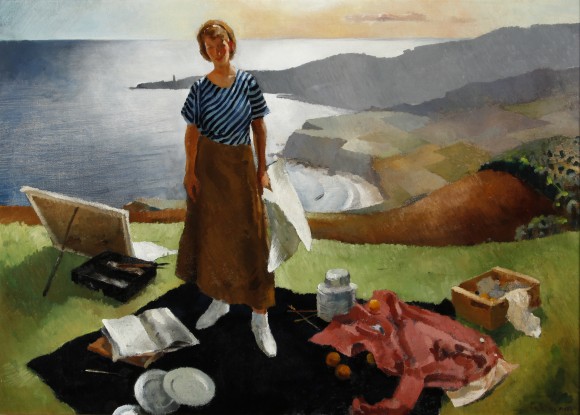 Scouring Palos Verdes via Google Earth, I think we found the spot, or at least very close to what we think was painted in Lee Blair's 1934 "Mary by the Sea."
The original shows a verdant cliff's edge with Mary Blair standing casually at a painting picnic, supplies scattered. The location is remote, rural, with only a lighthouse in the background a few coves over.
Doing an outdoor photo shoot is not a bad way to spend one's winter work hours in California. That is, assuming it's not a year predicted for El Nino weather patterns. Our first day got rained out. Rushing against a dubious warm forecast, Arp, our photographer Troy Nikolic and then myself in a fair replica of Mary's outfit, hiked up and down trails at Pelican Cove, slightly north of the Terranea Resort.
Our first shot was at a lookout point, fenced in and set a ways back from the edge of the cliff. It's a very different area now. The paths are tidy, the hillsides are developed with stucco-sided condos and homes. Years of drought have rendered the landscaped dry and brown – except for the resort, an oasis of green plunked down onto the coastline. It was safe, stable and not quite the picture we were going for. If not perfect, it would do.
As we walked back on the trail to the highway, we saw another potential shoot location. Open to the elements it had a clear view of the ocean, a better angle towards the coves and would in roughly an hour have spot-on lighting for the image. It was perfect . . . and also on the other side of a protective path barrier.
In our defense, we were just trying to stay true to the legacy of the artwork.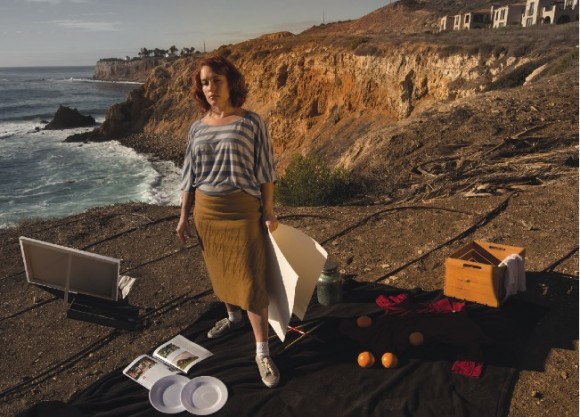 Under the cover of overgrown bushes we traipsed out onto the ledge, setting the extra elements into the photo, then to stand as perfectly still as possible. In under 15 minutes we had our shot. As quickly as we ventured out, we packed up and left nothing but footprints.
For the rest of the images collected we colored inside the lines, so to speak, taking a day to drive out and around Costa Mesa, Newport Beach, Corona del Mar and Laguna Beach here in Orange County.
Featured prominently in the hyper-local portion of the collection is artist George James, professor emeritus of illustration at Cal State Fullerton.
"These paintings were painted somewhere in the late fifty`s and early sixty's," James said. "At that time I was working with the subjects of the area of Newport harbor area. Such a long time ago. At that time I was still learning the craft of watercolor."
James and his mentor Rex Brandt both painted huge swaths of the Orange County coastline and are hallmarks of the California Scene Painting style.
"Time moves on, Rex is gone. The collectors are the new lovers of that era. I am grateful to have been a part of that time," James said.
"China Cove," Newport Beach, by George James

The location for "China Cove" by George James, was hard to find, if only because of the name.
Although titled "China Cove" the scene depicted in James' painting is strikingly more similar to Pirate's Cove beach in Corona Del Mar. Getting this photo required some athleticism and balance climbing over and up the rock formations that hem in this unique wind and water-shaped alcove beach.
There was a lot of leaning over the edge to get the right angle for this shot, with advice to editor Dennis Arp to not take a single step back.
"Untitled Houses," "Untitled Backyard," at the Crystal Cove Cottages, by George James
Painted in the 50s, according to James, this idyllic location is a destination spot for vacationers and the beach brunch crowd. Crystal Cove got its start in Hollywood as a locale for filming early seaside stories during the 1930s. It was also a popular location for bootlegger drop-offs during prohibition. James wasn't able to narrow down which of these homes were featured.
While many of the seaside cottages have been saved and restored to be rented out, the ones featured in this painting are still waiting to be rescued. No longer safe to visit, the little huts are fenced away from beach-goers. Aside from the occasional seagull perch, the homes are left alone.

"Balboa Pavilion" Balboa Island, CA, by Roger Kuntz, 1960

The Balboa Pavilion once served as the beach bathing house and entertainment terminus for the Pacific Electric Red Car line– making it a must-visit end-of-the-line location. Dancing during the 1920s, 30s and 40s was popular. The Pavilion the in 1960s was a popular location for sailing, dancing and having been recently restored, it was at one time the home of an art museum upstairs. Famed California Scene Painter Millard Sheets gave the opening lecture. Today, the Pavilion is still in business with a restaurant, the neighboring docks stuffed with tourist transportation and day trip vessels.
"Newport Pier," by Milford Zornes , 1956

When Zornes painted the pier, it was relatively fresh. The original, built in 1888, was destroyed in a hurricane in 1939. In its early incarnations, there wasn't much by way of safe guards, according to a 2004 article in the Los Angeles Times. Now, where sea-faring trade once docked at the end sits a sushi restaurant. The crowds weren't as big this time of year, but plenty of people were still willing to peel off their winter boots and dip their toes in – so long as they had hot coffee in hand.
http://articles.latimes.com/2004/may/17/local/me-peeled17
"Newport Boulevard" by George James, 1950s
This one stood out. I knew exactly where this particular gas was, because now more than 50 years later, it's still there. It's bigger, there's a car wash and cover for the gas stalls, but it is still there. The painting was done before Newport Boulevard was dug out to become the Costa Mesa end of the 55 freeway. Now, this busy intersection is jammed with travelers going to the coast or, at least in our case, heading back to their home base after a day at work near the beach.
Featured image: The behind the scenes of the "Mary by the Sea" recreation photo. Photographer Troy Nikolic takes Public Relations Assistant Brittany Hanson's picture for the recreation.