Chapman University President Jim Doti delivered his last State of the University address in typical Chapman style Friday morning – with a deep nod to its legacy and an eagerness for what is next. In an informal address to students, faculty, staff, supporters and trustees gathered in Memorial Hall, Doti recalled 25 years of achievements and set the stage for his successor, Chancellor Daniele Struppa.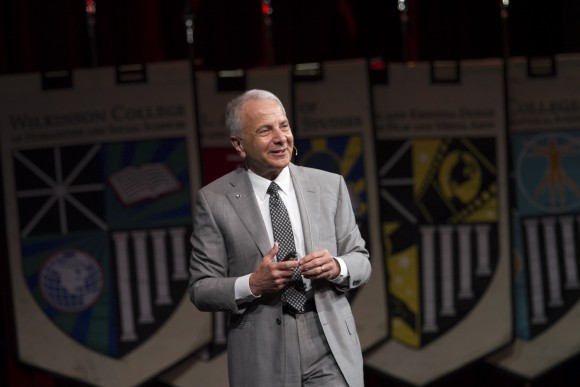 "I feel absolutely certain that my successor will be the visionary leader who will lead Chapman to new heights. More importantly, he's a good person, a values-centered person who will honor the values, the traditions, the ethos of this place," Doti said. "I really believe that the best years are ahead of us."

In fact, the future couldn't have been more evident. Just steps away from Memorial Hall workers were busy with finishing touches at Marybelle and Sebastian P. Musco Center for the Arts. And just prior to the address, Doti and University officials celebrated the official opening of the Hilbert Museum of California Art. A festive Grand Opening and Open House at the museum immediately followed.

Among the other recent strides Doti noted were enhancements made to the mid-century Becket Building on Palm Avenue — designed by  renowned architect Welton David Becket — the expansion of graduate programs at the Irvine campus and plans to add student housing in the historic Villa Park Orchards property.




Beyond the bricks and mortar, the University has continued to grow its world-class faculty and improved student selectivity and retention, while still offering students a personalized education, Doti said.

Reflecting on his tenure, Doti also recalled that 25 years ago he had been a bit daunted by the prospect of the presidency. He said he went to see the late Professor Paul Delp '28, "our Mr. Chips," for advice. Delp told him, "Just remember, Jim, treat everyone with respect and dignity. If you do that, you'll do just fine."

Throughout the years, Doti said that advice guided him.

"It wasn't always easy," he joked.

In closing, Doti promised that he wouldn't be far from sight.

"Kidding aside, the real reason that I'm resigning as president is No. 1, I really look forward to teaching again," he said. "I started my career as a teacher I want to end my career as a teacher. I believe the highest calling one can ever aspire to is teaching."