Slowly, the Samoan athlete's eyes lit up and a smile sneaked across his face. Ioane Luka clapped his hands and signaled his pleasure with a double thumbs up. His new hearing aids were working. Yes, Luka said, he could hear again.

Such winning moments may not have been at the forefront of the Special Olympics World Games in Los Angeles this summer. Understandably, attention went to the torch run, soccer and basketball games, track and field events, swim competitions, golf matches, joyful medal ceremonies and myriad other events.

But for 17 Chapman University graduate students volunteering at the World Games, the victory moments that played out behind the scenes are the memories they'll treasure forever. For two days the students volunteered their time and expertise at the World Games to perform hearing screenings and evaluations on athletes from around the globe. At stations set up throughout a cluster of large white tents at USC, where the games were headquartered, they checked thousands of athletes for everything from ear wax build-up to profound hearing loss.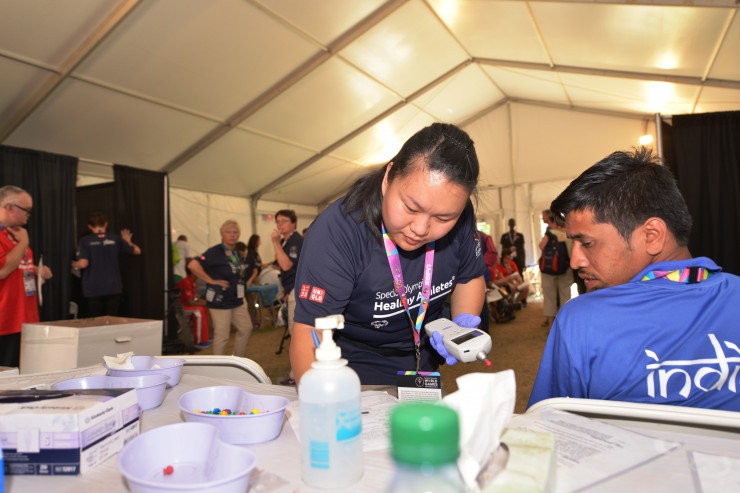 The students earned practicum credits as they pitched in with Healthy Hearing, an arm of the Special Olympics Healthy Athlete program. But they say the best takeaway for them was the joy of connecting with people who needed what they offered.

"It's such an eye-opening experience. You really help people. I've been hearing stories of people we've screened and identified with hearing loss that they weren't really aware of, then going on and getting hearing aids," said Khanh Vu, a student in Chapman's
Communication Sciences and Disorders Program (CSD)
.

Jonathan Forfa, who has volunteered with Chapman students and faculty at several regional Special Olympics, said it was downright thrilling.
Hearing means success


Hearing loss appears in about 3 percent of the adult population overall, compared with 15 percent among the intellectually handicapped, says Judy Montgomery, Ph.D., professor and director of the Communication Science Disorders Program at Chapman.

That's why the Healthy Hearing program is so important to Special Olympics, an international program that enriches the lives of adults with intellectual disabilities through sport.

The majority can be helped with hearing aids, allergy treatments or ear hygiene instruction, she says, and job opportunities can often follow.

"It's empowering to be able to apply things that I'm learning in school and really get to make a difference and help out. I know this information, and I'm able to convey it to other people to help them with their hearing health. I think that's a really cool thing," Forfa said.

For master's students in the CSD programs, it's not just an occasional opportunity, either. Professor Judy Montgomery, Ph.D., is the global clinical coordinator of the Special Olympics Healthy Hearing Program. Thanks to that connection, Chapman students and alumni roll up their sleeves and pitch in each year at regional Special Olympics in Los Angeles, Long Beach and Orange County.

"They love it, and they recognize what a difference it makes in athletes' lives," said Montgomery, who has logged nine World Games over the years.

The World Games are extraordinary, with athletes, coaches and athletes from around the world filing through the Healthy Hearing tent. Within two hours of their first shift, the Chapman crew performed screenings on delegations from Greece, Italy, India, Great Britain, Portugal, France and Samoa.

But the process at regional games is essentially the same. Athletes start with a visual exam to detect foreign objects, wax build-up, perforated ear drums – sometimes caused by air travel – and other conditions. A variety of hearing tests follow, and if problems are detected the athletes move on to more in-depth tests. Specialists are on hand to clean ears and refer athletes for affordable hearing aids.

Gilbert R. Herer, Ph.D., founder of the Healthy Hearing Program and an adjunct professor in Chapman's program, says it made sense for Chapman to meld Healthy Hearing into the students' field work, given the University's proximity to summer Special Olympics. Standing amid the bustle in the Healthy Hearing tent, Herer nodded toward the busy students.

"Laying your hand on the practice is what counts," he said.




Indeed, said Katie Fazioli, who was working the first station, where she saw her first fully-inverted ear drum.

"There are so many different types of ear canals and ear drums. You can fine-tune your skills, which is such a big deal for students," Fazioli said.

And witnessing the athletes' excitement is "just magical," she said.

Behind the tents, in a mobile trailer clinic where Luka, the Samoan athlete, was being fitted for hearing aids, the air bubbled with that kind of excitement. Typically athletes receive referrals for hearing aids, but at this year's World Games, Starkey Hearing Foundation set up a clinic and provided free fittings and hearing aids.

So Luka was getting ready to leave with a pair of new hearing aids fitted and adjusted just for him. He laughed and spoke with his translator, Jackie Nu'uvali, the delegation's bocce ball coach. It had taken some effort to make time for Healthy Hearing, but Nu'uvali said she was grateful they had stopped by.

"It's so nice to see them actually hearing," she said. And it makes coaching and giving instructions so much easier, she added, as she juggled paperwork for the delegation, gathered her players and shepherded them out of the trailer.

"Let's go," she called out to Luka, laughing as she pointed him toward his coach. "Now you can hear."