Unseasonable humidity blanketed Chapman University's Wilson Field. But nothing could stifle the spirits of the 183 Special Olympics athletes on campus today, July 22, for their pre-games training.

Especially for Nick Kellof, a basketball player who's part of the Canadian delegation. Sweat beaded Kellof's forehead after he finished an obstacle course arranged on the field by students from Chapman's athletic training program. But he was all smiles.

"I love the heat. I hate Vancouver rain," Kellof said.

Kellof and about 7,000 fellow Special Olympics athletes are in the right place then. The
Special Olympics World Games
Los Angeles officially begin on Saturday, July 25, with Opening Ceremonies in the historic Los Angeles Memorial Coliseum. The biennial World Games run through Aug. 2 and are the flagship event of the Special Olympics, an international program that enriches the lives of adults with intellectual disabilities through sport.




Meanwhile, athletes are shaking off jet lag and working out at Host Towns throughout Orange and Los Angeles counties, including the City of Orange, with Chapman as its partner. Here in Orange are athletes, coaches and support staff from Canada and Senegal. They will be housed in student residence halls until they depart for Los Angeles on on Friday, July 24.

Helping the athletes and coaches with their pre-games training period was a crew of M.S. students and faculty from two Chapman programs – 
Athletic Training
and
Communication Sciences and Disorders
. On Wednesday morning the team set up and staffed several workout stations, ranging from yoga to dynamic stretching. Together the students and athletes cheered as they jogged, stretched, danced and hopped their way through the various workout stations around Wilson Field.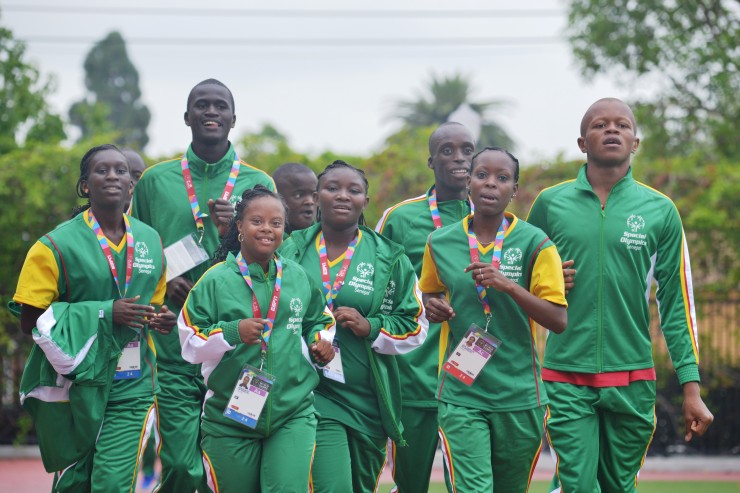 At the obstacle course Kara Summer, a bowler with the Canadian delegation, was simultaneously catching her breath and laughing after a power run through cones and short hurdles.

"My legs are like burning up," Summer said.




This is the first World Games for the British Columbia resident, and she admitted to being "a little bit nervous." Her next stop was yoga – "I don't want to do yoga" she told her coach. But she added that the athletic training students were easing some of her anxiety about the new experiences.

"They've been really helpful. They've been helping with the training," she said.

Indeed, the morning's field activities were ideal experience for her graduate students, said Sara Nottingham, Ed.D., assistant professor and clinical education coordinator in Chapman's Athletic Training Education Program.

"Our students are doing a fantastic job improvising and adapting everything to all the different athletes here," Nottingham said, as she roved the field, watching all the activities. "This is a great opportunity. We can use our expertise as health care professionals, but also in athletics, where we work with physically active populations. We can blend the two."

Even some undergraduates were closely involved, despite the summer timing of the games. Scott Lee '16 helped plan the morning's activities and organized the small army of Chapman volunteers needed. Lee knew something about nerves, too.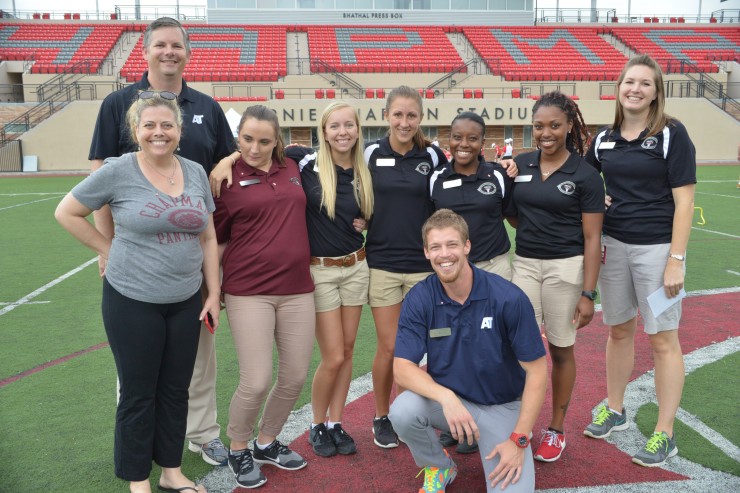 "It looked pretty hectic earlier this morning. Now it's looking really good," he said, standing at center field with music, laughter and games unfolding around him. "Everyone's smiling and having fun."

Even Summer, who did go to yoga. With a smile.
To learn more about the World Games and find out how you can attend events, visit the Special Olympics World Games website.