Dozens of students have truly been pouring their labors into the laboratories across the Chapman University campus this summer.

But it's fair to say they don't consider it work, and even call it surfing – of a sort. That's because they've all been part of Chapman's unique Summer Undergraduate Research Fellowship (SURF) Program. Twenty-one undergraduates received financial support and faculty advisement to pursue a variety of research projects.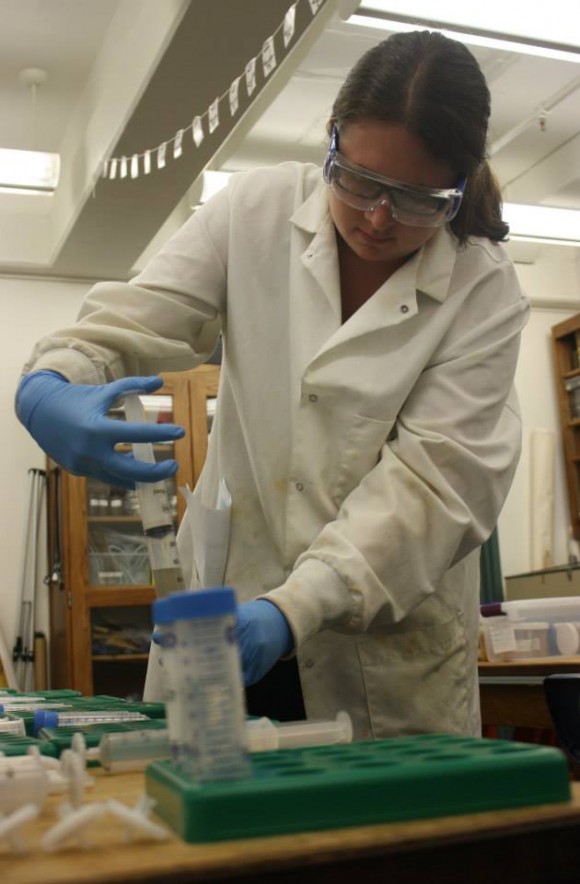 And thanks to a National Science Foundation grant, the summer program has expanded to include the Surfee project, which serves community college students pursuing degrees in science, technology, engineering and math, or what's generally called STEM disciplines.

The student SURF projects this summer ranged from research into the relationship between cortisol in breast milk and infant growth, to the impact on the environment of arsenic left behind by old mining activity.

The SURF program offers an unparalleled opportunity for students, says computer science major Austin Thiel '17. Thiel used his SURF fellowship to make headway on a gaming app he's developing that will help people with autism practice their social skills before they try them out in the real world.

"I think it's been really good to dedicate time to a project," Thiel says, adding that it's equivalent to a great summer internship.

For the Surfee project, the goal is to support students who are underrepresented in the sciences, says Christopher S. Kim, Ph.D., director of the Office of Undergraduate Research and an associate professor in Schmid College of Science & Technology. Surfee students stay in student housing during their fellowship, so they also get a taste of university life.
Surf on Over!


Learn more when the SURF fellows present their summer research at 1:30 p.m. on Thursday, Aug. 13, in The Bush Conference Center in Beckman Hall, Room 404.

"For them to be on a manageable campus, in terms of size, I think is helpful for them. Whether they transfer here to Chapman is not the goal. The main thing is to keep them interested in STEM," he says.

For Rebecca Thomas, a sophomore at Citrus College in Glendora, Calif., the impact of her Surfee research was profound. She worked with Kim on a project looking at copper mining wastes in surface water.

"I didn't know how involved this program would be. It's definitely given me a clear idea of what I'm interested in," Thomas says. "It gives me more confidence in what I can do."